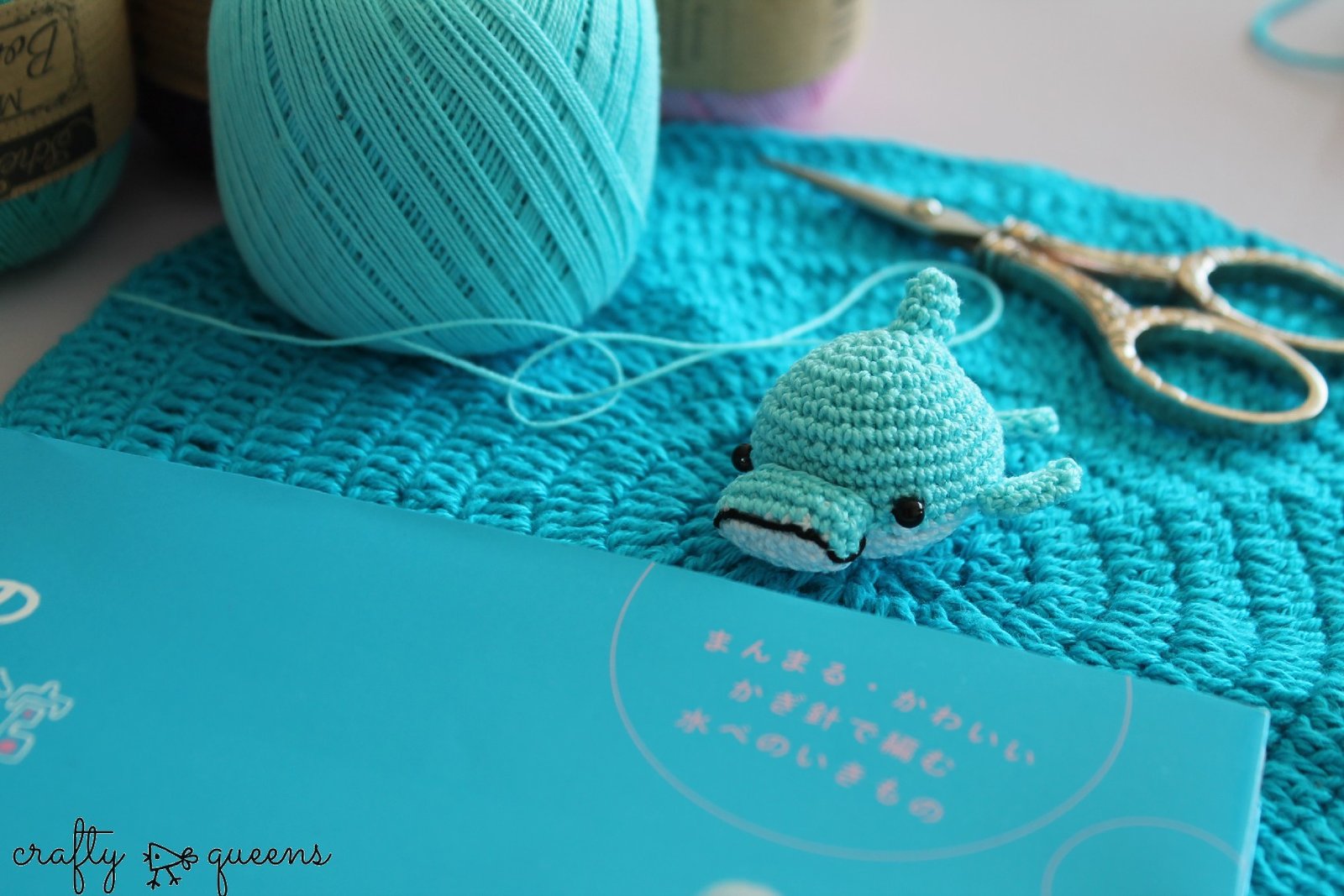 Vorige week kreeg ik toch zulk schattig nieuw garen! Namelijk de Maxi Bonbon van Scheepjes. Eigenlijk is dit zogeheten 'maxi' garen juist heel geschikt voor mini-projectjes! Ik kon het niet weerstaan er een amigurumi te maken, en het werd dit dolfijntje, naar een patroon uit een Japans haakboek dat ik twee jaar geleden in Tokio kocht.
Maxi is geen compleet nieuw garen, het bestond namelijk al in 100 gram bollen. Nu heeft het echter wel nieuwe kleuren (wel 87!) en is het verkrijgbaar in 25 gram (Bonbon) en 50 gram (Sugar Rush) bollen. De kleinere bollen zijn zoveel toegankelijker om mee te werken, en ook belangrijk: veel schattiger!
I received the cutest new yarn last week! It's Scheepjes Maxi Bonbon – which, quite contrary to the name 'Maxi' is actually perfect for mini projects! I just HAD to crochet some amigurumi with it, so I chose this little dolphin from a pattern book I bought in Tokyo a couple of years ago. 
Maxi isn't a complete new range of yarn, it was available before in 100 gram balls. However, now they've been produced in 25 gram (Bonbon) and 50 gram (Sugar Rush) balls, I find them much more accessible to work with. And more importantly, the 25g balls are so cute!! They're available in a total of 87 colours (!). Get them at Wool Warehouse*.
Patronen in een Japans haakboek zien er zo uit als hierboven op de foto. Er worden grofweg dezelfde icoontjes gebruikt als in universele haakschema's. Rondjes voor lossen, kruisjes voor vasten. Bij sommige vasten zie je een kleiner wordende of groter wordende 'V' erboven, dit geeft een mindering of meerdering aan. Doordat ik Chinees heb gestudeerd kan ik ook enkele Japanse karakters lezen, wat wel enorm helpt bij het ontcijferen van het patroon!
Japanese amigurumi patterns look like the one pictured above. They use roughly the same crochet icons as in our crochet charts: circles for chain stitches, crosses for sc (US). Right-side-up and bottom-up 'V's indicate increases or decreases. The fact that I've studied Chinese language for 5 years surely does help, since I can guess what certain Japanese characters mean.
Ik vind hem zo schattig!! Welke zal ik nu gaan maken? 🙂
I think he's so cute!! Hmm, which one to make next? 🙂
*Affiliate links
Support me by sharing with friends!