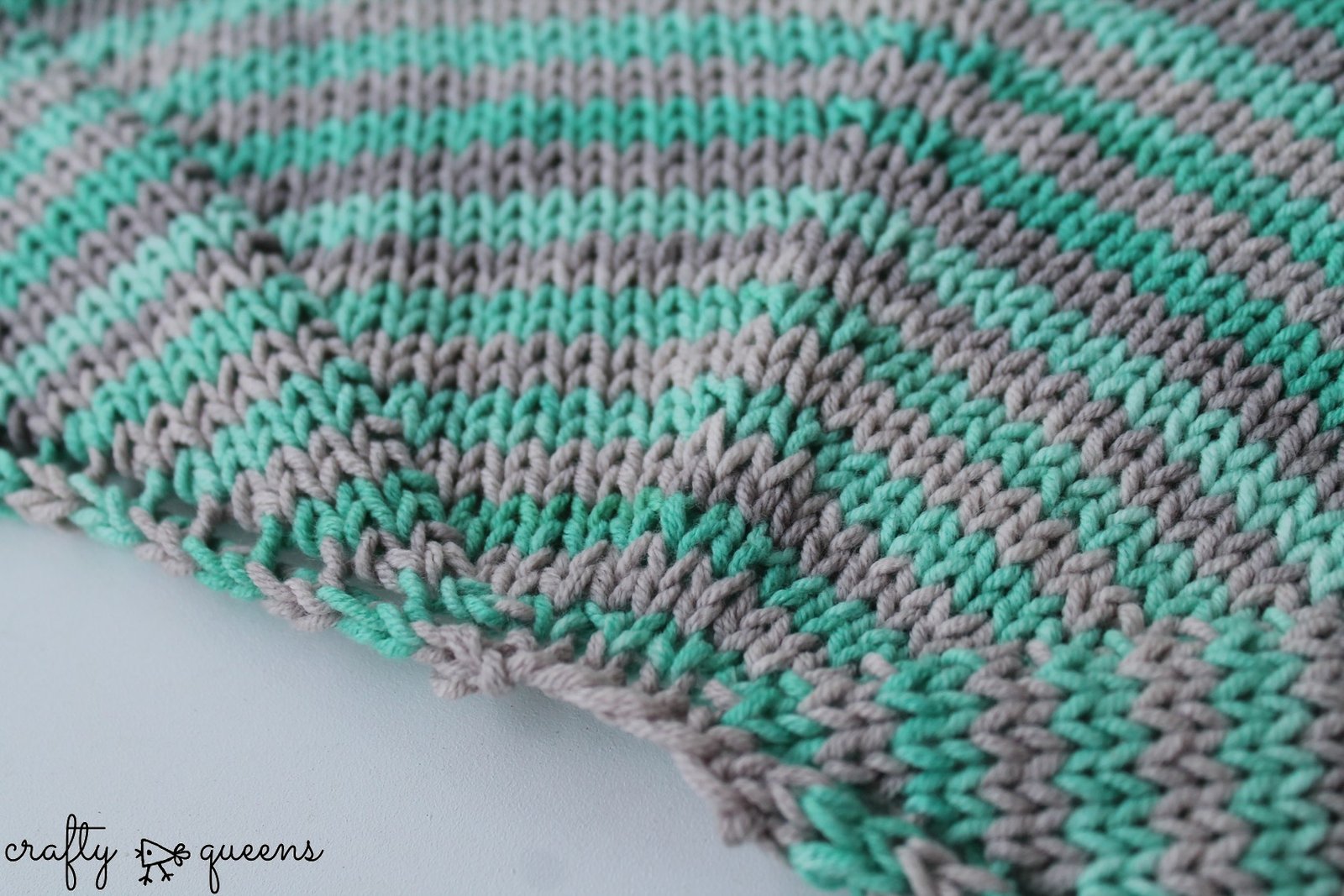 Ik heb de afgelopen tijd al heel wat uurtjes kunnen breien aan mijn omslagdoek! Het voordeel van een halvemaan-omslagdoek (of een driehoekige) is dat het eerste gedeelte heel snel gaat, je maakt namelijk maar korte rijen. En dat geeft veel voldoening! Naarmate de rijen meer steken krijgen duurt het dan ook weer steeds langer, het laatste gedeelte voelt bijna als een eeuwigheid! Maar misschien ben ik wel een langzame breier 😉 
I've been working on my new stripy shawl for quite a few hours now! The great advantage of a halfcircle shawl (or triangular shawl for that matter) is that the first few rows are very short, and progress is made very quickly! It's so satisfying to see your shawl grow so fast. Of course, as you knit on, the rows get longer and take more time too. I guess that's part of the deal!
Zoals je misschien ziet heb ik wat veranderd aan het originele ontwerp. In mijn vorige blogpost liet ik zien dat ik in de sjaal op vier punten meerder, maar dat was net niet genoeg. Nu meerder ik ook aan weerszijden van het midden. Omdat 6 meerderingen per heengaande rij weer teveel zou zijn, meerder ik op de twee punten in het midden maar eens per twee heengaande rijen. Nu is het nagenoeg perfect!
Ook de subtiele kleurverschillen van het garen – Softfun Denim van Scheepjes – vind ik heel mooi! Het geeft een speels effect aan de omslagdoek. 
As you may notice, I changed the original design a bit. At first, I thought of increasing 4 times every Right Side (RS) row. The shape wasn't quite what I wanted, so I had to add another pair of increases in the middle. Because 6 increases per RS row was a bit much, I did those every other RS row. Now it's nearly perfect!
I really like the subtle colour differences of the yarn – Softfun Denim by Scheepjes – it gives such a playful effect!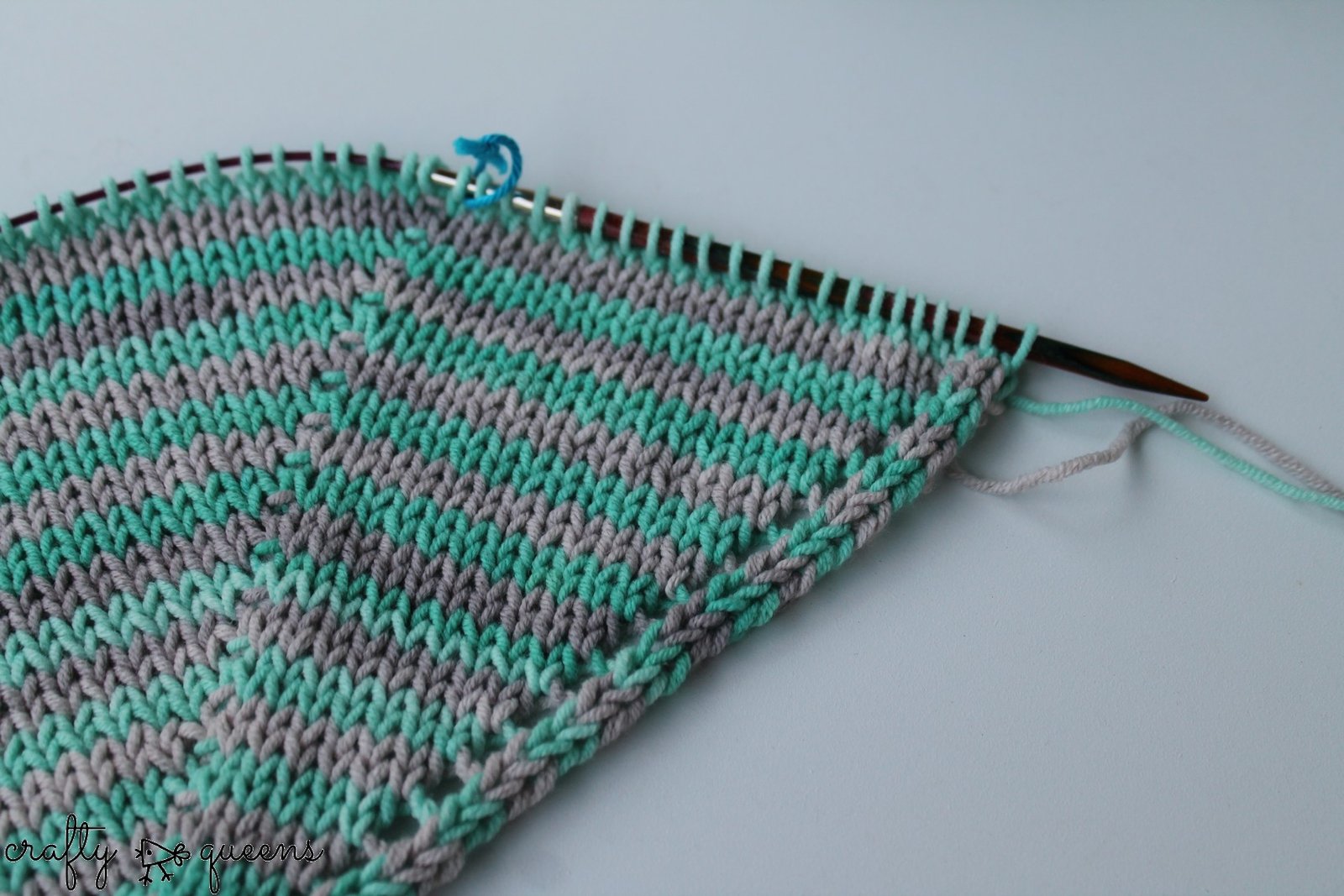 Ik gebruik verschillende methodes van meerderen, hierboven zie je dat ik aan de rand steeds een omslag maak. Aan het eind van het eerste 'partje' brei ik tweemaal in dezelfde steek. In het midden gebruik ik weer een andere techniek. Zo wordt deze sjaal een heel leerzaam proces! Ik hoop het allemaal goed op te schrijven in het komende patroon, zodat jullie er ook wat van kunnen opsteken. Wie weet wel een filmpje, dat vind ikzelf namelijk altijd veel duidelijker dan geschreven uitleg of foto's. 
I'm using different techniques to increase stitch count. On the picture above, you see I'm using yarnovers at the border, which creates eyelets. The second increase is made by knitting twice into the same stitch, while the increase in the middle is made by another different technique. Knitting this shawl was a great learning process, and I hope it will be the same for you when you knit it! I hope to shoot some videos about how to make the different decreases, I find them more useful than pictures or text myself, so I hope I can do this!
Het is een heerlijk project om aan te werken! Ik werk eraan als ik 's avonds thuiskom en even niets ingewikkelds wil doen. Na een tijdje gaan de verschillende meerderingen vanzelf, en door de markers hoef je ook niet na te denken wanneer je een bepaalde handeling moet doen, dat kun je dan namelijk makkelijk zien. Voor het laatste (en grootste) stuk moet ik nog even flink aanpoten, maar ik hoop het snel af te krijgen zodat ik voor jullie ook het patroon kan uitschrijven. Nog eventjes!
It's a delightful project to work on! I tend to work on it when I come home from work, when I don't want anything fussy to knit. After a while, the increases get much easier, and because of the stitch markers you don't have to think about where to put them. The last part will take a while, but I hope to get it done quickly so I can write down the pattern for you guys. Just a little while longer! 
Support me by sharing with friends!