Joepie, tijd voor een nieuw breipatroontje! Het is bijna Pasen, wat mij altijd doet denken aan paasontbijt. Dan verschuift mijn interesse van sjaals en amigurumis langzaam naar breisels en haaksels voor in huis, en vooral voor op tafel! Daarom ontwierp ik deze leuke onderzetters. Gelukkig zijn ze wel heel neutraal, dus of je ze gebruikt met Pasen, verjaardagen of met Kerst, of gewoon elke dag, het kan altijd! 
Het garen dat ik gebruik is Linen Soft van Scheepjes. Ik gebruikte het voorheen alleen om mee te haken, maar ik kwam erachter dat het ook heel fijn is om te breien! Het is altijd een goed idee om voor onderzetters natuurlijke materialen te gebruiken i.p.v. acrylgaren bijvoorbeeld, dat neemt vloeistoffen niet zo goed op. En het hele nut van een onderzetter is natuurlijk dat de thee of wat dan ook dat je morst op de onderzetter blijft, en niet op de tafel komt. Je hebt maar 1 bolletje Linen Soft nodig voor een set van 6 onderzetters. Vind jouw dichtstbijzijnde wolwinkel met Scheepjes hier.
Yay, time for a new knitting pattern! It's almost Easter, which makes me think of the traditional Easter breakfast. Instead of shawls and amigurumis, I find it more fun to work on things for the home, especially things that can decorate my Easter table! So I designed these knitted coasters. Luckily they are very neutral, use them whenever you like! With Easter, birthdays, Christmas or just every day. 
The yarn I used is Linen Soft by Scheepjes. Before, I only used it to crochet with, but it's also a delight for my knitting needles! It's always a good idea to use natural materials when making coasters, acrylic yarns for example don't absorb fluids very well, which is the whole point of a coaster! So, keep your tables clean and use cottons, linens or wool yarns instead. You only need 1 skein of Linen Soft for a set of 6 coasters. 
Gebruikte afkortingen
r : recht breien
av : averecht breien
st : steek/steken
afh : afhalen. In dit patroon altijd met het garen aan de voorkant van je werk
Gebruikte breinaalden voor Scheepjes Linen Soft: 4 mm 
Used Abbreviations
k : knit
p : purl
st : stitch/stitches
sl: slip stitches
wyif: with yarn in front
Knitting needle size for Scheepjes Linen Soft: 4 mm
Het patroon:
Zet 27 steken op.
1-5. 27r
6. 4r, 19av, 4r
7. 4r *1r, 5st afh met garen aan de voorkant*. Herhaal ** nog twee keer, dan: 5r.
8. 4r, 19av, 4r
9. 7r, *pak het draadje van 2 rijen geleden op en 1r, 5r*. Herhaal ** nog twee keer, dan: 2r
10. zoals rij 8
11. 8r, *5st afh met garen aan de voorkant, 1r*, Herhaal ** nog één keer, 7r
12. zoals rij 8
13. 10r, *pak het draadje van 2 rijen geleden op en 1r, 5r*. Herhaal ** nog één keer, dan: 5r
14. zoals rij 8
Herhaal rijen 7 t/m 14 nog twee keer.
Herhaal dan rijen 7 t/m 9 nog één keer.
31-34. 27r
35. Kant alle steken af.
The pattern:
Cast on 27 stitches
1-5. k27
6. k4, p19, k4
7. k4 *k1, sl 5st wyif*, repeat ** twice more, then: k5
8. k4, p19, k4
9. k7, *pick up the bar from 2 rows below and k1, k5*, repeat ** twice more, then: k2
10. same as row 8
11. k8, *sl 5st wyif, k1*, repeat ** once more, k7
12. same as row 8 
13. k10, *pick up the bar from 2 rows below and k1, k5*, repeat ** once more, k5
14. same as row 8
Repeat rows 7-14 twice more
Repeat rows 7-9 once more
31-34. k27
35. Cast off all stitches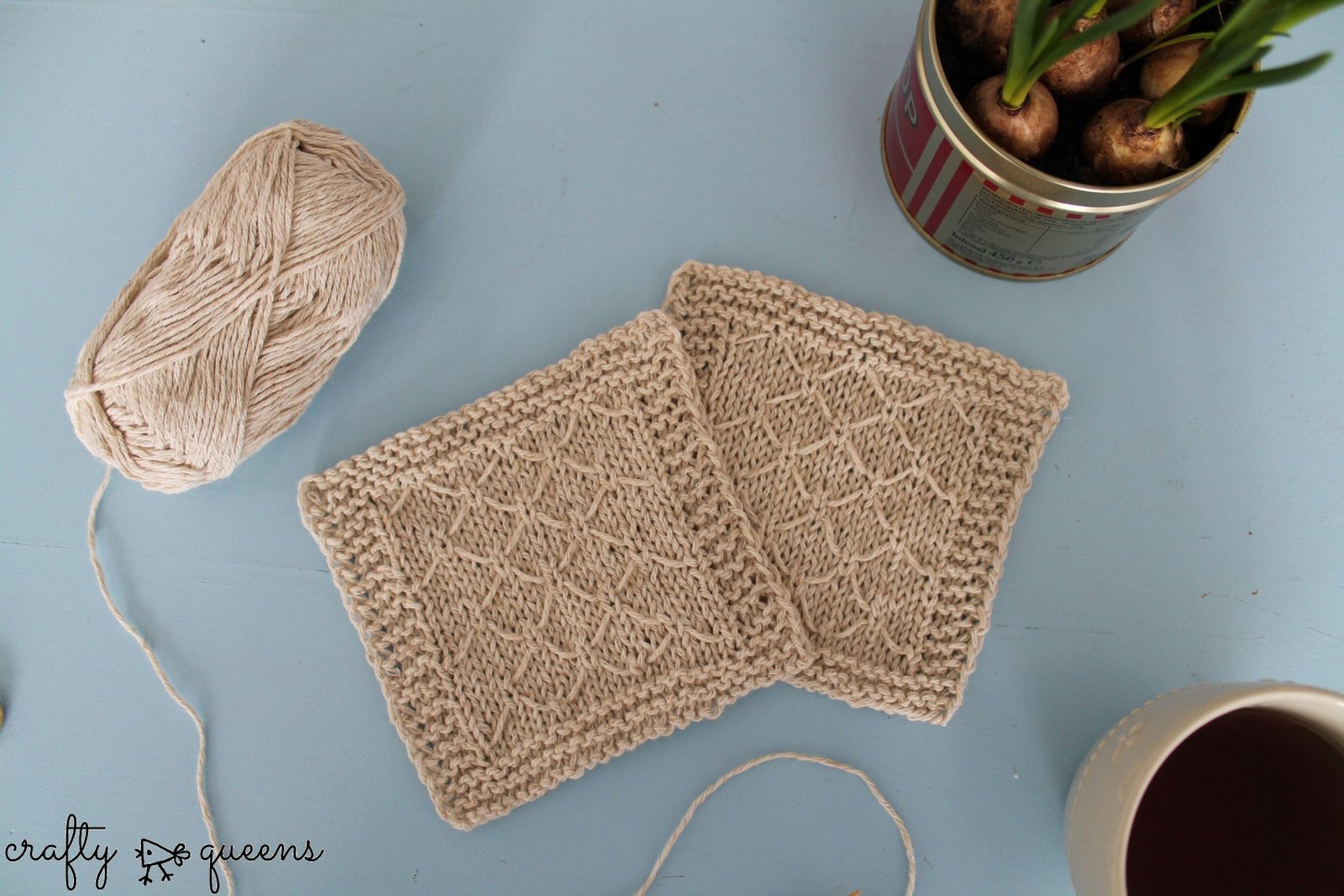 En je onderzetter is klaar! Maak er zoveel als je nodig hebt. Zie je het diamantpatroontje ontstaan dat je hebt gebreid? Ik vind het zo'n prachtige steek, en het is verrassend makkelijk te breien, niet? Laat het me vooral weten als je wat hulp nodig hebt bij dit patroon, wellicht kan ik nog wat meer foto's maken. Heel veel breiplezier!
Producten die je met dit patroon maakt MOGEN verkocht worden, het patroon zelf mag niet verkocht en/of gekopieerd worden naar andere pagina's. Plaats simpelweg een link hiernaartoe, dat is prima. Winkeliers: dat geldt ook voor het uitprinten van dit patroon voor jullie klanten. Alvast bedankt voor het rekening houden hiermee!
Het garen voor dit patroon werd gesponsord door Scheepjes. Scheepjes maakt het mogelijk dat ik deze blog kan blijven schrijven, en de patronen gratis kan houden voor jullie! Alle meningen zijn hoe dan ook nog steeds van mijzelf. 
Your coaster is done! Make as many as you need. Do you see the diamond pattern in your knitwork? I think it is such a beautiful stitch, and surprisingly easy to knit! Please do let me know if you are having trouble with this pattern, maybe I can be of some help. Have fun knitting!
Items made from this pattern MAY be sold, the pattern itself may not be sold and/or copied onto other pages, please provide a link instead. Shop owners: this includes printing the pattern for your customers. Thanks for your consideration!
The yarn for this project was very kindly sponsored by Scheepjes, they help me to keep my blog running and to the patterns free for you to enjoy! All opinions remain my own. 
Don't miss any more blogposts or free patterns, subscribe to my blog on Bloglovin!
Support me by sharing with friends!