Vandaag was dan eindelijk weer de eerste collegedag van het semester. De hele maand januari vrij gehad, lucky me! Maar dat maakt het extra moeilijk om weer aan het ritme gewend te raken. Ik heb gelukkig maar 2 dagen les, maar wel beide dagen om 9 uur beginnen! Hopelijk word ik een beetje minder lui en ga ik eindelijk goed werken aan mijn scriptie. De afgelopen weken heb ik vooral series gekeken tijdens het haken en breien. Ik kijk onder andere Grimm (leuk!) en Girls (ik haat deze serie maar om de een of andere reden blijf ik kijken). Nu ben ik bezig met mijn geometrische kussen, en hij is bijna af! Klik hier voor het patroon.
Classes started again today. I've had no class from Christmas time until now, lucky me! But having such a long holiday makes it even harder to start regular life again. I guess it's a good thing though to have some obligations, otherwise I would sleep until 11am every day. Hopefully I'll finally have the will to work on my thesis. The last couple of weeks I've been watching TV shows while crocheting. I've watched Grimm (love!) and Girls (hate this show but somehow I continue to watch it). My geometrical pillow is almost finished! Find the free pattern over here. 

Hier zie je de voor- en achterkant. Hoewel geometrische vormen en strepen normaal gesproken niet echt mijn stijl is, vind ik beide kanten toch erg mooi! Misschien omdat het zo'n heerlijke wol is.. (Phildar partner 6) Trouwens niet heel geschikt voor beginners omdat de wol snel splijt, je kunt beter met iets anders beginnen. De achterkant van mijn kussen bestaat uit twee delen. In het reepje dat je aan de bovenkant ziet zitten knoopsgaten. Meestal naai ik een kussen gewoon dicht, maar bij deze wilde ik een afneembare hoes maken, vooral omdat witte wol misschien snel grauw wordt. Dus binnenkort even leuke knoopjes uitzoeken, een sloopje maken en opvullen! Volgens mij hebben ze trouwens wel binnenkussens in deze maat (40×50), maar ik heb nog zoveel vulling liggen, die moet ik ook eens opgebruiken.
Here's the front and the back. Although stripes and geometrical forms are really not my style, I love the way it looks. Maybe because the wool is so lovely.. (Phildar partner 6). Not a beginners-wool though, as it's really easy to poke right in the middle of the strands. The backside of the pillow consists of two parts. I'm gonna button those parts together to make this pillowcase removable.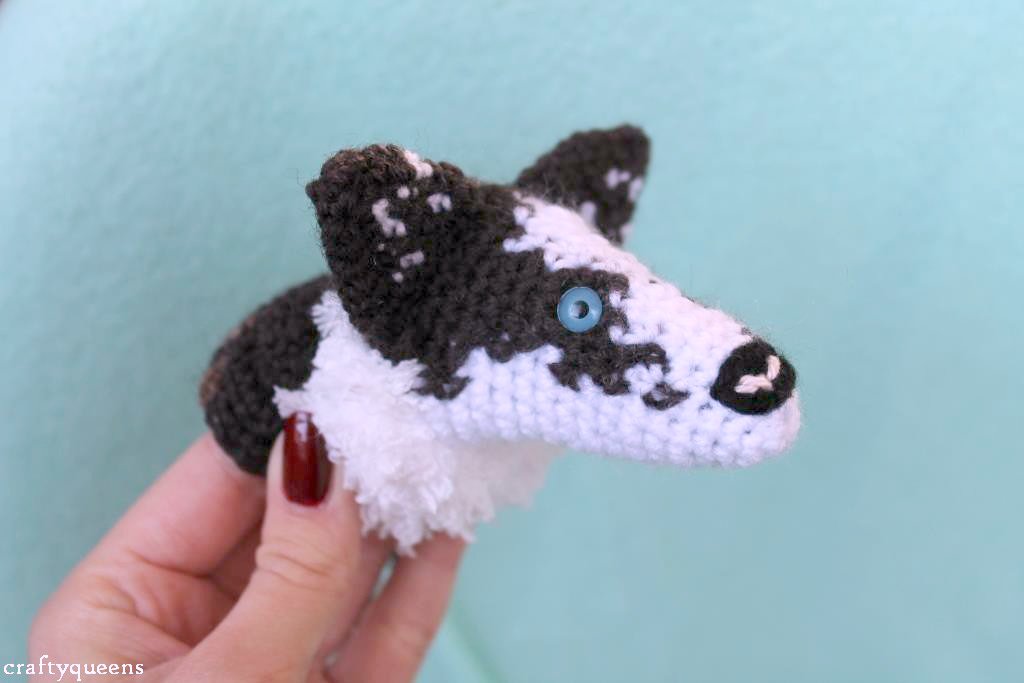 Langzaam maar zeker wordt dit een hondje! De rug en buik haak ik los van elkaar, zodat ik er later de pootjes tussen kan naaien.
Slowly but surely, this is turning into a dog. I'm crocheting the back and belly as two separate parts now, so I can sew the legs in between them later.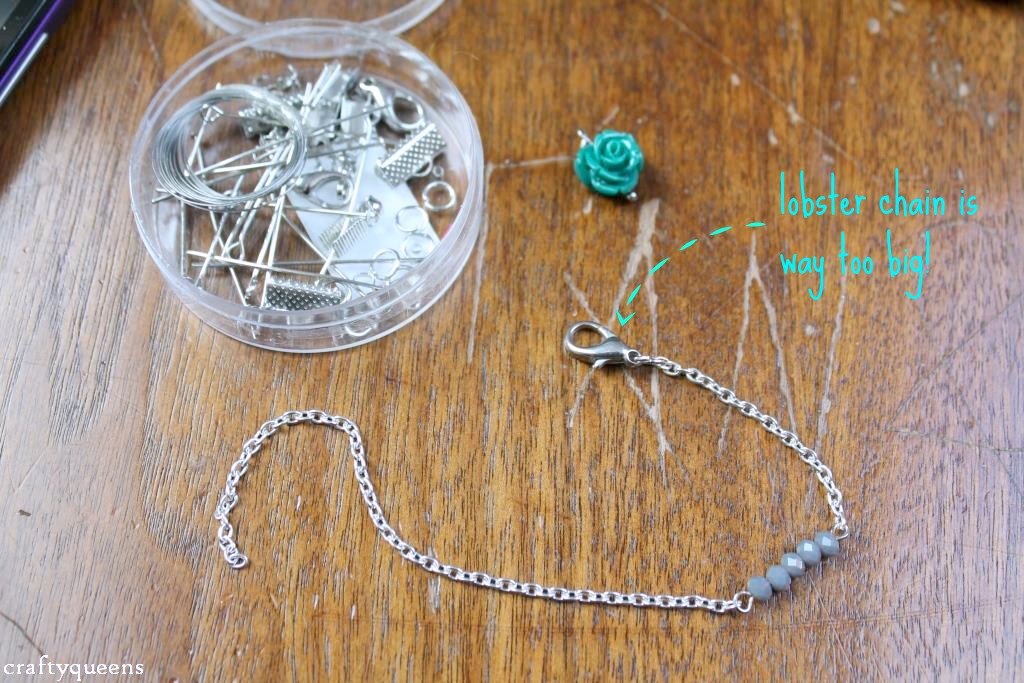 Van dit armbandje zagen jullie gisteren al een preview. Ik ben bang dat ik toch weer terug naar de winkel moet, want mijn lobster clasp (de sluiting) is veel te groot om door het kettinkje heen te kunnen. Ik kan hem helaas  dus nog niet afmaken, maar met die kleinere onderdeeltjes zal hij wel veel mooier zijn. Ik weet trouwens niet zeker of ik het groene roosje eraan maak. Ten eerste is groen echt niet mijn kleur (maar ze hadden alleen groene en bruine roosjes), en ik vind de meest simpele armbandjes juist het leukst. Ik kan het roosje er altijd nog aanhangen trouwens, maar misschien is het leuker als ik het aan een tas hang of zoiets.
Yesterday I gave you guys a preview of this bracelet, I really like it so far! Well, except for the lobster clasp that is way too big to fit through the chains. I didn't realize it was so massive until I put the parts together. Back to the store it is! I'm also not very sure about adding the green rose or not, what do you think? I think it's more classy and elegant without, maybe I'll attach it to a bag instead..