Do you remember the Rustic Lace Square pattern? It was very popular in 2015, and you could find it all over Pinterest and Instagram. So many gorgeous blankets, curtains and tablecloths everywhere. Browsing the hashtag for this square actually led me to find lots of fibre friends!
Find the pattern here Vind het patroon hier
One of the blankets I was absolutely blown away by is made by Marianne. You may know her as 'Marrose', 'marretjeroos', or by her new punch needle books. And thinking back now, probably the first time I saw anything she made is when I searched the Rustic Lace Square hashtag on Instagram. And I found lots of other crocheters too!
Among the other crocheters I found were Cornel and Magda, who started a search for the original designer of the Rustic Lace Square. They were able to track it down to an Argentinian crochet magazine, but it was a very old issue and the designer could not be found.
From that time, the square pattern has kind of been accepted as 'common use', not really belonging to anyone.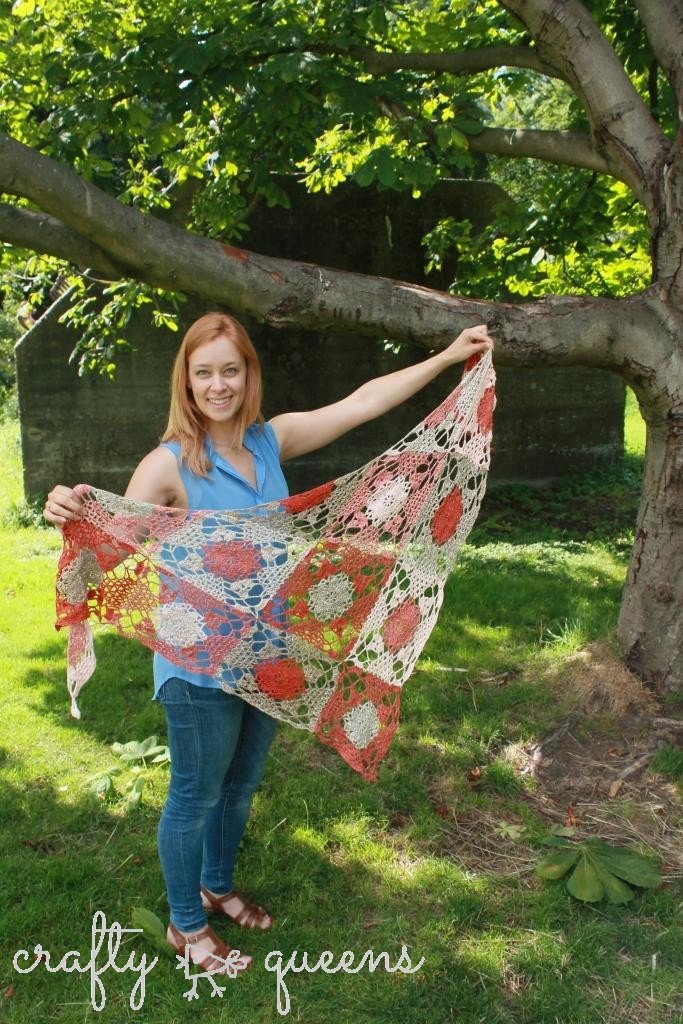 In 2015 I made a triangular shawl with the square pattern. I loved the blankets but knew I wouldn't have the patience to finish one of a decent size. So instead, I made a shawl! I used a gradient yarn cake, and by using it cleverly I was able to make each block a different colour.
This week, I will finally share this shawl pattern with you! It will be for free on my blog, but there will also be a paid PDF version that is printer-friendly. Even though the original square pattern is not mine, I am the first to also design a triangle variation of the square, which allows you to make a triangle shawl. But still, I would not feel at ease to only offer it as a paid pattern, so I'm making it into a free pattern as well!
Find the pattern here Vind het patroon hier
And for the pattern release, I decided I wanted a new and improved shawl sample! My friend Jovita crocheted the shawl for me, and after some hesitation I added a border to make the most out of the yarn cake. This shawl is also bigger than the original shawl, so I'm very happy with it.
If you want to make this exact same shawl, you will need 1 cake of Scheepjes Woolly Whirl in the Creme Anglaise 478 colour. (affiliate link)
Be sure to subscribe to my newsletter if you want to be the first to know about the Rustic Lace Square Shawl crochet pattern release. I hope you like it as much as I do!
Support me by sharing with friends!