Team Free Spirit
Hello lovely knitters! I have been loving reading all of your reactions to the Scheepjes Knit-a-Long which is kicking off on February 23rd, not long to go now! Because I know lots of people are keen to create their own colourways for the knit-a-long, I have put together some extra information for you all. As you might know, there are three official colourways for the KAL: Cirsium, Rosa, and Erica. If you've got one of those kits, you can happily call yourself 'Team Cirsium', 'Team Rosa', or 'Team Erica'! If for some reason the official colourways didn't speak to you, or you just have an adventurous mind and like to play with colours yourself, then you are very much welcome to join in the KAL as a member of Team Free Spirit!
Hallo lieve breiers! Ik heb het ontzettend naar mijn zin met het lezen van al jullie enthousiaste reacties over de Scheepjes Knit-a-Long die op 23 februari van start gaat. Ik weet dat veel mensen graag met hun eigen kleurenpalet aan de slag willen gaan voor de knit-a-long, en in deze blogpost zal ik jullie wat meer informatie daarover geven. Er zijn drie officiële kleurstellingen voor de KAL: Cirsium, Rosa, en Erica, en je bent natuurlijk van harte welkom om mee te doen als 'Team Cirsium', 'Team Rosa', of 'Team Erica'! Als je om de een of andere reden liever meebreit met een eigen gekozen kleurenpalet, dan mag je jezelf Team Free Spirit noemen. 
Is this the first time you're hearing of the Scheepjes KAL 2022 and would you like to know more? Catch up with
this blogpost
.
Is dit de eerste keer dat je van de Scheepjes KAL 2022 hoort en wil je graag meer weten? Lees dan
deze blogpost.
Create your own colourway
In this video shown above, I'm giving you lots of tips and tricks for creating your own colourway with Scheepjes Metropolis. There are so many colours to choose from, and endless combinations to make! You can truly make the cushions your own when you create a colour palette. I know some of you are eager to get started with the Metropolis Colour pack, which is an amazing painters palette box with 10 gram balls of EACH of the 80 colours. Rainbow lovers paradise! The first part of the video is about the colourpack, what to look out for and how to make it easiest for yourself.
You can also stick to a more tried-and-true route and choose six colours of Scheepjes Metropolis, just like in the official yarn kits for the Knit-a-Long. With six colours, you'll need 110 grams of colour A, and 100 grams each of colours B through F. When you put together your own colourway, please *please* make sure to have three light colours and three dark colours. This is vital for knitting colourwork because having enough contrast between your light and dark colour pairs means that the pattern shows up nicely.
In de video hierboven geef ik veel tips voor het samenstellen van je eigen kleurenpalet met Scheepjes Metropolis. Er zijn zoveel kleuren om uit te kiezen, en eindeloos veel combinaties om te maken! Zo kun je de kussens echt van jou maken, met je eigen gekozen kleuren. In de video heb ik het eerst over het Metropolis Colour Pack, een prachtige doos met 10 grams bolletjes van ELK van de 80 kleuren. Echt een paradijs voor de regenboogliefhebber. In de video (wel in het Engels) vertel ik hoe je het beste aan de slag kunt gaan en hoe je het jezelf gemakkelijk kunt maken.
Je kunt er ook voor kiezen om zes kleuren te nemen van Scheepjes Metropolis, net zoals in de officiële garenkits. Met zes kleuren heb je 110 gram nodig van Kleur A, en 100 gram elk van Kleuren B tot en met F. Als je je eigen kleurenpalet samenstelt, let er dan *alsjeblieft* op dat je drie lichte kleuren kiest en drie donkere kleuren. Dit is cruciaal om de jacquard patronen goed tot hun recht te laten komen.
Three Inspirational Colourways
To inspire you even more when putting together your own colourway, I have created three inspirational colourways to get you started. These are not official colourways so there won't be official kits for these, but of course you can ask your local Scheepjes retailer for help to put these packs together for you. Please note that the original kits contain 110 grams of Colour A – 2 x 50 gram balls and 1 x 10 gram ball. The retailers don't have access to these 10 gram balls outside of the Metropolis colourpack. To be safe, I would recommend ordering 3 balls of 50 grams. Or, you can order 2 balls and see later on whether you need some additional yardage of Colour A. Now, without further ado.. the inspirational colourways!
Om je nog meer te inspireren heb ik nog drie kleurstellingen bedacht voor de Sassenach Knit-a-Long. Dit zijn geen officiële kleurstellingen dus er gaan geen garenkits van komen, maar je kunt natuurlijk je lokale Scheepjes wolwinkel vragen dit pakket voor je samen te stellen. Let dan wel op dat er in de originele kits 110 gram zat van Kleur A: 2 bollen van 50 gram en 1 bol van 10 gram. De winkeliers hebben geen 10 grams bolletjes op voorraad, hier is niet aan te komen tenzij je er eentje pakt uit een Colour Pack. Je kunt dus kiezen om veilig te zijn en 3 bollen van kleur A te bestellen, of je kunt er 2 bestellen en dan kijken of je überhaupt die extra grammen nodig hebt. 
Viola
The Viola inspirational colourway is a beautiful mix of corals and teals. It was inspired by the character Bonnie Prince Charlie in the Outlander series, as he often wears soft coral pinks and shades of teal blue. I'm sharing some more images that inspired this colourway in the video linked above.
De Viola kleurstelling is een prachtige mix van koraaltinten en zeegroen en blauw. Ik werd geïnspireerd door 'Bonnie Prince Charlie' uit de Outlander serie, omdat hij vaak zachte roze-rode tinten draagt en blauw. In de video hierboven deel ik wat meer foto's hiervan.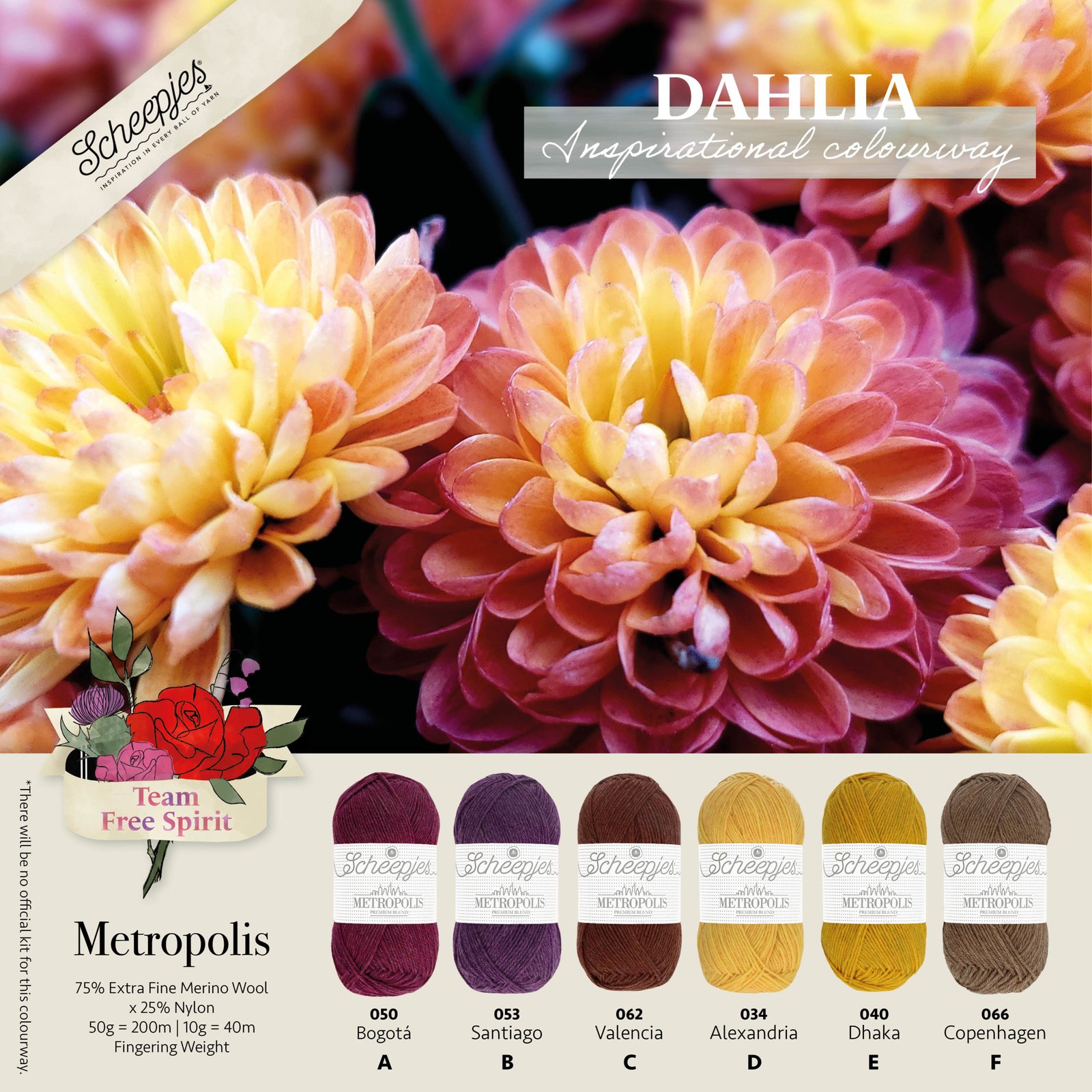 Dahlia
Be still my heart… Dahlia is such a pretty colourway! This was inspired by 'the dress' Claire wears in Season 2 of Outlander. Of course, she wears many dresses, but this one really captured my eye. It's caramel brown, with beautiful shades of gold, pinks and purples. I'm showing the dress in the video above. For this colourway it is important to note that the 'lights' and 'darks' have been switched around. When I was playing around with these colours in my chart-maker, I found that I liked it better when the colours were inverted, to give the golden yellows more of a spotlight.
Oh, wat is de Dahlia kleurstelling toch mooi! Deze werd geïnspireerd door 'DE jurk', die Claire draagt in Seizoen 2 van de serie. Natuurlijk draagt ze heel veel jurken, maar deze is me toch echt bijgebleven. Het is een bruine jurk met goudgele details en prachtige roze en paarse dahlia's erop geborduurd. Voor deze kleurstelling is het belangrijk om erbij stil te staan dat de lichte en donkere tinten zijn omgedraaid. Meestal is ABC licht en DEF donker, hier is dat dus omgedraaid. 
Solana
Solana, a wonderful dark colourway. Solana was named after the flower 'Nightshade', which is part of the 'Solanaceae' floral family. I was inspired by someone in the Scheepjes Facebook groups actually, who said they were going to create a gothic-look colour palette, and I thought it was a great idea. For this colourway the colours are inverted as well, meaning the lights and darks have been switched around, just like with the Dahlia colourway. This will create a stunning set of dark cushions, with the bright lavender purple showing up as the clover leaves. Ooh, I can't wait to see someone knit this up!
Solana is een prachtige en donkere kleurstelling. De naam Solana komt van de bloem 'Nachtschade', wat onderdeel uitmaakt van de 'Solanaceae' familie. Deze kleurstelling heb ik gemaakt naar aanleiding van iemand in de Scheepjes Facebook groep, die zei dat ze zelf een donkere kleurstelling wilde maken, met zwart en paars. Dat vond ik zo'n goed idee! Voor deze kleurstelling zijn de lichte en donkere kleuren ook omgedraaid, net als bij de Dahlia kleurstelling. Dit zal een prachtig resultaat geven met de klavers voor het Claire kussen in licht lavendelpaars op een ondergrond van antraciet. Ik kan niet wachten totdat iemand deze breit!
Share your own
Share your own colour palette in the International Scheepjes Facebook Group.
Deel je eigen kleurenpalet in de Nederlandse Facebook Groep van Scheepjes.
Support me by sharing with friends!