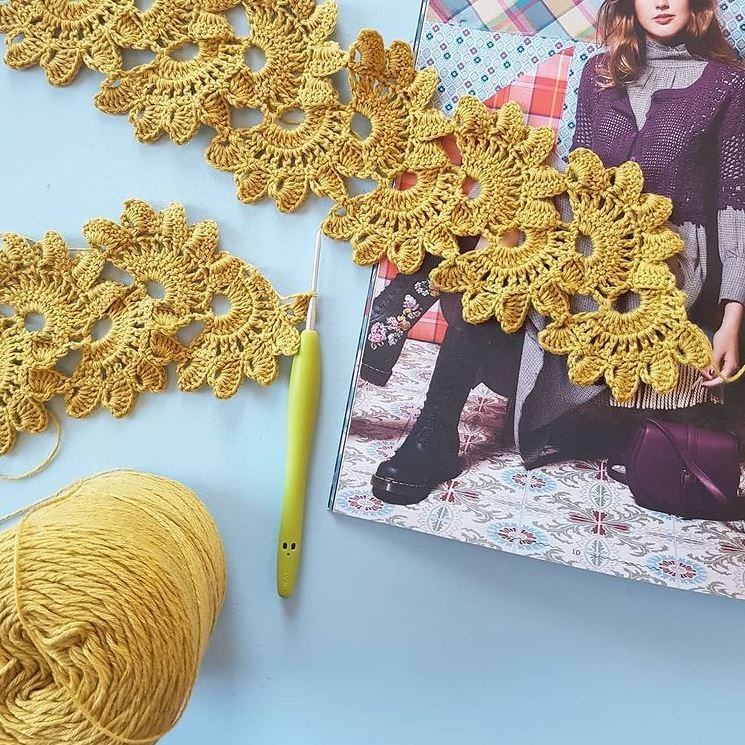 Olga Cardigan by Susan Walsh
If you've been following me for a while, chances are you will have seen me working on this project! The Olga Cardigan has been on my needles since 2018, when the Folk issue of Scheepjes YARN bookazine came out. If you don't know Scheepjes YARN bookazine, definitely have a look at their issues. They come out twice a year and I'm always blown away by the gorgeous knitting and crochet designs. This particular issue also has two of my own designs in it, read all about it here if you'd like to know more.
Purchase the Scheepjes YARN Bookazine – Folk issue via the affiliate links below:
Wool Warehouse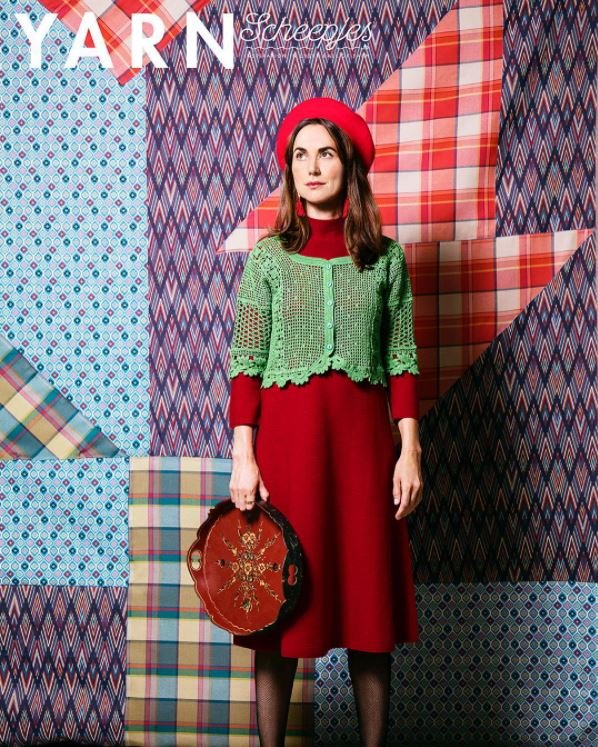 I especially liked this image from the magazine, where you can really see the many different stitch patterns of the Olga Cardigan. It's a design by Susan Walsh from Peppergoose. She's an amazing designer, check out her other patterns!
The cardigan is designed for Scheepjes Maxi Sugar Rush, a really fine mercerized cotton that you work on a 2mm crochet hook. I have to admit I was a little intimidated by the thought of all those tiny stitches, so for my version I opted for Scheepjes Whirlette which is a slightly thicker yarn.
Construction
The construction of this cardigan is so unusual, but also a reason why I love it so much! You start with the sleeve cuffs, which you can see more clearly on the very first picture of this blogpost. You then join the sleeve cuff in the round and crochet the sleeve in a beautiful lace pattern. From the sleeve, you start working on the body piece. At this point I had to just completely trust the pattern as I could not envision how it was going to look. Luckily Susan is an amazing designer and knows what she's doing! Just follow the pattern and you will be fine.
The body is mostly worked up in filet crochet which was a joy to crochet. The most mindless bit of the entire cardigan as the other lace stitches and patterns do require a bit of concentration.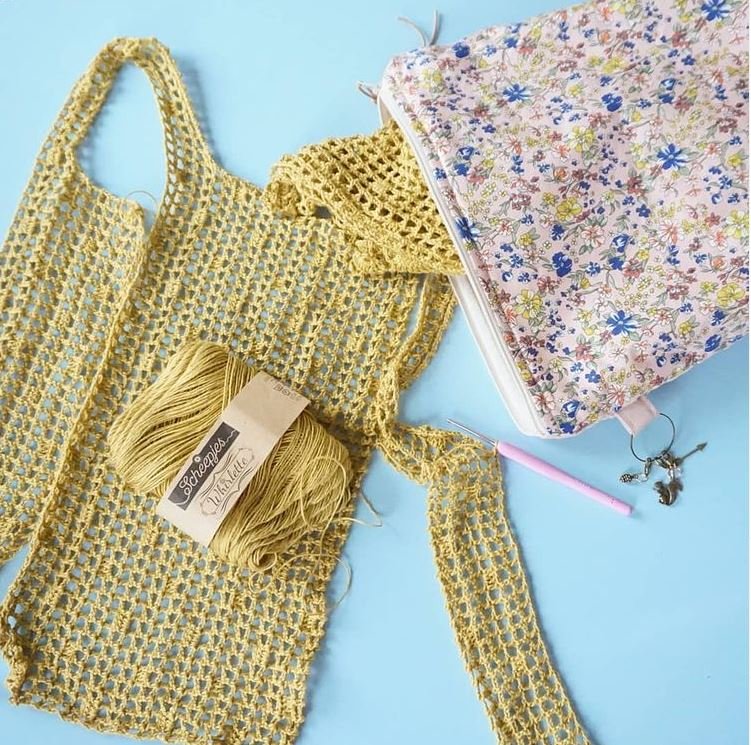 In this picture I'm working on the center back piece, which is then joined to both sleeves with floral motif squares. I know, it probably doesn't make much sense if you haven't made the cardigan, but don't worry about that! The pattern is written very clearly which makes it a very enjoyable process.
If you're curious, the exact Whirlette colour I'm using is Mango, and I used 3 balls. I made size Small from the pattern, which turned out more like a Large or Extra-Large due to the thicker yarn. If you're not too comfortable with substituting yarns in a pattern, I definitely recommend going with the Scheepjes Maxi Sugar Rush yarn which is recommended in the pattern.
I absolutely loved the floral square motifs and the edging, so so beautiful! Because there were so many stitch patterns included in this cardigan you're changing it up quite a bit, so it doesn't get monotonous at all. I also adore the mustard colour, don't you?
It's done!
And then, after at least three years of making, I finally finished the Olga Cardigan last month! This is a snapshot of my most recent podcast episode. If you want to have a watch, click right here. The cardigan looks so pretty after blocking, and I'm very pleased with the buttons that I picked out. I did not have enough buttons of the same colour, so they are all different shades of green, brown and purple. Because they are all quite dark, they match together quite nicely!
The fit
In this picture you may not see it very well, but the cardigan is actually too big for me. Such a shame! Up until I blocked it I actually thought it was going to fit me, but it is just too big. I know it's my own fault because I went with a different yarn, so I don't mind it very much. I think I can make someone else very happy with this cardigan! And who knows, I might finally have the courage to try this project in the thinner yarn that it was actually meant for.
Too bad, haha. I should have known better! I followed the instructions for size S from the pattern, but due to the thicker yarn it ended up more like a L or XL. That's okay though, I think I already know the perfect person to gift this cardigan to. And I can always make another one! I thought it was too nice not to share, and it might also be helpful to know that even experienced crocheters (and designers) also still make mistakes.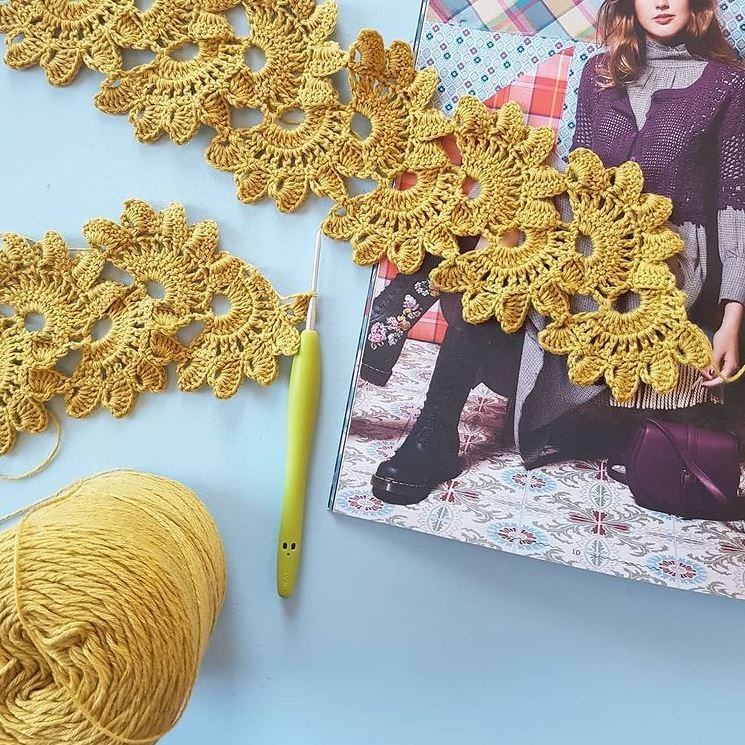 Have you ever had a garment that turned out too big or too small? I think it would be lovely to share some experiences so we don't feel like we're the only one! Yarn substitution will always be tricky, so whenever possible it's best to just go with the yarn that the pattern was designed for. Even though in this case that would have meant tinier stitches, it would also have saved me a lot of worrying 😉 I'll know better next time!
You might also like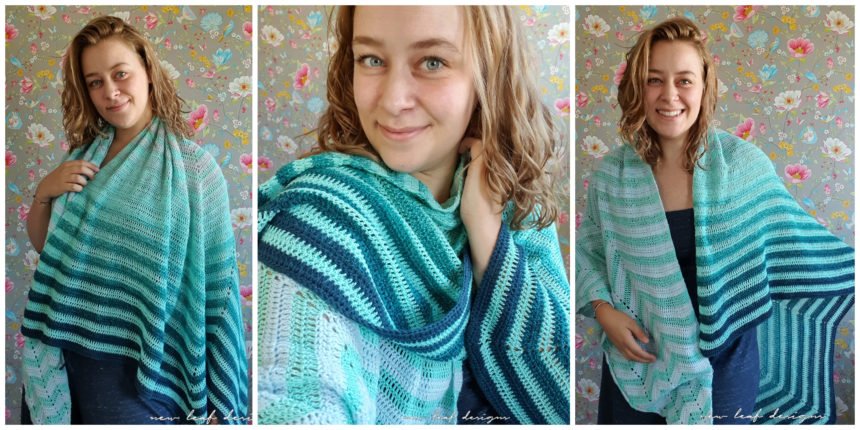 Support me by sharing with friends!