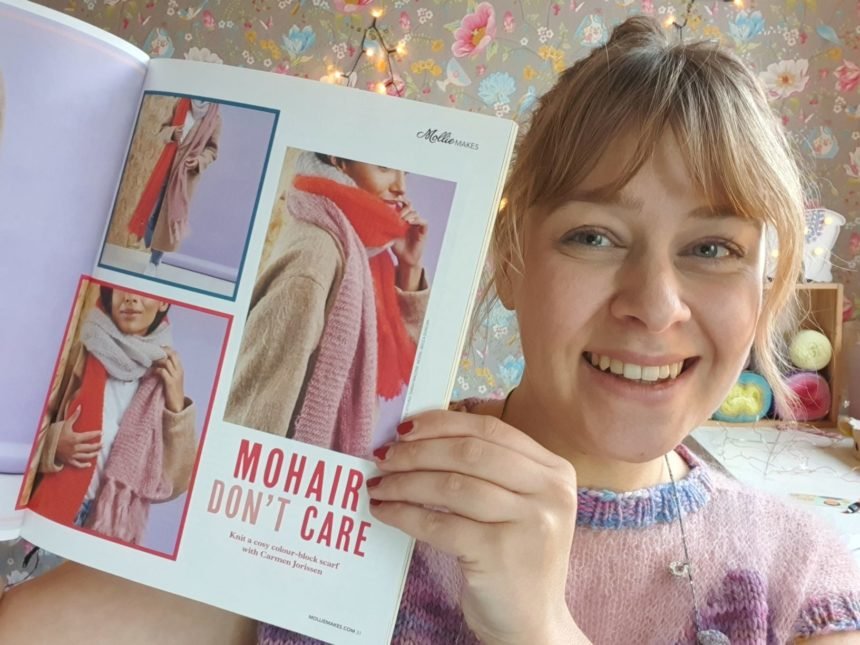 Mohair Don't Care Scarf!
The Mohair Don't Care Scarf is now available through both my pattern stores, woohoo! It was first published in Mollie Makes Magazine last year, but now the rights are reverted I can sell the single pattern via my own stores too. Want to knit a fluffy oversized statement scarf for yourself? Alright, it's not quite as oversized to call it a shlanket (shawl blanket) but you can snuggle up in it just the same!
Where can I get the pattern?
The Mohair Don't Care Scarf pattern is available via my own webshop right here, and via my Ravelry shop. Both stores offer an instant download, so immediately after purchase you either get a download link or you can find the pattern in your account. If you create project pages on Ravelry (which, let me tell you, designers are SO grateful for!), then it might be easiest to get it on Ravelry. If you prefer checking out with iDeal, Sofort Banking or Bancontact, then you can checkout via my own webshop because Ravelry doesn't have these options.
Be sure to use the discount code CHRISTMAS for 30% off on December 25th-27th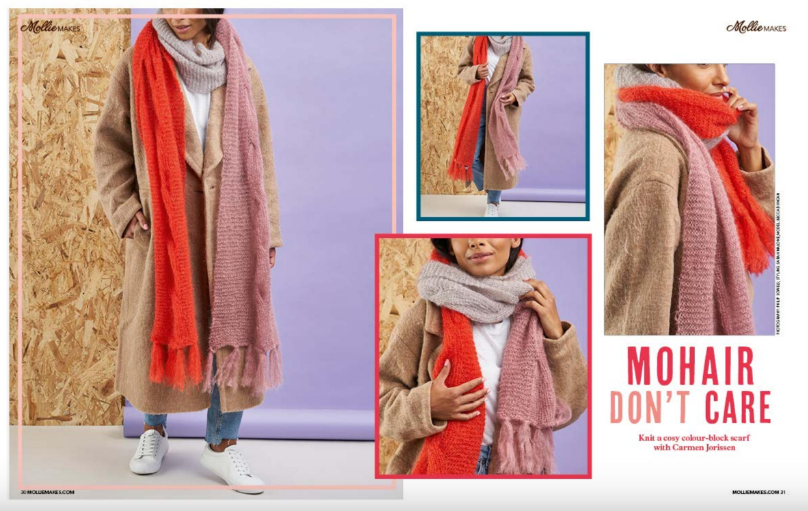 What yarn do I need?
To get exactly the same scarf as the original, you will need:
Scheepjes Mohair Rhythm (70% Mohair/30% Micro; 200m/218yd per 25g ball)
Cha Cha (689) x3 balls (Red)
Robotic (674) x2 balls (Grey)
Foxtrot (673) x3 balls (Pink)
Get your Scheepjes Mohair yarns via these affiliate links:
Wool Warehouse
Caro's Atelier – female owned business!
But, isn't it fiddly to knit with mohair?
Traditionally, mohair is knit single stranded and on tiny needles. And yes, this can be quite fiddly and difficult to rip out if you've made an error. But in this pattern, we're using the mohair double stranded which makes a HUGE difference. Also, we are knitting on bigger needles than is recommended for the yarn, which also makes it a lot easier to knit. Honestly, just give it a try! The Mohair Don't Care Scarf is a perfect first pattern for mohair.
What if I really don't want to knit with mohair?
Who said this pattern could only be knit in mohair? As long as you can get a nice fabric on 6mm needles, you can use any yarn for it and still get the same size. If you use a thinner yarn with smaller needles, please do beware that the scarf will be thinner. An alternative yarn that I can recommend is Scheepjes Eliza. It's a supersoft yarn that will give you the same squishy and fluffy effect, and you can knit it on 6mm needles. Check out all of their colours via the affiliate link below, this is a Dutch store but they may be able to ship to you as well if you contact them:
Is this a difficult shawl to knit?
I would actually say this is a great shawl for beginner knitters! You knit it on big needles so it goes quickly, you can substitute the yarn if you don't like knitting with mohair, and the stitches are very easy too. I've even included lots of step by step pictures for the cable, so that will be a breeze as well! If you don't have a cable needle (pictured below), you could always make a cable needle yourself by "unfolding" a bobby pin (hair pin) so that it forms a big V.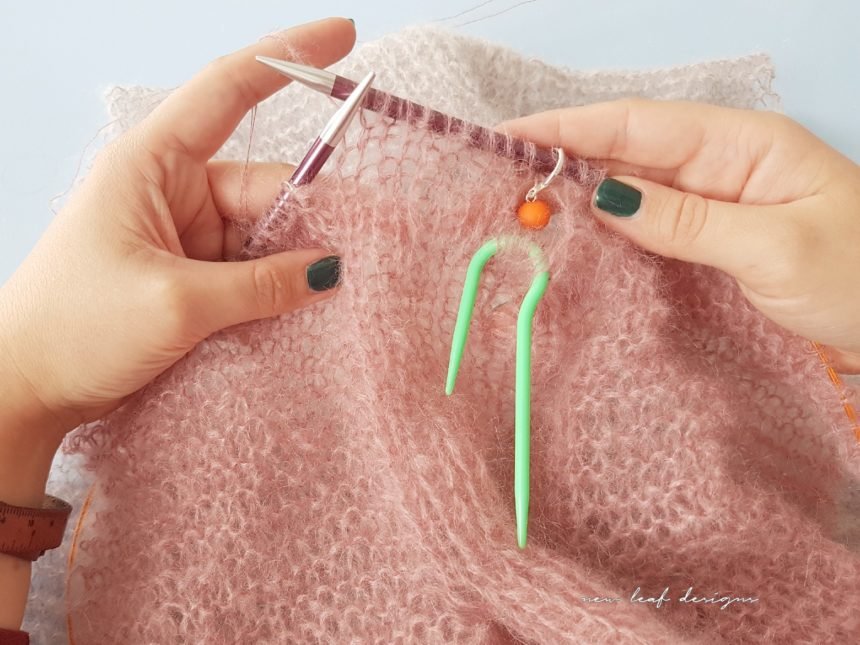 Woohoo, I want to cast on right now!
Yayy!!! I hope you will love knitting this scarf and that you will loads of wear out of it this winter, or the upcoming winter if you're living in the Southern Hemisphere 🙂 Below you can see a picture of me wearing the scarf, this is from last year before I had to ship it off to Mollie Makes magazine. I wish I had more pictures of it! Hopefully I can get it back soon so I can show you up close. Happy knitting, and happy holidays!
Support me by sharing with friends!