Crafting a Rainbow Road
Is it just me, or do you also think of Mario Kart when I say Rainbow Road? I must say I was very inspired by the Mario Kart track for this particular design. Not to worry though! I'm not about to design a pattern that is almost impossible to follow 😉 For anyone that doesn't know Mario Kart: Rainbow Road is a level that looks amazing with all the rainbow colours (obviously) but it is also the most difficult level in my opinion. Anyway! Enough nerdy talk, let's get to the reason I'm writing this blogpost!
Ligt het aan mij, of denk jij ook gelijk aan Mario Kart als ik Rainbow Road zeg? Ik moet zeggen dat ik wel wat geïnspireerd was door het Mario Kart level voor dit ontwerp. Maar geen paniek, want het wordt geen onmogelijk moeilijk patroon 😉 Voor degenen die nu denken: huh? Rainbow Road is een level bij Mario Kart dat er geweldig uitziet met alle regenboog kleurtjes, maar ook het allermoeilijkste level – vind ik dan. Maar dan nu even waarom ik echt deze blogpost aan het schrijven ben!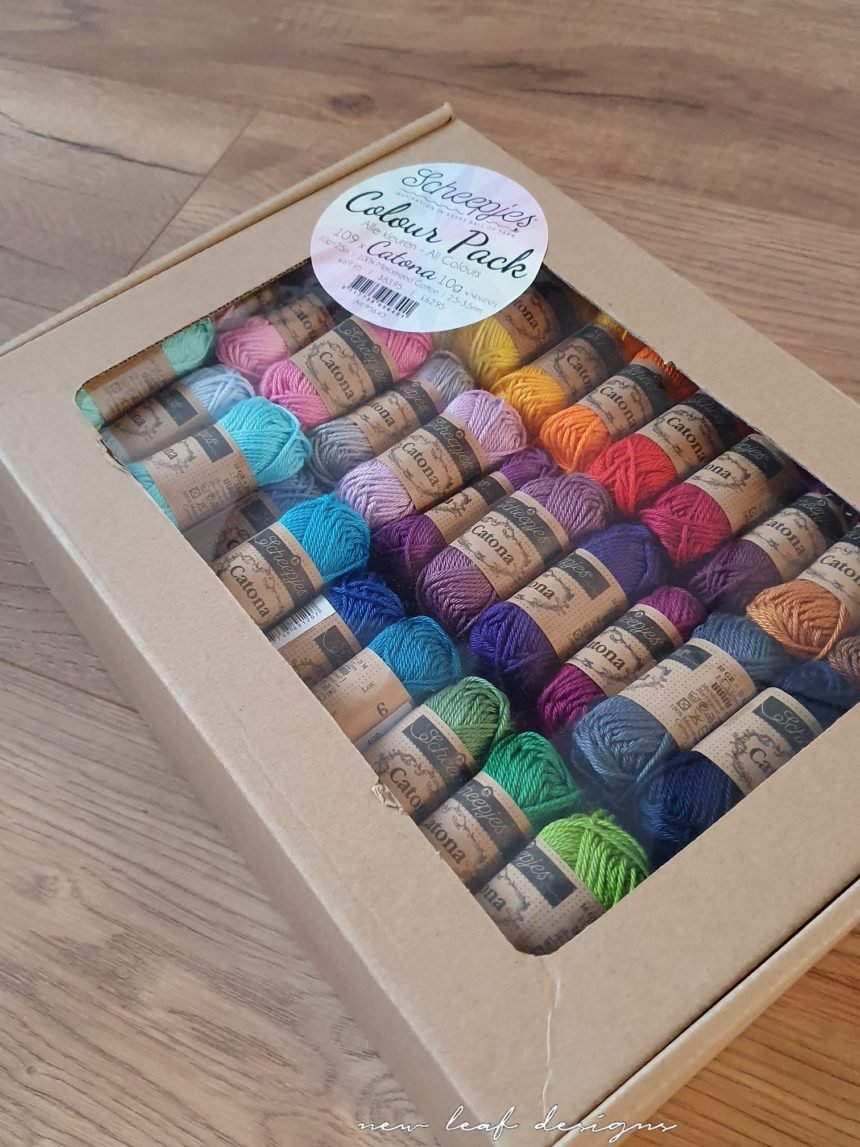 Scheepjes Catona Colour Pack
For anyone who has knitted or crocheted with Scheepjes yarns before, you will know Scheepjes LOVE colour. I'm always amazed by the amount of colours in their yarn ranges. The absolute Queen of colour in Scheepjes yarns has got to be Catona, a 100% mercerized cotton yarn. With a range of 109 colours, the possibilities are ENDLESS. And what's more, Scheepjes have created a Colour Pack for those of us who want to craft with every bit of colour from the rainbow.
And yes indeed, I have designed something – psst… a crochet blanket– with this pack! You will not need any additional yarn, just the colour pack. Alternatively, you can use 22 balls of 50g Scheepjes Catona instead of the pack. If you want to get your yarn pack ready for the FREE pattern release on September 1st, make your way to any of the Scheepjes retailers listed here, or perhaps shop via any of the online shops below. Shopping via these affiliate links will not cost you anything extra, and the shopkeeper gives me a small percentage as a reward. Thank you for considering!
Knitting Network – Scheepjes Catona 50g
Wie ooit al eens met Scheepjes garens heeft gewerkt zal direct weten dat Scheepjes ENORM van kleur houdt. Altijd sta ik weer versteld van de hoeveelheid verschillende kleuren van hun garens. En de absolute Kleur Koningin is natuurlijk Catona, het 100% katoenen garen met wel 109 kleuren. De mogelijkheden zijn werkelijk eindeloos! En wat ik dan zo leuk vind, is dat Scheepjes een Colour Pack heeft gemaakt voor de kleurfanaten onder ons, die willen werken met alle kleuren die er maar zijn.
En jazeker, het ontwerp – pssst… een gehaakte deken! – wat ik nu aan het maken ben is speciaal ontworpen voor deze Colour Pack! Je hebt geen extra garen nodig, wat in het Colour Pack zit is voldoende. Je kunt ook 22 losse bollen Scheepjes Catona 50gr halen in plaats van het colour pack. Als je je garen alvast klaar wilt hebben voor de lancering van het patroon op 1 september, dan kun je deze halen bij een van de Scheepjes verkooppunten. De Colour Packs zijn ook te krijgen via de webshop hieronder, dit zijn affiliate links en daar verdien ik dan een beetje van, maar het kost jou niets extra. 
Caro's Atelier – Colour Pack & Catona 50g
Other Colour Packs
Scheepjes have Colour packs for multiple yarns, not just for Catona! Here is my Chevrainbow Blanket, which is made with the Stone Washed & River Washed Colourpack. Find the free pattern here.
Scheepjes heeft ook Colour packs voor andere garens, niet alleen voor Catona! Hier zie je mijn Chevrainbow Deken, die ik maakte met het Stone Washed & River Washed Colourpack. Vind het gratis patroon hier.
Another Colour Pack from Scheepjes that I really love is the Metropolis Colour Pack, which I am currently using for my Around the World Sweater! Get the pattern including the colour pack matching list here.
Een andere Colour Pack van Scheepjes die ik ook heel mooi vind is het Metropolis Colour Pack, waar ik momenteel mijn Around the World Sweater van aan het maken ben! Het patroon inclusief de kleurenlijst vind je hier.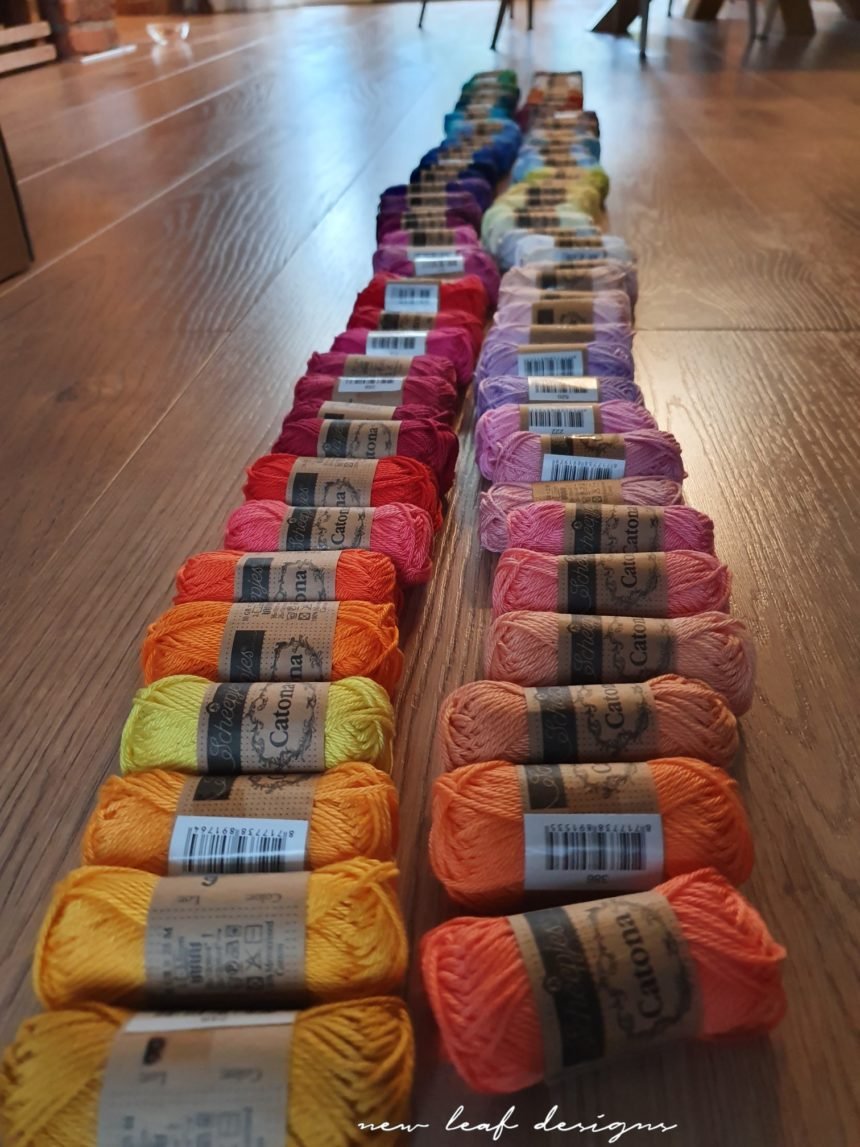 Colour Planning
So, how do you begin a project with a Colour Pack like this? I personally really like gradual colour changes, and a nice balance of colour throughout. So for this design, I decided to divide the colours in half: brights and jewel tones on the left side,  pastels and neutrals on the right side. This way, I know that the entire blanket will have the same amount of colour 'pops' because the bright colours are not all in one place. The crochet pattern will include a colour order list, so you will be able to make the exact same blanket I am making.
Excited to see where this is going? Be sure to check back in a couple days for an update! If you're subscribed to my newsletter, I'll be sending one out when the new blogpost goes live, and of course also when the pattern is here. Until then!
Je zult je misschien afvragen, hoe begin je überhaupt een ontwerp met een Colour Pack? Persoonlijk houd ik echt van vloeiende kleurovergangen, en een goede kleurbalans van het hele ontwerp. Voor dit ontwerp verdeelde ik de 109 kleuren van Catona in twee helften: verzadigde kleuren en knalkleuren aan de linkerkant, tegenover pastels en neutrale kleuren aan de rechterkant. Zo weet ik dat de gehele deken in balans zal zijn omdat de felle kleuren niet allemaal op één plek geconcentreerd zijn. Het haakpatroon zal een kleurvolgorde lijst hebben, zodat jij ook precies dezelfde deken kunt maken.
Ben je al benieuwd? Over een paar dagen zal ik weer een blogpost plaatsen, houd mijn blog dus in de gaten. Als je geabonneerd bent op mijn nieuwsbrief zul je er automatisch bericht over ontvangen als een nieuwe blogpost online staat. Tot dan!
Support me by sharing with friends!