Vandaag is er weer een leuke nieuwe KAL begonnen (Knit-A-Long wordt daarmee bedoeld) op Ravelry. Ravelry ken je misschien al, een super website waar je ontzettend veel patronen op haak- en breigebied kunt vinden. Hier is de officiële Ravelry pagina voor de KAL. 
De Knit-A-Long wordt georganiseerd door Becky van Soprano Knits in samenwerking met Aroha Knits. Bekijk hier Becky's vlog over de KAL. De KAL loopt van 10 oktober tot 10 december, en er zijn ook prijzen te winnen! Als je een van de mee-dingende patronen breit maak je kans op een van de leuke prijzen, beschikbaar gesteld door Aroha Knits en vele zelfstandige ontwerpers die een eigen product hebben gedoneerd.
Today marks the start of a new fun KAL (Knit-A-Long) on Ravelry. You might know Ravelry, the great database of knit and crochet patterns. Find the official page here. 
The KAL is hosted by Becky from Soprano Knits in collaboration with Aroha Knits. Watch Becky's vlog on the KAL here. The KAL will run from October 10th to December 10th, and there are various prizes available to win! If you knit one of the participating patterns and complete it during the time specified, you will be eligible to win one of the fabulous prizes, donated by Aroha Knits and various independent designers.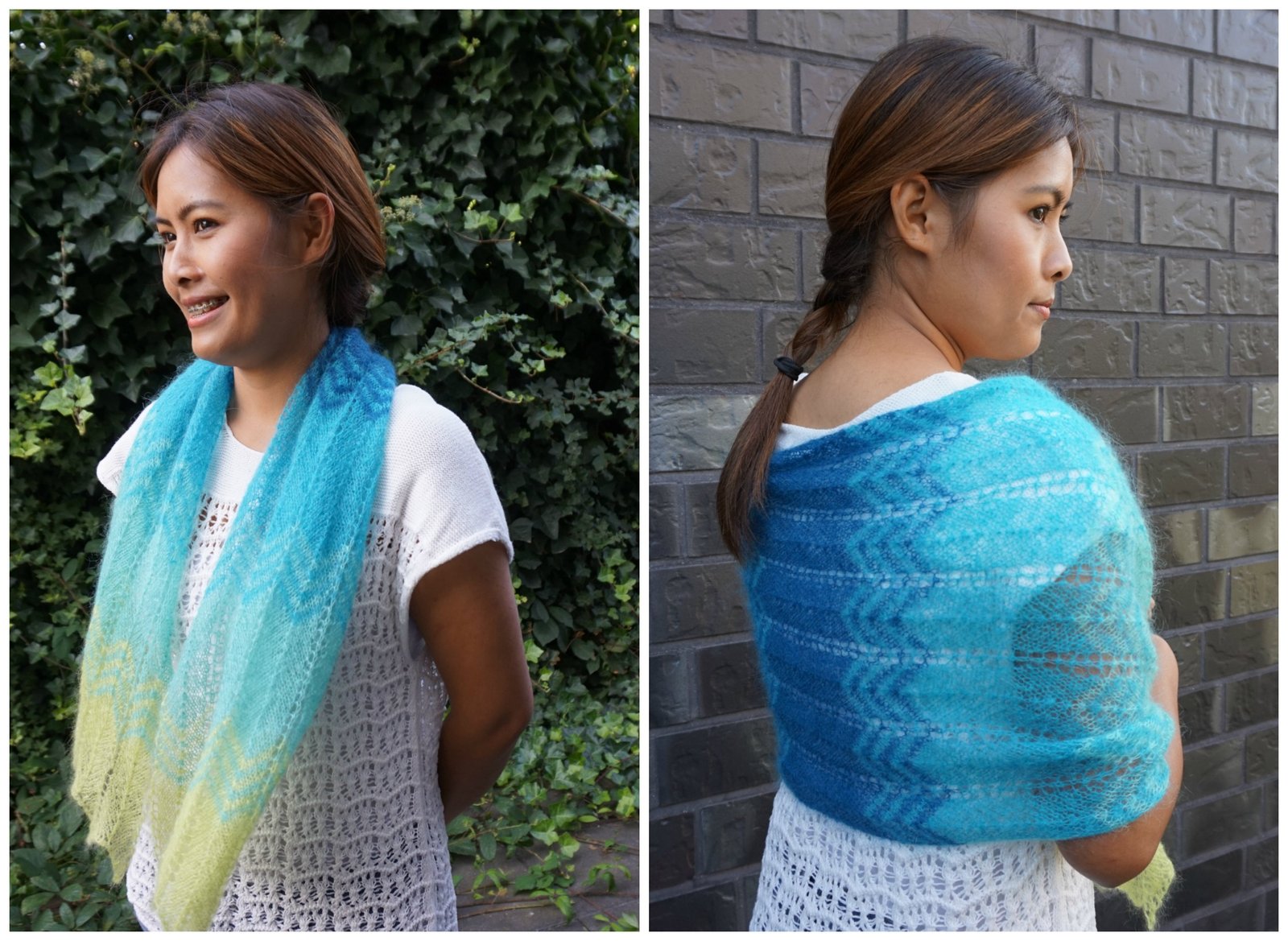 Hoe kun je dan meedoen? Door één of meerdere van de patronen te breien maak je kans op de prijzen. Vind hier een lijst van alle patronen die meedoen aan deze KAL. Eén van de patronen is mijn bijdrage, namelijk mijn 'Alpine Haze Shawl'!
How do you participate? Well, by knitting one or more of the patterns listed you can win one of the prizes. I also contributed a pattern of mine: the Alpine Haze Shawl!
Het patroon is gebaseerd op het kleurverloop tussen mistige bergen, vandaar 'Alpine Haze'. Het is een simpel kantpatroon dat gemakkelijk tijdens het TV-kijken kan worden gebreid. Ik gebruikte er Scheepjes Mohair Rhythm voor in 4 kleuren. Meer informatie vind je op de patroonpagina op Ravelry, waar je ook het patroon kan aanschaffen. Deze week nog met 20% korting (geen code nodig). 
The pattern is based on the gradient colours of misty mountains, hence the name 'Alpine Haze'. It's an easy lace knit pattern which is perfect to knit in front of the TV, the lace pattern is so easy to remember! I used Scheepjes Mohair Rhythm for this shawl in 4 colours. You can find more information over on the pattern page on Ravelry, you can also purchase the pattern there. You'll receive a discount of 20% this week only (no code needed).
Doe jij ook mee aan een KAL of CAL deze winter?
Are you participating in a KAL or CAL this winter?
Support me by sharing with friends!