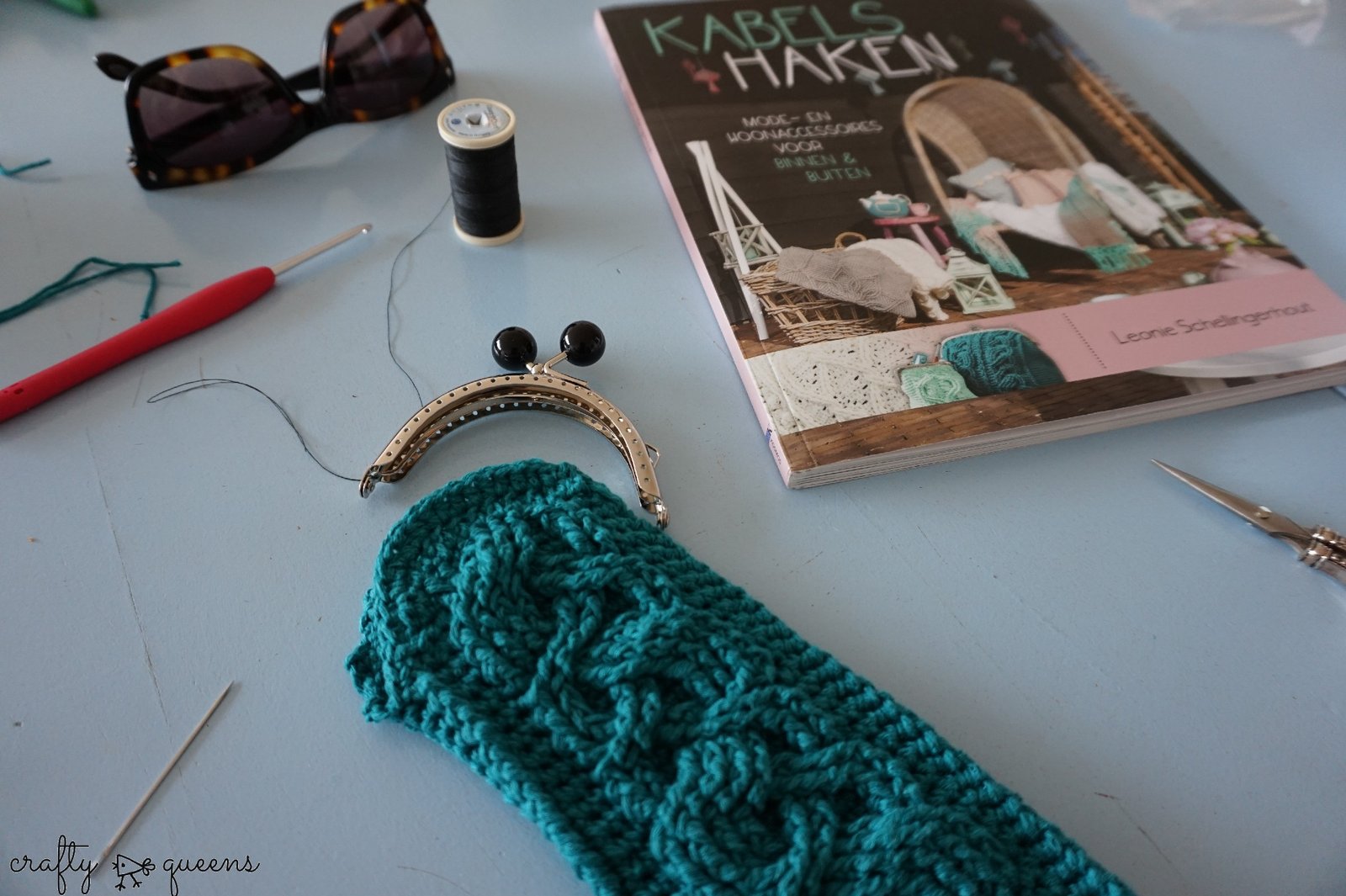 Op deze W.I.P. (work in progress) woensdag ben ik ben een klein tussenprojectje bezig! Een lekker snel portemonneetje naar een patroon uit het nieuwe boek Kabels Haken, geschreven door Leonie van het Wolcafé in Schoonhoven (je weet wel, van die mooie ombré garens!). Toen dit boek uitkwam kon ik niet wachten om een mooi gekabeld project te beginnen, kabels vind ik zo leuk om zowel te haken als te breien. 
It's WIP Wednesday, yay! Of course I've been seduced to start yet another small project, haha. It is a purse pattern from a new Dutch craft book called 'Kabels Haken' (crocheting cables), by Leonie from the yarn store Wolcafé (woolcafe). Ever since it came out I've been dying to start a lovely cabled project.
Het boek is ingedeeld in verschillende hoofdstukken gecategoriseerd op woonruimte: keuken, slaapkamer, badkamer, buiten.. Met in totaal wel bijna 30 patronen is er voor ieder wat wils bij. Vooral leuke cadeau-ideetjes! Zoals de badkamermandjes of kussenslopen, snel om te maken en leuk om te geven. 
The patterns are divided in several categories according to a living space: kitchen, bathroom, bedroom, garden etc. With almost 30 patterns in total, you're sure to find something for everyone. Especially fun projects to gift at Christmas!
De patronen zijn zowel uitgeschreven als uitgewerkt in een haakschema. Wel fijn om beide middelen te hebben, de ene keer wil je juist het visuele aspect van een haakschema, en de andere keer wil je toch nog even in het geschreven patroon nalezen of het echt wel klopt wat je doet. De patronen zijn zeer uitvoerig beschreven, wat voor een eerste keer kabels haken zeker geen luxe is. Als je wat verder gevorderd bent of hetzelfde patroon voor de tweede keer haakt is het fijn als je door één blik op het schema weer weet hoe het patroon in elkaar steekt. Voorin het boek staan zelfs QR-codes (van die zwart-wit blokjes) die je met een app op je mobiel kunt scannen, waarna het je naar een Youtube instructiefilmpje brengt! Echt super bedacht, dit is precies wat ik zou verwachten van een hedendaags haakboek. 
The patterns are both written and charted, which is really great (for the non-Dutchies, you can't rely on just the charts alone, so I'm afraid this is not an international book). There are even QR codes you can scan to view the instruction videos online, amazing! Exactly what I would want to expect from a modern crochet book. 
Zelf werd ik spontaan verliefd op de gekabelde toilettasjes! Ik zocht snel naar een tasbeugel in mijn voorraad, maar helaas was die wat te smal. Maar geen nood, het patroon was gemakkelijk genoeg in de breedte aan te passen zodat het ook op mijn tasbeugel zou passen.
I instantly fell in love with the cabled toiletry bags! The bag clasp I had in my stash was too short for the pattern, but I could easily adapt the pattern to fit my clasp. 
Het kabels haken is even wennen, maar als je eenmaal doorhebt hoe het gaat is het een heel vlug werkje. Dit portemonneetje had ik in twee autoritten (als passagier natuurlijk) al bijna klaar!
Crocheting cables takes some getting used to, but once you get it, it's a very fast project! I finished this little purse in two car rides (as a passenger of course).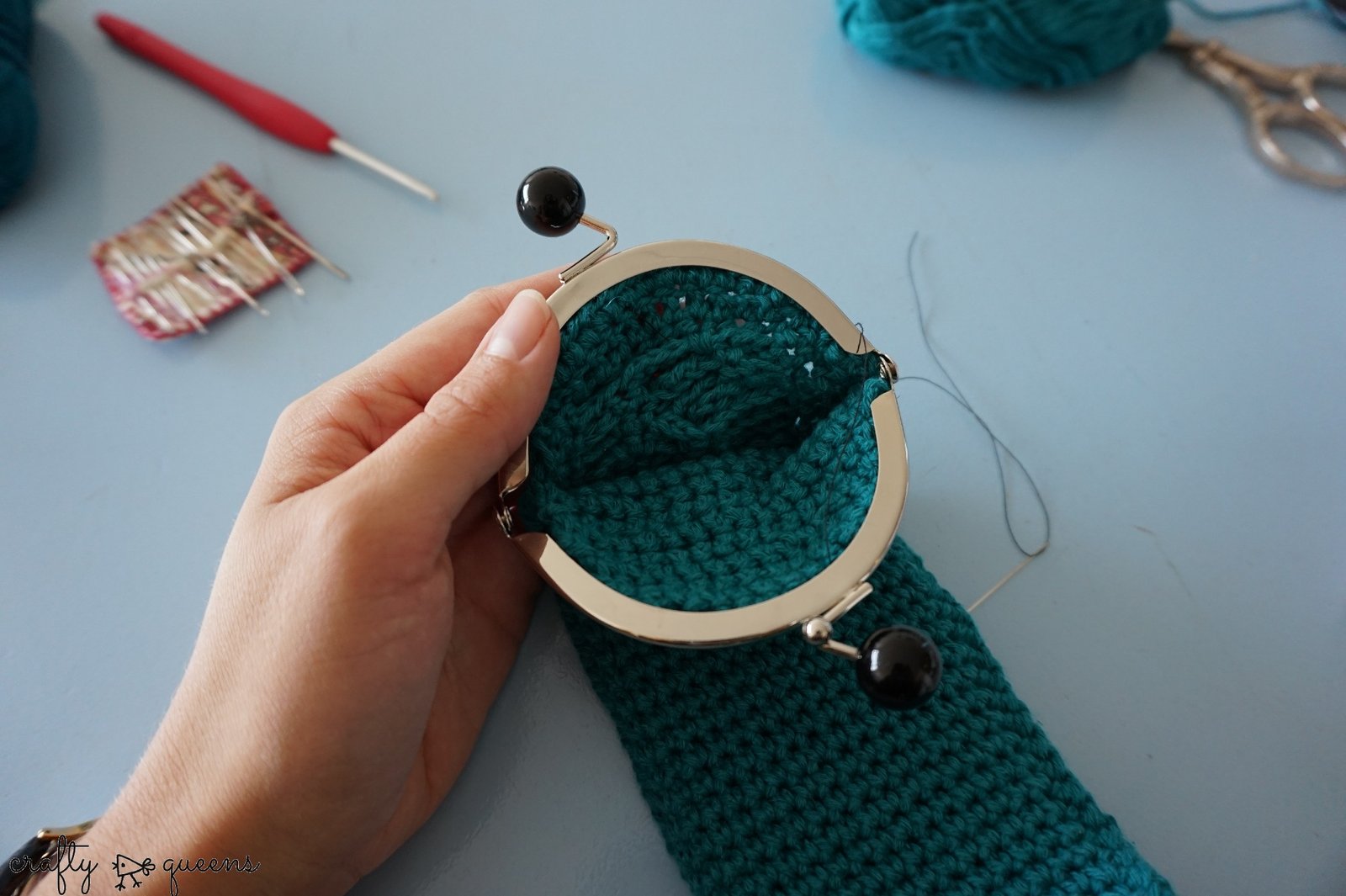 Nog even de sluiting eraan naaien en dan is mijn nieuwe zonnebril-hoesje klaar 🙂 Ik kan hem nog net gebruiken in deze heerlijke nazomer, als de zon van en naar werk toe zo laag staat. 
Now I just have to sew on the clasp, and my new sunglasses case will be done! I can still use it in this perfect late summer weather, when the sun shines low and bright every morning and evening. 
Conclusie: Prachtig haakboek, mooie patronen, duidelijke uitleg, en bovenal veel inspiratie voor al die kerstcadeaus die nog op je lijstje staan 😉 Beschikbaar voor €14,95 in de webshop van Wolcafé (kun je gelijk het garen erbij bestellen!). Ook te bestellen bij Bol.com. 
In short: a beautiful crochet book with fun patterns, clear instructions and above all lots of inspiration for all of those Christmas gifts on your to-do list 😉 Available in several Dutch bookstores and online, for €14,95. 
Support me by sharing with friends!