Ik ben iemand die veel lijstjes maakt. Van dingen die ik nog moet doen, spullen die ik moet kopen, dingen die ik graag zou willen hebben (waar ik typisch genoeg altijd pas aan terugdenk ná mijn verjaardag of kerst). Sinds ik een tijdje geleden een blogplanner begon houd ik ook lijstjes bij over mogelijke blog-onderwerpen, en wat ik elke maand (of haalbaarder: binnen een jaar) wil bereiken op bloggebied.
I'm that person who loves making lists. To-do lists, to-make lists, grocery lists, wish lists (which of course I only remember after my birthday). I've had a blog planner for a few months now, and since then I'm also making lists on possible blog posts and what I'd like to achieve each month (or more reasonably: each year), blog-wise. 
Wat al een héle tijd op mijn lijstje staat om te 'behalen' dit jaar is een patronenshop. Mét natuurlijk patronen erin! Ik heb al van mezelf gemerkt dat ik het veel te leuk vind om met iets nieuws te beginnen – ik kan die nieuwe bolletjes garen nauwelijks weerstaan als ze zo met hun mooie etiketjes uit de kast naar me lonken – dus vaak als ik een nieuw ontwerp heb afgemaakt blijft het daarbij. Ik heb wel mijn aantekening-kriebeltjes op verschillende papiertjes, maar die zijn al gauw niet meer te vinden want ik heb weer een nieuwe set naalden met dat leuke nieuwe bolletje in mijn handen. 
What I've been wanting to do for quite a while now is to set up a pattern shop. But of course, in order to do that I need to make PDF patterns to place in the shop! I've noticed about myself that I really like to start a new project – I can hardly resist those new balls of yarn with their new crisp labels, waiting for me to cast on.. – so often when I design something new, it stays that. I have my notes scribbled on random pieces of paper, but shortly after casting it off I picked up some new yarn to try something new with!
Toen ik een tijdje geleden deze vakantie plande waar ik vandaag alweer de laatste dag van beleef, was ik van plan om ook een paar dagen van die vakantie thuis te zijn, zodat ik aan patronen kan werken die al heel lang op de planken liggen. Ik had er namelijk een paar, en ze zijn zó leuk! Maar een paar stappen zijn best lastig en daar had ik het liefst stap-voor-stap foto's bij. Maarja, dan moet ik het natuurlijk weer opnieuw gaan maken. Én goed licht hebben voor foto's te nemen tussendoor. 
When I planned this vacation – of which today is the last day already! – I also planned to stay home some of the days, so I could work on some patterns which have been on the shelves for a very long time. I had some which were really nice, but needed some step-by-step pictures for some of the instructions to make sense. And of course, that meant making the thing again. And having good light to take the pictures!
Deze week heb ik er dus eindelijk tijd voor genomen en ging ik aan de slag. Mijn vriend hielp heel goed mee door me fijn in mijn bubbel van concentratie te laten, en hier en daar een grote deken voor mijn werkje te houden als het licht te hard was om mooie foto's te maken. Dat is nou eens teamwork! Toen kwam het PDF opstellen, winkel opzetten, betalingscondities instellen, en de patronen in de winkel zetten met alle rompslomp die daarbij komt kijken. Maar het resultaat mag er wezen, onderhand staan er drie fonkelnieuwe patronen in mijn Ravelry-shop! En ik ben er best wel een beetje trots op.
This week I finally took the time to work on those patterns. My boyfriend kindly left me in my bubble of concentration, and even helped out to hold a blanket to block the light when it was too harsh to take nice pictures. That's what I call teamwork! Then came the PDF designing, setting up the webshop, choosing the payment and VAT settings, and uploading the patterns. But it was worth it, there are three brand new patterns in my newly opened Ravelry shop now! And I have to admit I'm really proud.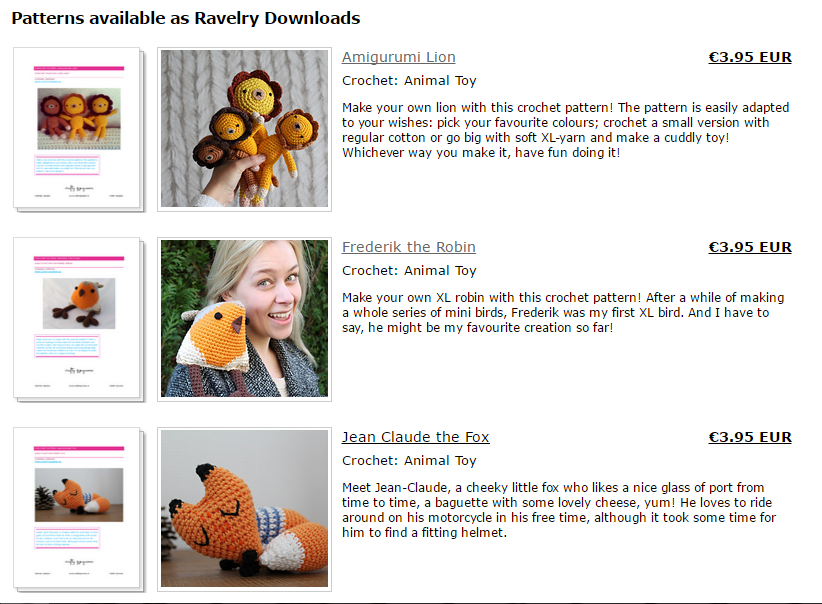 Hier zijn ze dan! Alledrie de patronen zijn verkrijgbaar in downloadbare PDF bestanden, zowel in het Engels als in het Nederlands. Alle PDFs hebben ook een printervriendelijke versie, dat is gewoon hetzelfde patroon zonder alle foto's en zonder mooie opmaak, zodat je ook fijn een offline versie kunt hebben als je niet steeds het patroon van je tablet of laptop wilt aflezen, die niet teveel inkt kost. 
Here they are! All three of the patterns are available as PDF download, as well as in English as in Dutch. All pattern files include a printerfriendly version, which means there is a version of the pattern without any fancy layout or pictures, so you can print an offline version which doesn't cost much ink. 
Ik zou het heel leuk vinden als je eens een kijkje neemt in de webshop, misschien wil je ze wel een 'hartje' geven of in je Ravelry-queue zetten (zeg maar je Ravelry to-make lijstje), dan help je mij deze patronen te promoten. De patronen zijn dus te koop op Ravelry, maar ze zijn ook (alleen in het Nederlands) beschikbaar op Dawanda. Hier kun je ze ook aanschaffen door middel van IDeal, een betaalmiddel dat Ravelry volgens mij nog niet ondersteunt. 
I'd love if you took a gander in my shop, maybe heart the patterns or put them in your Ravelry-queue? (=your Ravelry to-make list, kind of) This would help me promote these patterns. Thank you so much!
Vanaf nu ga ik mijn lijstje van patronen afwerken, en hopelijk zal mijn webshopje gestaag groter worden! Het maken van de patronen en de PDFs kost wat meer tijd dan ik dacht, maar oefening baart kunst zoals ze zeggen, en het gaat ook steeds wat sneller. Natuurlijk zal ik ook nog gratis patronen schrijven, als jullie je dat afvragen 😉 Maar voor nu ga ik even op de bank zitten met een sokken-breiwerkje en een lekker kopje thee, genieten van mijn laatste vakantiedag. Fijne zondag allemaal!
I hope to keep working on making PDF patterns ( I still have SO many patterns, all ready, just waiting for me to make a nice PDF out of it) and hopefully my webshop will grow. The pattern writing is taking more time than I had thought, but it gets easier after you've completed a few. Of course I will continue to publish free patterns, no worries there! For now, I'm gonna make myself a nice cup of tea and continue on a pair of socks I've been knitting, and enjoy my last day of vacation. Have a nice Sunday everyone!
Don't miss any more posts or patterns, subscribe to my blog on Bloglovin'! 
Support me by sharing with friends!