Hier is ze dan – Kawasaki – mijn nieuwste gehaakte kledingontwerp, gratis beschikbaar voor jullie hier op mijn blog. Na een lange tijd heb ik eindelijk deze naam gekozen. Ik wilde er een Japanse naam voor kiezen omdat ik geïnspireerd was door de haakboeken die ik in mijn bezoek aan Tokyo heb meegenomen. Toen viel de keuze op Kawasaki omdat deze naam mij ook doet denken aan de groene gifkikker-motoren!  
Dit haakpatroon is geschikt voor beginners! Tips voor de maat, materialenlijst en gebruikte steken vind je hieronder.
Meet Kawasaki – my newest crochet garment design. After a while I finally decided on the name. I wanted to give it a Japanese name, because I had been inspired by the Japanese crochet books I bought on my visit to Tokyo. I chose Kawasaki because this name also reminds me of bright green motorcycles! 
This free crochet pattern is suitable for beginners. Tips on sizing, list of materials and used stitches can be found below.
Stekenproef en Maten // Gauge and Sizing
Kawasaki is samengesteld uit twee vierkanten die aan elkaar genaaid zijn in de zijkanten en bovenop de schouders. Het patroon is uitgebeeld in maat S/M, maar als je eerst een proeflapje maakt kun je berekenen hoeveel steken je aan elke zijde nog erbij kunt haken voor jouw maat. 
Stekenproef in stokjes met Scheepjes Linen Soft= 17 steken breed x 9 rijen hoog = 10x10cm
Maat S/M = 90 steken breed = 52 cm
Hoe maak je je eigen maat?
1. Neem een vierkante top die een beetje ruim valt. Dit is nodig omdat het garen van katoen/linnen is, en die materialen hebben niet veel stretch. Bovendien meerderen of minderen we niet tijden het haken, de breedte blijft gelijk. Daarom moet de top zowel breed genoeg zijn voor je taille als je schouders.
2. Let de top plat en meet hoe breed hij is. Als alternatief kun je je borstomtrek meten op hoogte van je schouders, en halveer dit getal. 
3. Is je top bijvoorbeeld 60cm breed (of je schouderomtrek 120cm), dan kom je uit op 17 st per 10 cm x 6 = 102 steken. Dit zijn 12 steken meer dan de 90 waar ik mee werk, dus heb je 6 steken aan elke kant extra nodig. Die haak je gewoon aan elke kant erbij. Als je gevorderd bent kun je dan ook nog uitvogelen hoe je deze steken erbij haakt in het patroon, maar dit is niet noodzakelijk. 
Kawasaki is made from two crochet rectangles, sewn together at the sides and on top of the shoulders. The pattern is shown in Size S/M, but I've included instructions on how you can calculate your own size below. 
Stitch gauge with Scheepjes Linen Soft= 17 stitches wide x 9 rows high = 10x10cm
Size S/M = 90 stitches wide = 52cm
How to calculate your own size?
1. Take a square top which fits you quite loosely. This is important because the linen-cotton blend yarn does not have much stretch, and because the stitch count will be the same throughout the top. The top will have to fit not only around your waist but also your shoulders. 
2. Lay the top flat and measure the width. Alternatively, you can also measure your chest circumference at the height of your shoulders, and divide this number by two. 
3. For example, is your top 60cm wide (or is your chest circ. 120 cm), then your stitch count will be 17 sts for every 10 cm x 6 = 102 stitches. The shown pattern is 90 stitches, which means you have 12 sts extra, 6 on each side. Crochet an extra 6 dc on each side. Experienced crocheters can choose to add these stitches in-pattern, but this is not necessary. 
Wat heb je nodig // What you'll need
Scheepjes Linen Soft – 5 bollen van 50 gram voor Maat S/M
Haaknaald 4 mm – of de haaknaald waarmee jij op de goede stekenproef uitkomt
Naald en schaar
Scheepjes Linen Soft – 5 balls of 50 gram to make Size S/M
4 mm Crochet hook – or the size you need to reach gauge with
Needle and scissors
Gebruikte steken // Used stitches (US)
ST = Stokje

L = Losse
DC = Double Crochet
CH = Chain
Het Patroon – maak er twee // The Pattern – make two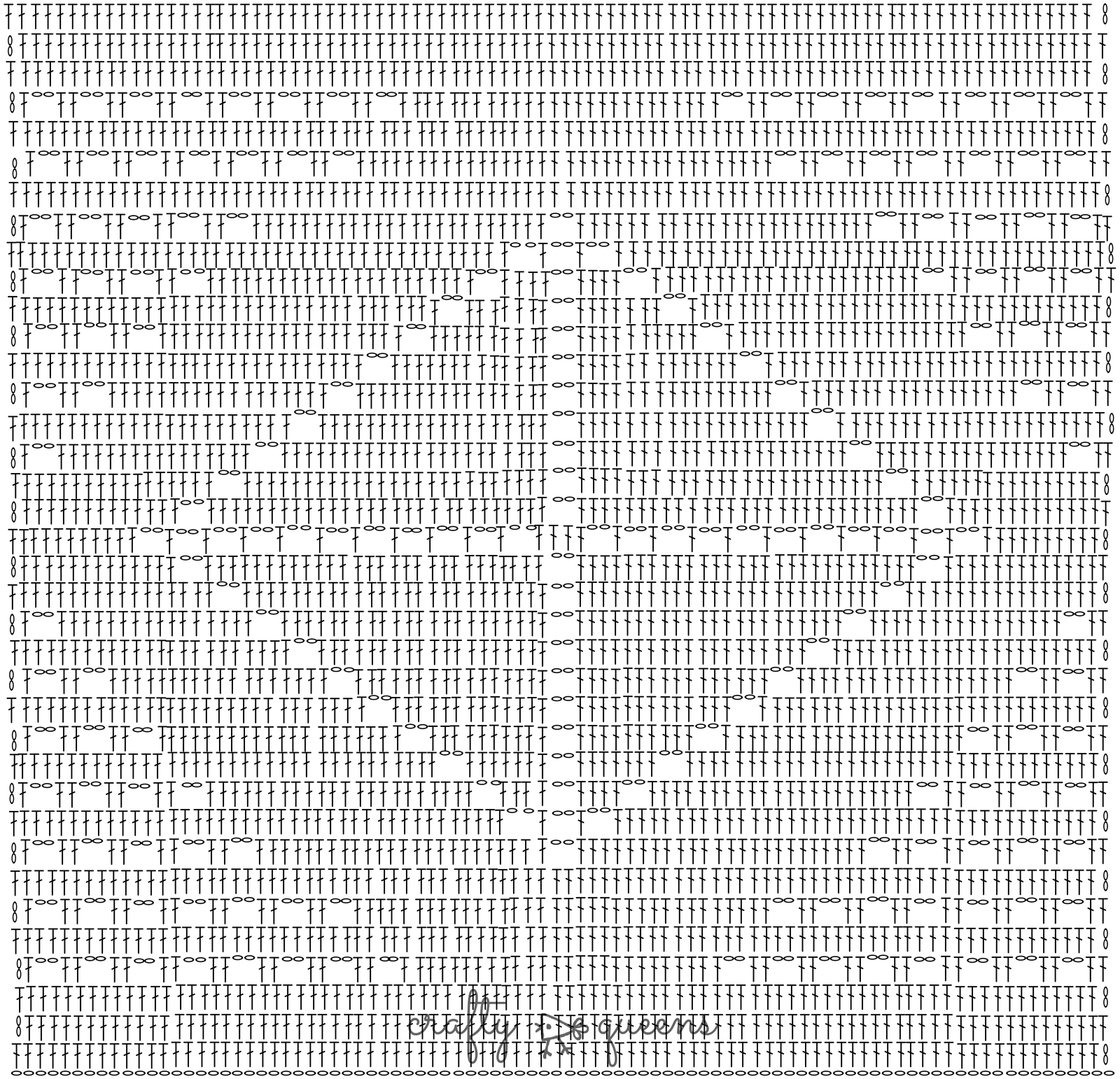 Om te beginnen haak je 90 + 2 lossen. Daarna vanaf de 3e losse 1 stokje in elke losse. Daarna, zoals je ziet, nog twee rijen met alleen maar stokjes voordat je aan het eigenlijke patroon begint. Mijn top is uiteindelijk na het wassen en een keer dragen 44cm lang geworden. Als je dit te kort vindt (het is eigenlijk wel bedoeld als een korter topje), kun je ervoor kiezen om op dít punt nog wat rijen stokjes bij te haken, wel of niet met al wat lossen-openingen zoals in het patroon. 
To start, chain 90 + 2 sts. Then, from the 3rd ch of the hook 1 dc in every ch. As you see in the pattern, crochet two more rows of plain dc. My top is 44 cm long – after washing and wearing. If you feel that's too short for you (it is actually meant to be a kind of crop top) you can add a few rows here. You can choose whether or not to do this in-pattern. 
Afwerking // Finishing
Leg de vierkanten recht voor je, met de goede kant naar onderen gericht. De bovenkanten – waar de opening voor de hals komt – naar elkaar toe. Hecht de draad aan bij de ene schouder – haak hierbij door de beide panden, en haak een vaste (v). Haak dan 22 keer *1l, 1v*, zo haak je de ene schouder aan elkaar. Hecht af, draai je werk en herhaal dit proces voor de andere schouder.
Lay the two squares in front of you, right side facing down, top edges facing eachother. Attach the yarn to one of the shoulders – going through both squares, and crochet them together with a single crochet (sc). Then, repeat *ch1, 1sc* for the next 22 stitches. This is how you crochet the shoulder together. Fasten off, turn your work and repeat for the other shoulder. 
Dan, met je top nog steeds binnenstebuiten, klap je hem dicht zodat de zijkanten op elkaar komen. Met een stuk van dezelfde draad gaan we de zijkanten aan elkaar naaien in matrassteek. Naai de eerste twee rijen niet aan elkaar, hier laat je een kleine split, zo valt de top beter. Naai dan tot en met rij 17 de zijkanten aan elkaar. 
Then, still with your top turned inside-out, we're going to sew the sides together. With a length of the same yarn, attach to the 3rd row. The first 2 rows are not sewn together as to form a little split, this will benefit the fit and drape of the top. Sew the sides together with a matress-stitch until the end of row 17. Repeat for the other side.
En klaar – je gehaakte kledingstuk! Vind je het lastig deze top te combineren, probeer het dan eens over een simpele effen maxi-jurk, of (mijn favoriet) op een mooie rok die tot je middel komt. Of misschien wel over je bikini op vakantie! Fijn luchtig, maar toch even wat meer bedekt. 
Tadah – your crocheted garment is finished! If you find it hard to combine this top for an outfit, try it over a simple floor-length dress, or (my fave) with a fitted skirt which goes up to your waist. Or wear it over your bikini top on holiday! Nice and breezy but still a bit more covered up. 
Heb je nou zelf een top gemaakt met dit patroon, dan zou ik het heel leuk vinden als je daar foto's van deelt, bijvoorbeeld op Ravelry of op mijn Facebookpagina. Ook kun je hem op Instagram delen met de tag #kawasakitop. Tag mij vooral ook zodat ik hem kan zien! (@crafty_queens). Heel veel haakplezier gewenst!
If you made a Kawasaki top, I would love if you shared pictures of it! You can do so on Ravelry, on my Facebook page or on Instagram with the tag #kawasakitop. Also tag me (@crafty_queens) so I can see! Happy hooking to you all!
Miss no more blogposts and patterns, subscribe to my blog on Bloglovin'!
The yarn for this project was kindly provided by Scheepjes. They sponsor me with yarn so I can write new patterns for you guys! Win-win 😉 Thank you for understanding. Copyright is protected by Scheepjes
Support me by sharing with friends!