Handmade Christmas Cards
Only a little while until Christmas, which in our family means: deciding where to go for Christmas day and for Boxing day (and a full blown panic attack if both sides of the family decide on the same day!), browsing for Christmas dinner recipes, buying or making last minute christmas gifts, and christmas cards! Not many people make their own cards nowadays, but I still love doing it.
This year I made three types of christmas cards. One for the knitter, one for the allround crafter, and one for the crocheter! Today I'll show you the DIY for the knitter card. Stay tuned for the others!
Nog maar eventjes te gaan tot kerst.. Dat betekent: snel beslissen waar je de 1e dag en de 2e dag bent (en paniek als beide families dezelfde dag willen eten..), kijken wat er op het menu gaat staan, kerstcadeautjes kopen of maken, en… kerstkaarten! Niet heel veel mensen doen er nog aan, voornamelijk om de belachelijke prijzen van de postzegels tegenwoordig denk ik! Maar zelf vind ik het ontzettend leuk om kerstkaarten te ontvangen en te versturen, vooral zelfgemaakte!
Dit jaar maakte ik drie verschillende kerstkaarten. Eén soort voor de brei-liefhebber, een voor de allround crafter, en een voor de haakster! De komende dagen ga ik jullie laten zien hoe je ze stap voor stap kunt maken. Deze keer het kaartje voor de brei-liefhebber. Dit idee had mijn moeder een paar jaar geleden, en ik vond het zo leuk! Lees verder om te zien hoe je dit leuke kaartje maakt. 
For the knitter!
Voor de brei-liefhebber!
You will need:
blank kraftpaper card – such as these from Amazon*
alphabet stamps
wooden toothpicks / tiny skewers – shop here
small wooden beads (4mm diameter) – shop here
some yarn
2.5mm knitting needles
Je hebt nodig:
Een blanco kaart – bijvoorbeeld bij de Boekenvoordeel
Alfabetstempeltjes – bijvoorbeeld van de HEMA
Cocktailprikkers
Kleine houten kraaltjes – bijvoorbeeld van Hof van Gelre
Wat garen
Breinaalden 2,5mm
Step 1 –
Stap 1
First, make little knitting needles out of the tiny wooden skewers and beads. Put a bit of glue on one end of a skewer and place a bead on it. If the skewer is visible on the other side of the bead, trim it a little bit first. If you like, you can put some nail polish on the beads. Leave them to dry.
Eerst maak je alle kleine breinaaldjes. Die maak je door kleine kraaltjes op cocktailprikkers te bevestigen met lijm. Je moet waarschijnlijk aan die kant wat van de prikker afknippen, omdat het kraaltje wat verder doorschuift. Als je wilt kun je ook nog de kraaltjes wat opleuken door ze met nagellak te verven. Laat de prikkers goed drogen.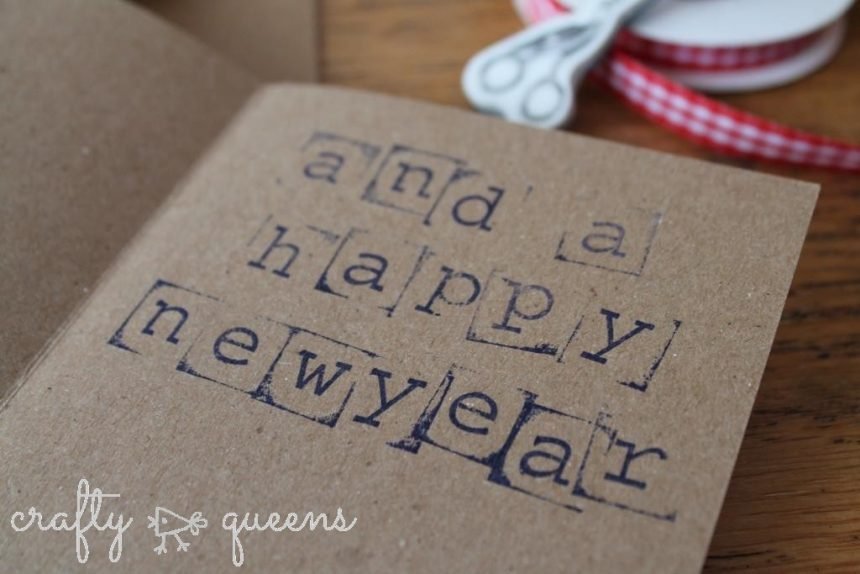 Step 2 –
Stap 2
In the meantime you can stamp the cards. I chose to do 'merry xmas', but you can also do 'let it snow' or other phrases!
In de tussentijd kun je alle kaarten gaan stempelen. Ik heb gekozen voor 'merry xmas', maar dit kun je natuurlijk je eigen invulling geven!
Step 3 –
Stap 3
Then, knit a mini swatch. Cast on 10 stitches on 2.5mm needles, and knit 12 rows of garter stitch. This stitch is perfect because the edges don't curl. For the last row, only knit the first 5 stitches. Cut the yarn at around 20cm so you'll have enough to sew your knitting onto the card.
Dan brei je een mini-lapje voor op de kerstkaart. Zet 10 steken op je 2,5mm breinaalden, en brei 12 rijen in ribbelsteek. Ribbelsteek is de steek die ontstaat als je altijd recht breit. In het Engels de garter stitch genoemd. Het fijne aan deze steek is dat het plat blijft liggen! De laatste rij brei je tot het midden. Knip na het breien de draad af op ongeveer 20cm, zodat je nog genoeg hebt om het werkje op je kaart te naaien.
Step 4 –
Stap 4
Before transfering your knitting onto the skewers, check if they have dried completely. When dry, put 5 stitches on one skewer, and 5 stitches on another. You don't have to glue your knitting onto the skewers, as they are usually rough enough that the stitches won't slide off.
Voordat je je werkje kan overzetten op de cocktailprikkers, moet je even checken of de prikkers met kraaltjes goed gedroogd zijn. Als dat zo is, zet je 5 steken op de ene prikker, en 5 steken op de andere. Je hoeft het werkje niet op je cocktailprikkers vast te lijmen. Meestal zijn de prikkers een beetje ruw, waardoor ze er niet uit zullen glijden.
Step 5 –
Stap 5
Now it's time to sew your knitting onto the card. Take a sharp darning needle and sew your piece of knitting onto the front of the card. It doesn't need to be super secure, as long as it doesn't tilt sideways. Tie a knot between the knitting and your card so it's invisible. Trim the cast on tail a little, I've left about 5cm / 2″.
Write a nice holiday wish on the inside of the card, and it's finished!
Nu kun je je werkje op de kaart bevestigen. Neem een stevige naald en naai je breiwerkje vast op de voorkant van de kaart. Het hoeft niet overal perfect vastgenaaid te zitten, als het maar goed vast zit en niet kan draaien. Maak een knoopje tússen het breiwerkje en de kaart, zodat het knoopje niet te zien is. Het draadeindje van het opzetten trim je een beetje, ik heb ongeveer 5 cm overgelaten.
Schrijf binnenin een mooie wens, en je kerstkaart is klaar!
I've also made some cards with scarves instead of the rectangles, and I think they're very cute! To knit a mini scarf, cast on 4 stitches and knit 16 rows of garter stitch. You only need 1 miniature knitting needle for this version. Also make some tiny tassels by tieing some scraps to the bottom end. Trim your cast on end to be the same length so it looks like part of the tassels.
Ik heb er ook wat gemaakt met sjaaltjes in plaats van de rechthoekjes, en ik vind ze zo leuk! Om een mini sjaal te breien, zet je 4 steken op en brei je 16 rijen ribbelsteek. Je hebt hier slechts 1 mini breinaaldje voor nodig. Maak ook wat mini franje door kleine stukjes garen onderaan vast te knopen. Het eindje van het opzetten kun je trimmen tot dezelfde lengte, zo lijkt het deel van de franje.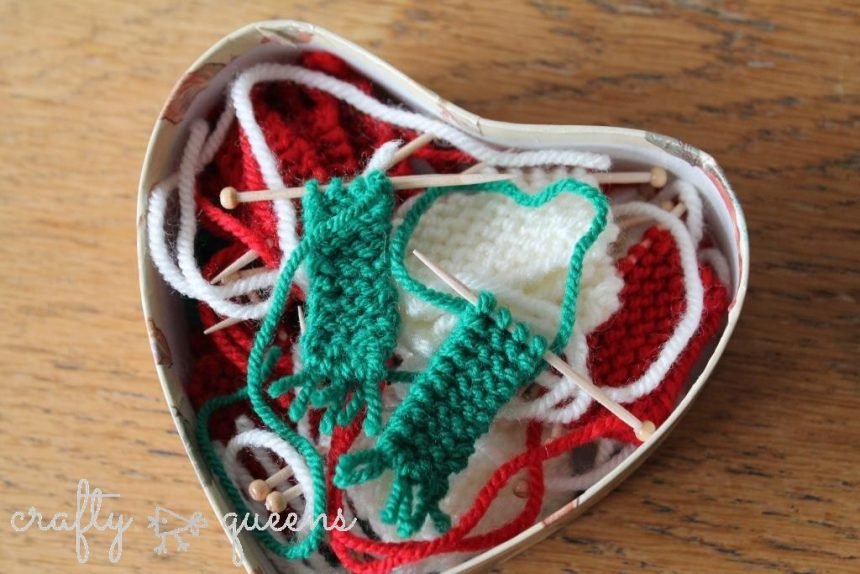 The kraftpaper cards I bought came with some pretty envelopes, and they had this cute stamp as well! It fit the envelope perfectly, so I stamped this little sewed line onto each envelope. I'm a huge fan of stamps, they're fun to decorate stuff with and you can use them again and again.
Natuurlijk is een kerstkaart niet af zonder een mooie envelop. Bij de kaarten die ik kocht bij de Boekenvoordeel zaten ook bruine enveloppen. Ze hadden er ook hele leuke stempels, waaronder deze van een naald en draad. Hij paste perfect op de envelop, dus heb ik ze daarmee versierd. Ik ben de laatste tijd helemaal fan van stempels! Zo leuk om iets mee te versieren, en je kunt het keer op keer gebruiken. 
I'm really pleased with how my christmas cards turned out, and I hope you like them too!
Het ziet er bijna uit alsof deze enveloppen zo gedrukt zijn! Ik ben in ieder geval erg blij met mijn kerstkaartjes, ik hoop dat jullie het ook leuk vinden om ze te maken!
You might also like
Christmas card #2 for the allround crafter
Christmas card #3 for the crocheter
*This blogpost contains affiliate links, which do not cost you anything extra, but the shopkeeper rewards me with a small fee when you make a purchase via this link. Thanks in advance for your consideration!
Support me by sharing with friends!