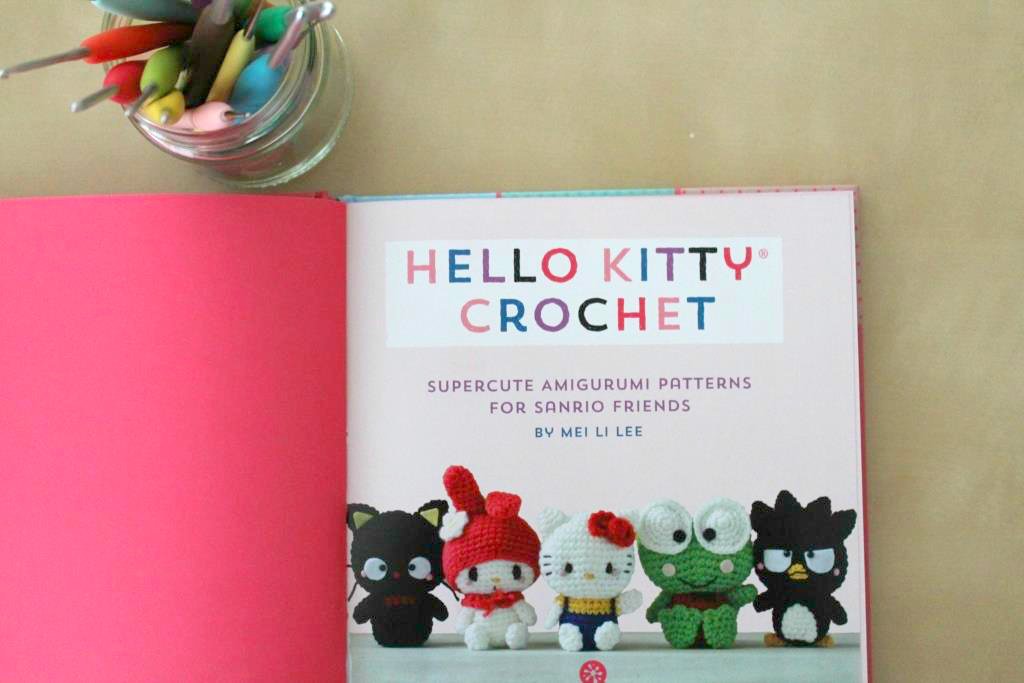 Een tijd geleden kwam hij al uit, maar nu heb ik hem dan eindelijk ook zelf! Het Hello Kitty haakboek van Mei Li Lee! Net voordat hij uitkwam schreef Mei een oproep op haar blog amiguruMEI, of er amigurumi-bloggers waren die haar boek wilden reviewen. Dat leek me heel leuk! Een mailtje naar Quirk books (haar uitgever) was snel gestuurd, en een paar weken later kwam er een leuk pakketje voor mij met de post 😉 Zelf zat ik toen nog in China, dus ik moest nog even wachten! Twee weken geleden kon ik eindelijk dit leuke boekje bekijken. Lezen jullie mee wat ik ervan vond?
Meet Mei Li Lee's Hello Kitty Crochet book!! Some time ago she was looking for amigurumi bloggers on her blog AmiguruMEI, and asked if they wanted to review her book. Umm, yes please! I emailed her publisher Quirk Books, and a few weeks later I got something very cute in the mail! At the time I was still travelling in China, so I only got to read it when I got home two weeks ago. It's SO cute! Read on to find out more about the book, pattern writing style and clarity of the instructions. 

Ten eerste zal ik een deel van de figuurtjes aan jullie voorstellen. Hoewel het boekje draait om Hello Kitty, zijn er ook heel wat andere figuurtjes in dit haakboekje te vinden! Maar we beginnen bij het begin, en dat is Hello Kitty met haar familie. Het doet me erg denken aan Nijntje en haar familie, dat zijn ook allemaal zo'n lieve figuurtjes! Elk poppetje in dit boek heeft ook een leuk attribuut dat je ook kunt haken. Hello Kitty heeft bijvoorbeeld een appel, terwijl haar zusje een lieve teddybeer heeft, en zo heeft elk poppetje een voorwerp dat bij hem of haar past.
First I'll introduce some of the characters to you! Although the book is about Hello Kitty, there are many other characters in this book! Of course there's Hello Kitty and her family, so cute! They made me think of Miffy (or Nijntje in Dutch) and her family, which were the cartoon characters I grew up with. 
As you can see, each character has an item that you can crochet too! For example the little teddybear, adorable! 
Ze zijn stuk voor stuk zo lief! Ik had eerst verwacht dat dit haakboekje vooral leuk zou zijn voor kenners van de cartoons, maar de gehaakte poppetjes zijn zelfs leuk als je ze nog niet kent! Welke is jouw favoriet? Ik kan niet kiezen tussen het hertje en Tuxedo-sam! Dit is maar een kleine greep uit de patroontjes, er zijn er nog veel meer!
Tuxedo-sam, Deery-Lou and Keroppi are all Sanrio-characters, just like Hello Kitty. I must admit I didn't know half of the characters in this book, but they are all so likeable! You'll enjoy this book even if you don't know the characters.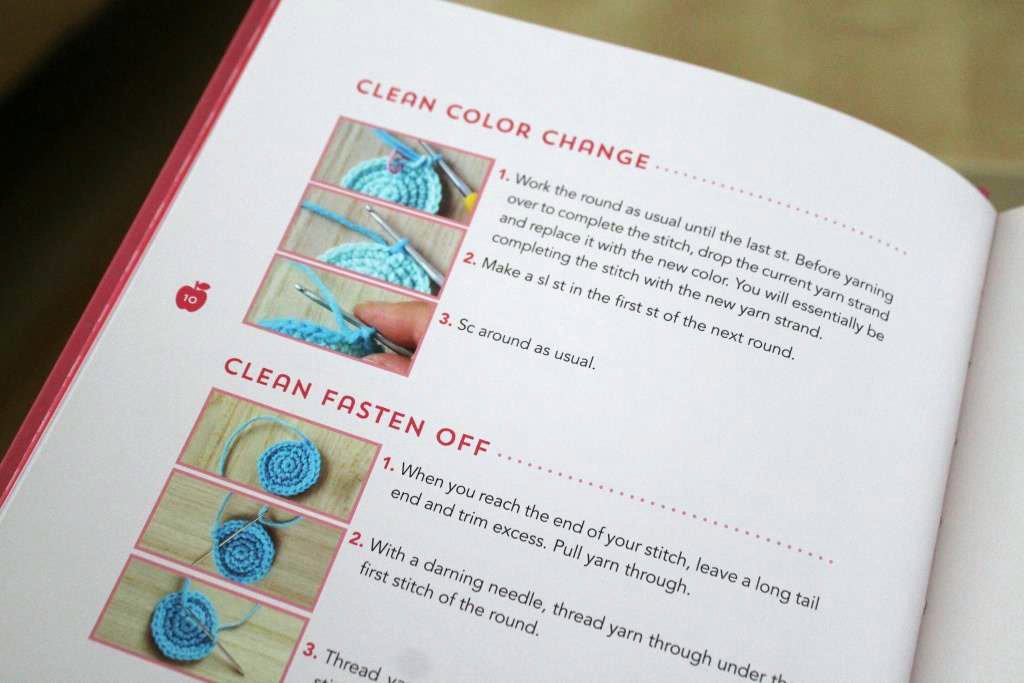 Naast dat het boekje heel schattig is, is het ook heel praktisch! Voordat je begint met de patronen worden er een aantal basis-dingen uitgelegd. Heel duidelijk met mooie foto's erbij. Zien jullie trouwens ook hoe de pagina-nummers worden aangegeven? Echt aan elk detail is gedacht!
Besides from being very cute, the book is very practical too! Before you start with the patterns, there are some instructions for basic crochet techniques. Very clear and with pictures!
Waar veel haaksters mee worstelen is het aan elkaar naaien van de amigurumi's, en ook het borduren van de gezichtjes en andere details. Daar is in dit boek ook aan gedacht en je krijgt heldere instructies bij de lastige dingen!
Wat me trouwens opviel is dat ze de wangetjes niet borduren, maar daar iets anders voor gebruiken. Ik vond het erg lijken op veiligheidsoogjes, maar in de benodigdheden stond het aangegeven als brads. Ik had geen idee wat dat zijn, maar nu blijkt dat het splitpennen zijn! Ik heb ze inderdaad eens zien liggen bij de scrapbook afdeling, die gaan de volgende keer mee in mijn mandje! 😉
I've heard that many crocheters don't like to sew parts together, or find face embroidery really hard. Luckily this book gives a lot of clear instructions on more difficult parts! For example Hello Kitty's dad's embroidered glasses! 
Oh, and have you noticed that the cheeks are not embroidered? They use brads instead, so clever!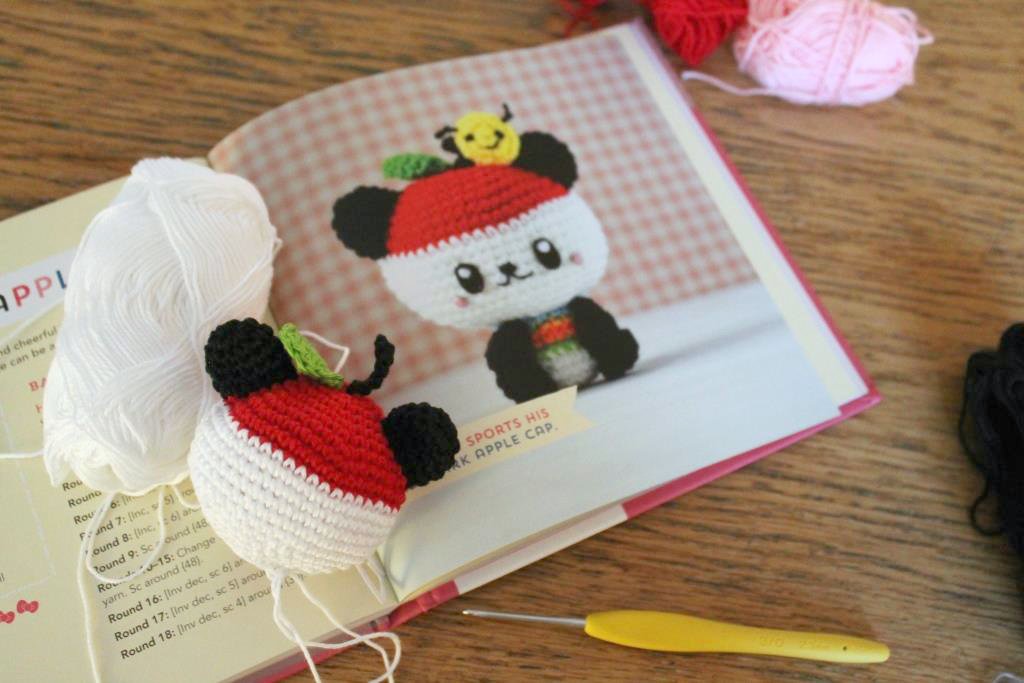 Tijd om zelf een patroontje uit te proberen! Degenen die mijn blog vorige week hebben bezocht weten al dat ik Pandapple, het grappige pandaatje, heb uitgezocht. Hij was best snel en makkelijk om te haken! Ik heb wel een aantal dingen aangepast. Mei noemt in het boek dat je beter eerst alle onderdelen kunt haken, en op het laatst past aan elkaar naait. Zelf vind ik het echter handiger als ik bijvoorbeeld de oren al aan het hoofdje vastnaai als ik halverwege het hoofdje ben, zo kan ik namelijk de draadjes binnenin verstoppen.
Ik had trouwens wel problemen met het haken van het blaadje bovenop het hoofd van Pandapple. De instructies vertelden om 3 vasten in een ring te haken en dan rondom verder te haken, maar dat lukt me niet met maar drie steken! Toen heb ik maar zelf een blaadje gehaakt volgens een ander patroon, zoveel zal dat nu wel niet uitmaken. Met het borduren van de ogen had ik ook wat moeite, en daar waren geen instructies met foto erbij, wel jammer! Al snap ik dat je niet voor alles een uitgebreide uitleg kunt plaatsen.
Time to try one of the patterns! I chose this cute little panda 🙂 He was very quick and easy to make, although I did make some alterations. In the book it says to first crochet all of the separate parts before sewing them together. I find it easier to sew the parts together as I go, so I can hide the yarn ends inside. Also, I found the pattern for the leaf a bit hard to understand. It says to crochet 3sc in a ring and then crochet in the round? I can't crochet in the round with just three stitches, so I made a different leaf instead. 
The hardest part was definitely the embroidery of the eyes! There weren't any photo-instructions for this but I managed to do it in the end, yay!
Nog een bijzonderheidje aan de patronen is dat je achterin het boek patronen hebt voor een basislijfje, basishoofd, basisbeentjes enzovoorts. Dit is zo gedaan omdat veel poppetjes dezelfde onderdelen gebruiken. Heel slim om ruimte te besparen in het boek! In het patroon voor bijvoorbeeld Hello Kitty's zusje wordt dan gezegd: begin basispatroon lijfje in Geel, en ga bij toer … over naar blauw.
Because many characters have the same shape of head, or arms or legs, there were basic patterns for those parts. In the pattern it would say: Start a basic body in yellow and change to blue in row so and so. I found this very clear! 

Zo is mijn Pandapple geworden! Welke amigurumi zouden jullie haken? Het boekje is onder andere verkrijgbaar bij bol.com en Echtstudio. Leuk idee voor op je verlanglijstje misschien 😉
I love how my little Pandapple turned out! I'll definitely be making many more amigurumis from this book! Which amigurumi would you make first?
Support me by sharing with friends!