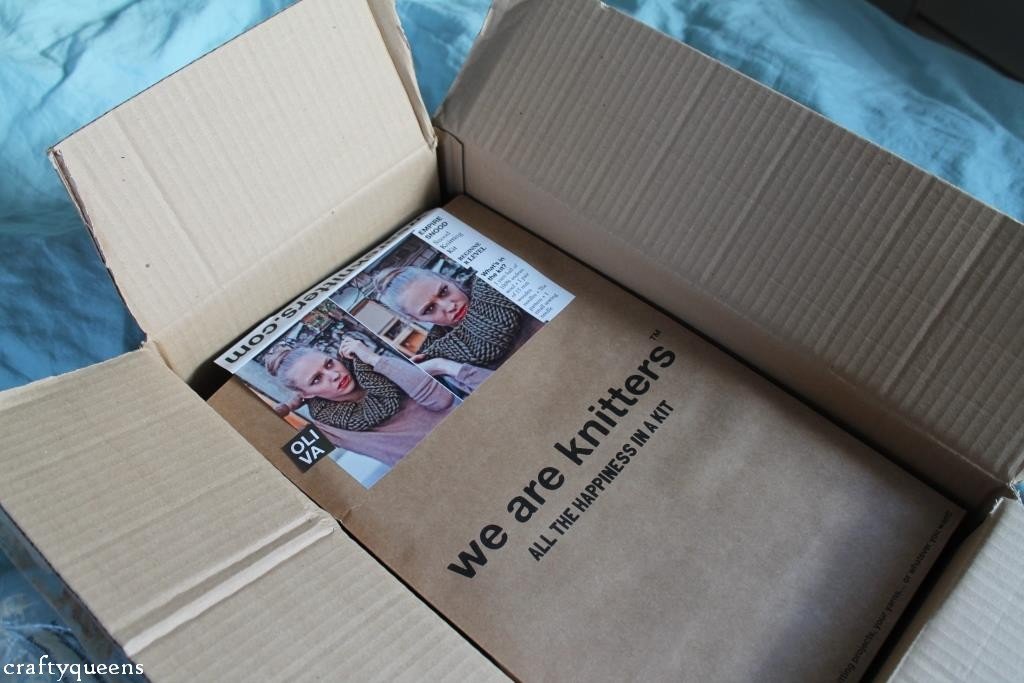 Mijn brei-kit van We Are Knitters kwam met de post, jippie! Ik heb deze kit gewonnen met mijn Eva gilet, dat ik breide tijdens een Knit-A-Long van het merk We Are Knitters. Toen ik de grote doos zag wist ik meteen wat het was, en ik begon gelijk met uitpakken! Het eerste wat ik zag was een bol van hun heerlijke wol, die heel toepasselijk 'The Wool' heet. 100% Peruviaanse wol, en ik moet zeggen, het is een van de heerlijkste garens die ik ooit in mijn handen heb gehad.
I received my knitting kit from We Are Knitters, yay! I won this kit with my Eva vest, which I knitted during one of their Knit-A-Longs. When I saw the huge box I instantly knew what it would be! I started unpacking right away. The first thing I saw was a skein of their gorgeous wool!! Very aptly named 'The Wool', it is one of the most delicious yarns I have ever held in my hands. 

Er zat ook een vel stickers bij met leuke teksten! "Men look manly when they knit" Haha!
There was also a sheet of stickers included with funny punchlines! "Men look manly when they knit" lol!

En die naalden! Wel 15 mm dik, perfect voor chunky wol. Misschien ook wel voor Zpaghetti garen!
And those needles! There are 15 mm thick, which makes them perfect for knitting with chunky wool. Maybe even textile yarn!

En het patroon natuurlijk, voor een van hun mooie kolsjaals: de Empire Snood. Ik kan niet wachten om te beginnen!!
And the pattern of course, for one of their beautiful cowls: the Empire Snood. I can't wait to get started!

Heb jij ooit een complete breikit gekocht? Of koop je graag zelf de afzonderlijke materialen?
Did you ever buy a complete knitting kit? Or do you just buy the supplies yourself?
Support me by sharing with friends!