Ik ben er al een tijdje mee bezig, maar vandaag is hij eindelijk af! Mijn stoffen kaft voor mijn nieuwe agenda. Ik heb namelijk zo'n 2013 agenda gekocht, dus ik kan hem nu al gebruiken.
De stof heb ik gekocht bij de IKEA. Ze hebben vaak reststoffen, bijvoorbeeld de showmodellen van de vorige collectie gordijnen. Het was een leuke stof met een print van bomen en vogelhuisjes. Ik heb de stof zo uitgeknipt, dat er een vogelhuisje op de voorkant van de kaft past.
Zo zag het er van tevoren uit. Zo'n borduurhoepel is erg handig, vooral als je rechte lijnen wil borduren.
This is what it looked like before. I used an embroidery hoop, which really is a must if you're embroidering on soft fabric. 
Mooi nieuw garen! Deze heb ik gekocht bij de Hema, en bij de Boekenvoordeel. In hobbywinkels heb je natuurlijk ook borduurgaren, en daar kun je ook veel rijkere kleuren vinden. Maar omdat ik nog een beginner ben als het op borduren aankomt, doe ik het nog even met goedkoper garen. Om te oefenen kan je zelfs een paar draden van gewone klosjes garen nemen.
Mmmm.. Lovely luscious embroidery thread… Since I'm kind of a beginner when it comes to embroidery, I bought some cheap thread at a local store. 
De dakpannen waren perfect om wat nieuwe steken op uit te proberen! Op deze website zijn veel leuke steken te vinden, en ook nog eens goede instructies.
The roof tiles were perfect to try out some new stitches I found here.
Meestal als je een vorm wilt borduren, teken je die eerst op de stof met een uitwasbare stift. Omdat ik niet van plan was mijn stof te gaan wassen na het borduren, heb ik de vorm iets kleiner uit papier geknipt en die op de stof gespeld. Hier kun je dan makkelijk omheen borduren.
Usually when you want to embroider a specific shape onto the fabric, you'll draw this onto the fabric with a special marker first. When you're done, you can wash the fabric and the lines will be gone. Since I wasn't planning on washing this fabric, I just cut the shape out of some paper, and pinned it onto the fabric. Now you simply embroider around the piece of paper. 
Hier kun je nog wat meer steken zien. De bloempjes op de linkerfoto zijn gemaakt met de 'Lazy Daisy' steek, die je hier vindt. Het midden heb ik opgevuld met wat franse knoopjes. De rechtersteek heet de Chained Feather steek, en de tutorial kun je hier vinden.
The flowers on the left side are made with the Lazy Daisy stitch, which can be found here. I embroidered some french knots in the center. The vines on the right are embroidered using the Chained Feather stitch.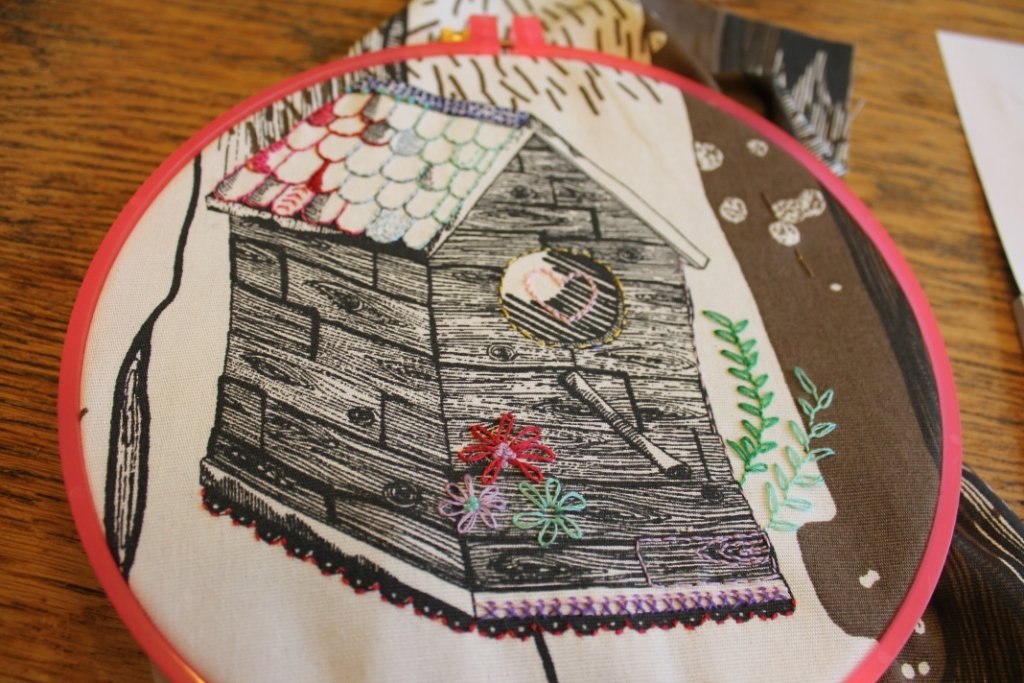 Hmm… Leuk, maar er mist nog iets…
Hmm.. Looks nice, but something's missing..
Toen bedacht ik me dat iets van vilt erop wel leuk zou zijn, en wat is op het moment leuker dan een uiltje! Na heel wat uiltjes getekend te hebben (zie de foto hieronder) koos ik de leukste uit en knipte ik hem uit vilt. Daarna probeerde ik weer wat steken uit. Ik vind hem heel leuk geworden!
Then I thought a felt owl applique would be a nice addition. After some trial and error (see below), I decided which owl I wanted to use. I cut it out of a piece of felt, and decorated it with some nice stitches. 
Zoals je ziet heb ik onder de dakrand ook nog een ketting en wat meer franse knoopjes toegevoegd, zo ziet het er meteen wat leuker uit 🙂
I added some more french knots and a chain to make it a bit more interesting 🙂
Eerst wilde ik een afneembare hoes naaien, maar iedereen die eens boeken heeft gekaft, weet dat als je het boek openslaat, de kaft van de rug loslaat. Ik weet dat ik me hier mateloos aan zou ergeren, dus bedacht ik het aan het boek vast te plakken. Ik zag een tutorial hiervoor, die je op deze pagina kunt vinden. Ik had jammer genoeg even geen goede plaksel in huis. Toen kwam mijn  moeder met de suggestie om dubbelzijdige plakband te gebruiken! Ik heb het pas vandaag gemaakt dus ik kan je nog niet goed vertellen of het houdt op de lange termijn, maar als je er niet aan gaan friemelen lijkt het me dat het goed blijft zitten. Plak in ieder geval wat tape op de rug, en op de binnen en buitenkant van de hoeken.
At first, I wanted to sew a book cover, but since I don't like the way the cover detaches from the book when you open it, I decided to paste it to the book. I found this great tutorial here. Soon I discovered a big flaw in my plan.. I didn't have any good glue! Thank god for my mom, who said I could try using double-sided tape! I stuck some on the corners and on the spine of the book. I don't know if it will stay on since I've only made this today, but I think it'll be fine. 
En klaar is mijn nieuwe agenda! Als ik nog wat andere leuke stofjes vind kan ik nog meer boeken kaften 🙂
And it's done! My first fabric-covered book 🙂
Support me by sharing with friends!