If you follow me over on Instagram or YouTube, you will probably have heard me talk about the No Purl Cuff Down socks at some point. I made them in March of this year, and now the pattern is finally here! The name already says it, for these socks you don't have to purl, not even one single stitch.
They were actually inspired by my boyfriend who is knitting me a pair of socks. He mentioned he wasn't looking forward to the ribbing or the heel, since he would need to do some purling. That got me thinking.. What if I designed socks where you don't need to purl at all? So here they are!
Als je me volgt op Instagram of YouTube, dan heb je me waarschijnlijk al eens horen praten over de No Purl Cuff Down socks. Ik maakte ze afgelopen maart, en nu is het patroon klaar! Voor deze sokken hoef je niet te 'purlen', oftewel averecht breien. Heerlijk tricot en ribbelstreek breien. 
Ik kreeg het idee toen mijn vriend sokken voor mij aan het breien was, en hij vertelde dat hij er tegenop zag om voor het boord averecht te moeten breien. Toen bedacht ik me, wat als ik sokken kan ontwerpen waar je geen enkele averechte steek breit? En hier zijn ze dan!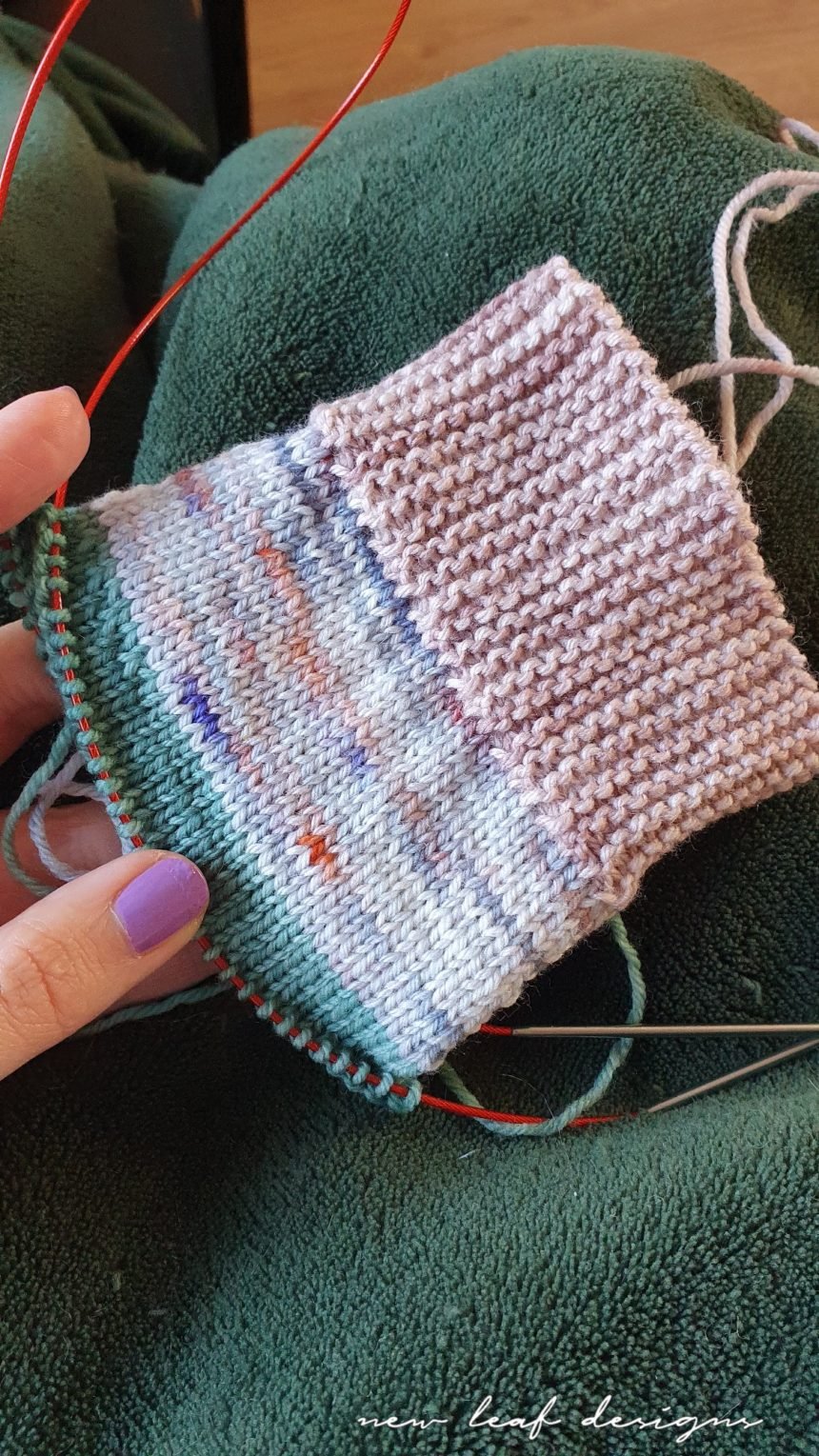 Both the cuff and heel are knit in squishy garter stitch. Hmm, but how does that work for the cuff, you ask? Well, the cuff is knit sideways! You start with a narrow strip of garter stitch and kitchener the ends together. I admit that kitchener stitch isn't the most fun either, but it's still quicker than purl stitch!
Zowel het boord als de hiel brei je in ribbelsteek. Maar hoe werkt dat voor het boord, hoor ik je al denken. Nou, het boord brei je dus plat! Je begint met een smalle strook ribbelsteek, waarvan je de einden aan elkaar naait met kitchener steek. Nu is dit ook weer zo'n steek waar niet heel veel mensen fan van zijn, maar het is alsnog sneller dan averecht breien.
So, are you ready to try a fun new alternative for your standard sock? Knit the No Purl Cuff Down socks in just one colour, or with a whole set of mini skeins like I did. The pattern is available as a PDF in both of my stores, and with a 25% introduction discount until Sunday October 24th!
Dus, ben jij klaar om je standaard sokkenpatroon eens af te wisselen met dit leuke alternatief? Brei de No Purl Cuff Down sokken in één kleur, of met een hele set mini's zoals ik heb gedaan. Het patroon is te koop als PDF in mijn beide patroonwinkels, en nu ook met een korting van 25% tot en met zondag 24 oktober. Vind het patroon hier:
Support me by sharing with friends!