If you've been following me for a while, you'll know that I'm a big fan of sustainable products and reducing my footprint on this planet. Whether that's making my own clothes, using my own bags at grocery stores, or reducing plastic use in whatever way possible. Over the past few months I have been trying out some new-to-me sustainable products, and I've recorded a video review!
Products reviewed:
Toothbrush – The Humble Brush
Pros- Vegan and cruelty free! Part of this bamboo toothbrush can be recycled, which makes it a much better choice than regular plastic toothbrushes! The bamboo handle can be either composted or re-used for gardening purposes. The nylon bristles do have to be removed and thrown in general waste. Lastly, the Humble Co have started the Humble Smile Foundation which helps combat dental problems around the world.
Cons – It depends on each country whether you can throw the bamboo handle in the 'green' bin for food & garden waste. Also, at first I found the bristles of this brush to be a little too hard, even though it says 'soft' on the packaging, which might make it less suitable for those with sensitive gums. The bamboo handle caused some irritation in the corners of my mouth, although this was only for the first few days.
Get it here: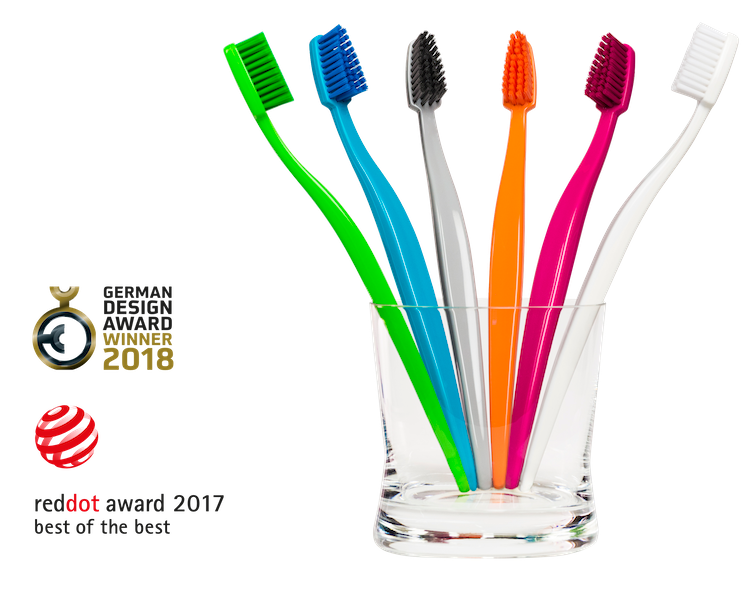 Toothbrush – Berlin Biobrush
Pros- The Berlin Biobrush is a biodegradable toothbrush made out of leftover woodchips. The toothbrushes and packaging only contains very low percentages of fossil material. The brush itself is very soft and pleasant to use. The handle can be thrown away in general waste, as it will not cause any harmful gases when incinerated.
Cons – As there is no alternative for nylon bristles yet, the bristles still have to be removed and thrown away separately into the plastic bin, just as with the Humble Brush.
Get it here: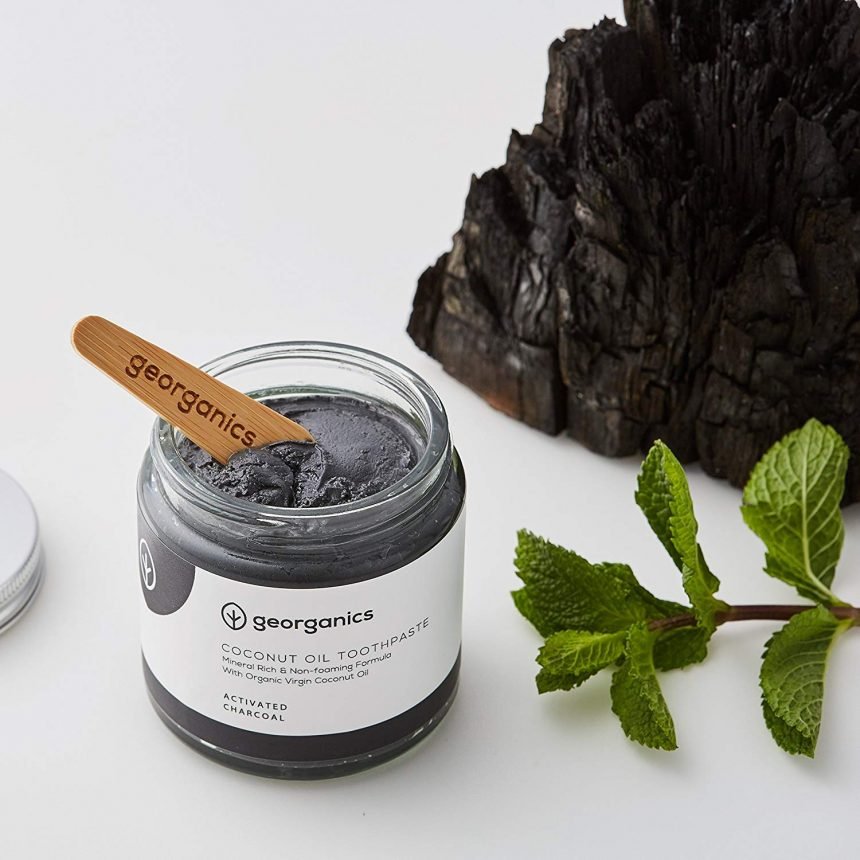 Toothpaste – Georganics activated charcoal toothpaste
Pros – Vegan, cruelty free and organic. Also glutenfree, but most toothpaste out there already is glutenfree. Zero waste packaging: paper box, glass jar. You'll also get a bamboo scoop so you don't have to dip your toothbrush directly into the jar. Natural ingredients, no fluoride.
Cons – The taste and colour takes a little while to get used to. It is more expensive than regular toothpaste, and because it doesn't contain fluoride it may not be your toothpaste of choice if you tend to get cavities quickly.
Get it here:
Paper tape – RAJA
An easy fix if you're looking into more sustainable packing materials. Just think what the world would look like if all big companies started using paper tape instead of plastic!
Get it here:
Beeswax wraps – DIY version
You can make your own DIY beeswax wraps with fun fabrics, beeswax pellets and jojoba oil. My first try wasn't as successful, but that doesn't mean you can't give it a try. And if the beeswax wraps don't work out, you can always use the pellets to make lipbalm or candles!
Get it here:
Beeswax wraps – Abeego
Pros – Proper beeswax wraps, much better than the ones I DIY-ed at home. Holds its shape, doesn't give off any taste. Can be washed with cold water and re-used for up to 10 months. They have them in different sizes and prints, so take your pick!
Cons – It (of course) feels waxy to the touch, which may put you off. There is a light scent at first too, although this will go away.
Get it here:
Bread bags – Leven zonder afval
Pros – Nice soft cotton, can be used for vegetables, fruits, whatever!
Cons – Although they were meant to be for bread, the bread went hard after one day and we ended up throwing away a lot more bread than we usually do. I'm sad that I won't be able to use this to replace plastic bread bags, but I'll use them for other groceries for sure.
Get it here:
Amazon* (please note – different brand)
Shampoo bar – Helemaal Shea
Pros – Vegan, handmade and natural! Paper packaging which is great; dozens of scents available. You only need a little bit of this shampoo, and it will give your hair lots of volume.
Cons – Your hair needs to get used to solid shampoo, it will feel greasy to the touch at first. Only use a little bit!
Get it here:
Conditioner bar – Helemaal Shea
Pros – smells GREAT! Paper packaging, 100% vegan, all natural ingredients.
Haven't used this item yet so I'll have to report back when I have!
Get it here:
Amazon* (different brand)
Make-up remover pads – Imsevimse
Pros – I just LOVE this product. I have been using one-use cotton pads for so many years and I'm excited to have found a replacement. I use one pad for 3 evenings. Wash in a washbag and tie it securely so they all stay in one place. Apparently they can also be used as nursing pads!
Cons – Need to be washed (duh), so don't forget to throw it into the wash. Haven't tried these pads yet to remove nailpolish, if you do, be sure to have a designated one for nailpolish as it doesn't seem like a good idea to use the same pads for your nails and eyes.
Get it here:
Deodorant – Nuud
Pros – zero waste packaging, all natural ingredients. One application can last up to 7 days! You only need a little amount, and if you only need to apply every few days then this is a great deodorant to take on holiday as one little tube can last a couple of months.
Cons – doesn't work for everybody. After starting, your body goes into detox mode, which means you will produce more sweat at first. It will probably also smell more at first. For me, after about 6-8 weeks of use, it still isn't working properly for me, so I'll have to see whether to continue using it. Compared to other deodorants it is quite pricey too.
Get it here:
Deodorant – Coconut/Lavender oil
Pros – all natural ingredients, smells nice!
Cons – did not work at all for me sadly. Also, above 23 degrees Celsius the deodorant becomes a liquid and cannot be used. It can however be stored in the fridge to become solid again.
Get it here: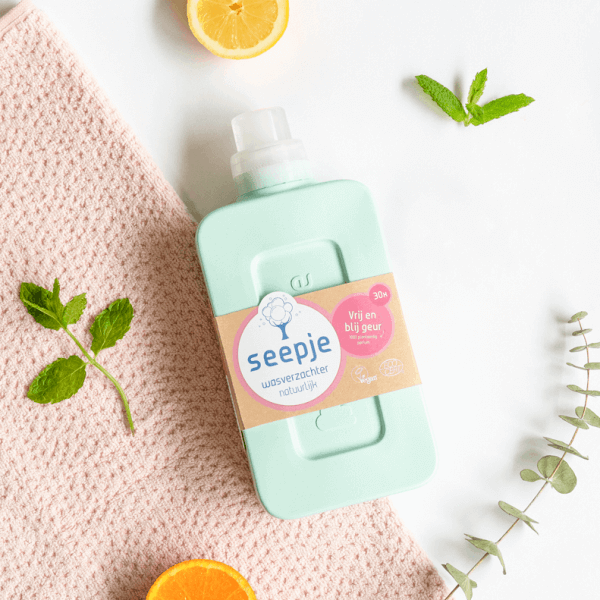 Fabric softener – Seepje
Pros – Ecocert certified, recycled packaging, all natural. Smells great!
Cons – although the packaging is recycled, it's still plastic.
Disclaimer: I haven't used this item yet so I will have to report back after a few months.
Get it here:
Laundry detergent – EcoEgg
Very excited about this product! Disclaimer: I have not used this product yet.
Pros – Up to 210 washes! The eco egg is filled with some sort of 'pellets' which will shrink after use. Refills can be bought separately. If it really works for up to 210 washes, it's very economical too as it only cost me €15.
Cons – the pellets were packaged in little plastic bags, it didn't say on the packaging if it was bio-plastic.
Get it here:
*Amazon links are affiliated, which means Amazon rewards me if you purchase via this link. It will not cost you anything extra, and it helps me run a sustainable business!
Support me by sharing with friends!