Gimme all the pink
Lately I've been dreaming of shades of pink. Pastelly pink, bright pink, bubblegum pink, strawberry pink, blush pink, purply pink, greyish pink, mmm.. There are so many lovely shades to try out in the Scheepjes yarn range, and I've been searching for the perfect match for my next sweater. First, I chose some yarns that would be suitable for a sweater, such as Scheepjes Spirit, Our Tribe, Namaste, Eliza, Secret Garden, Stardust, Colour Crafter Velvet (don't even get me started on the regular Colour Crafter!), or even a Woolly Whirl! But then… my eyes fell on the Scheepjes Merino Soft Brush in the Van Dyck colourway, what a beautiful speckled pink! And with its 50% superwash merino content it makes for a perfect sweater yarn.
De laatste tijd droom ik echt van alle tinten roze. Pastelroze, babyroze, felroze, zalmroze, perzikroze, paarsachtig roze, oudroze, grijsachtig roze, mmm… Er zijn zoveel mooie roze tinten in de Scheepjes garens, en voor mijn nieuwe trui was ik op zoek naar de perfecte match. Eerst zette ik een aantal garens op een rijtje die goed zouden zijn voor een trui, zoals Scheepjes Spirit, Our Tribe, Namaste, Eliza, Secret Garden, Stardust, Colour Crafter Velvet (en dan heb ik het zelfs nog niet over alle roze tinten in de gewone Colour Crafter!), of misschien zelfs een Woolly Whirl! Maar toen viel mijn blik op de Scheepjes Merino Soft Brush in de kleur Van Dyck, wat een mooi gespikkeld roze! En met 50% superwash merino is het heel geschikt voor truien. 
The only thing I wasn't sure about was if it was too light, too subdued. I figured if I was going to make a pink sweater I might as well make it POP! So.. what do I do? There was a brighter pink shade in the regular Merino Soft range, but still not exactly what I wanted. And then… I suddenly had a lightbulb moment!
Het enige waar ik wat over twijfelde was of de tint te licht was, te zacht. Als ik toch al een helemaal roze trui zou maken, waarom dan niet een beetje 'knal', toch? Dus… wat zou ik kunnen doen? Er was wel een fellere roze in de normale Merino Soft range, maar dan had ik die leuke spikkels dus niet. En toen had ik opeens een a-ha momentje!
"Mix" your own yarn
I thought, I'll add some mohair to the mix! Luckily Scheepjes have a delicious mohair, which happened to have a striking fuchsia pink shade, which would complement the Merino Soft Brush yarn very well. So I ordered the yarn, fingers crossed that it would be as I had hoped (because even how perfect a yarn colour is captured on camera, the colour can still come across differently depending if you're seeing it on your mobile phone or on your laptop). The package arrived… and… MAGIC.
Ik voeg wat mohair toe aan de mix, dacht ik! Gelukkig heeft Scheepjes een prachtig assortiment aan heerlijke mohair, en toevallig ook nog in een mooie fuchsia kleur, die erg goed zou passen bij de Merino Soft Brush. Ik bestelde het garen, nu maar duimen dat het echt zo goed bij elkaar zou passen. Want ja, zelfs als een kleur perfect op foto vast is gelegd in de webshop, kan het door mijn beeldscherm alsnog wat anders eruit zien. Het pakje werd bezorgd en… WOW.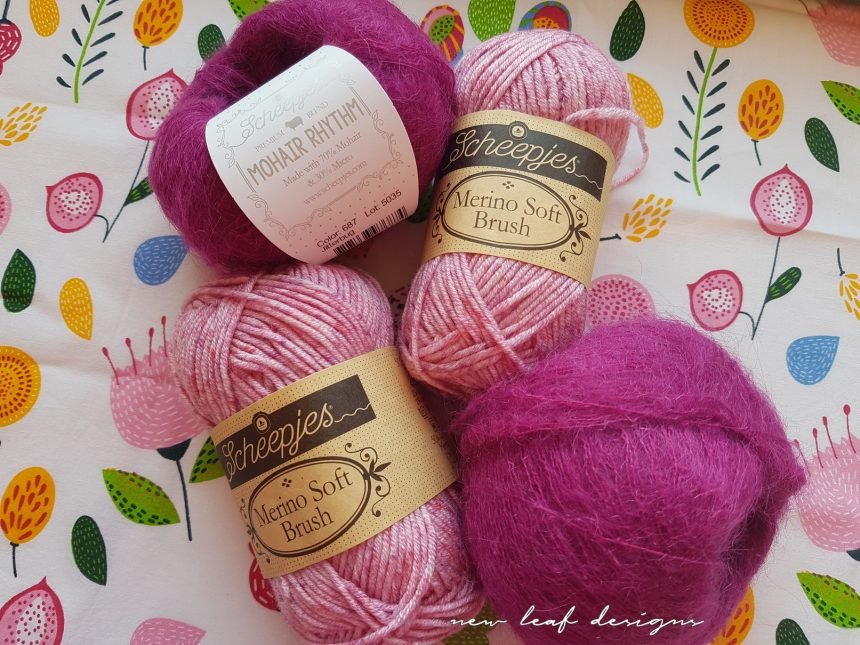 BOOM. Don't those just go perfectly together? If you're not sure how two yarns will look when you hold them together, you can simply wrap two strands around your fingers and see how it looks, like the photo below.
GEWELDIG! Gaan die kleuren niet mooi samen? Als je niet zeker weet hoe bepaalde garens eruitzien als je ze samenbreit (of haakt), dan kun je ze een aantal keren om je vingers draaien zoals in de foto hieronder. 
I knit up a tiny swatch and just look at this gorgeous colour and texture.
Ik breide een klein proeflapje en kijk nou eens, deze mooie kleur en textuur.
Adding mohair for colour
I love it, it's like mixing a new paint colour, but with yarn! Mohair is magical like that. If a yarn is too light, pop in a bright mohair to jazz it up. Too dark/bright? Add in a soft coloured mohair like grey or dusky pink to tone it down.
As a matter of fact, that last thing is exactly what I did for my Freezeblocks Shawl! The colour changes in the Whirl were a bit too drastic for my liking, but with a bit of mohair the colours blend so smoothly into each other.
Het is net een nieuwe verfkleur mengen, maar dan met garen! Mohair is bijna magisch in dat opzicht. Als een garen een te lichte kleur heeft, voeg dan een fel kleurtje mohair toe en zie hoe levendig het wordt. Is het garen juist te fel of te donker? Voeg een licht draadje mohair toe zoals grijs of oudroze om het wat te verzachten.
Dat laatste is eigenlijk precies wat ik deed voor mijn Freezeblocks Shawl! De kleurwisselingen in de Scheepjes Whirl waren net wat te drastisch in mijn ogen, en dat draadje mohair zorgde ervoor dat de kleuren heel mooi en geleidelijk in elkaar over gingen.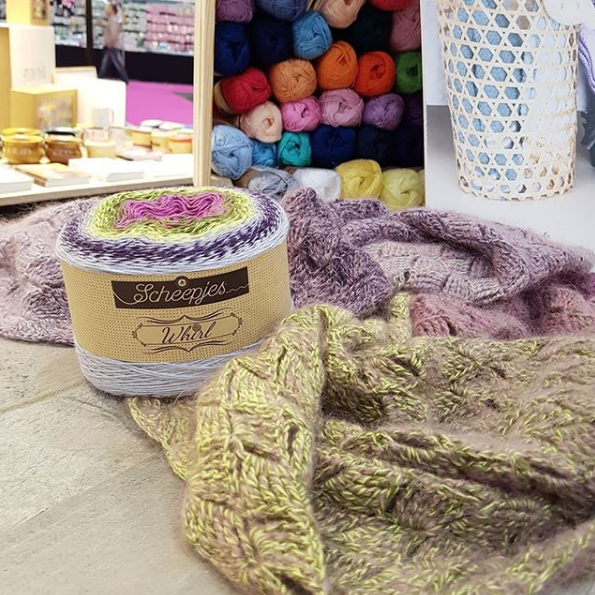 In the photo above you see my Freezeblocks Shawl with the added mohair, and also the Scheepjes Whirl that I used. See how the Shawl is much more toned down than the actual Whirl? It made it much more wearable for me since it wasn't so 'out there', I've worn it pretty much every day during winter!
Op de foto hierboven zie je mijn Freezeblocks Shawl met het extra draadje mohair, en ook de Scheepjes Whirl die ik ervoor gebruikt heb. Zie je hoe de omslagdoek veel subtieler is qua kleur dan de eigenlijke Whirl? Zonder de sterke kleurwisselingen vind ik hem veel draagbaarder, en ik draag hem dan ook constant in de winter!
Adding mohair for warmth
Colour is not the only reason to add mohair to your project though, it also adds a lovely layer of warmth. Perfect for someone like me who is forever cold and will wear sweaters and shawls in summer (not kidding). Take a look at my Delft Sleeved Scarves I made for YARN bookazine Issue 4 – Dutch Masters. They are made holding a strand of Scheepjes Rhythm Alpaca and Rhythm Mohair together, which was just the most luscious fabric ever. Find the knit version HERE and the crochet version HERE.
Kleur is niet de enige reden om wat mohair toe te voegen aan je project, het geeft ook een heerlijk laagje warmte. Perfect voor een koukleum zoals ik die zelfs in de zomer nog sjaals en truien draagt (geen grapje!). Neem ook een kijkje bij mijn Delft Sleeved Scarves die ik maakte voor de 4e editie van YARN bookazine: Dutch Masters. Ze zijn gemaakt met Scheepjes Rhythm Alpaca en Rhythm Mohair samen, zo lekker zacht en warm! Vind de gebreide versie HIER en de gehaakte versie HIER. 
Things to keep in mind
There are some things to look out for though, adding mohair also means that you have to pay attention when you're washing your project. While the main yarn might be machine washed at 40 degrees Celsius, a mohair can rarely take more than a handwash at 30 degrees. Adding mohair to your project means that you then have to handwash the whole project. As a general rule, when washing your project always take the most 'sensitive' yarn into account. Just a little top tip right there from me to you!
Met mohair moet je wel even opletten bij het wassen van je project. Hoewel je 'hoofdgaren' misschien wel gewassen kan worden op 40 graden in de wasmachine, kan mohair meestal alleen een handwasje tot 30 graden verdragen. Als je wat mohair toevoegt aan je project betekent het dus dat je het met de hand moet wassen. Als vuistregel kun je onthouden dat als je verschillende garens 'mengt', dat je de wasinstructies voor het meest gevoelige garen moet volgen. Een kleine tip van mij voor jou!
Retailers – Verkooppunten
Want to get your hands on some of this luscious mohair? Check out Scheepjes retailers close to you or consider to shop via any of the affiliate links below. Thanks for considering!
Wil jij ook eens mohair proberen? Kijk welke Scheepjes verkooppunten bij jou in de buurt zijn of shop via de affiliate links hieronder. Bedankt voor je overweging!
Wool Warehouse (worldwide from UK)
Knotty House (CA)
Caro's Atelier (Benelux)
Support me by sharing with friends!