Meet the newest issue of the Scheepjes YARN bookazine: WOMAN. A celebration of all women. Even though we might differ in culture, age or appearance, we all stand united. I'm so pleased that I have been asked to contribute a design to this issue, and be featured along the fabulous members of my 'Tribe'.
The bookazine, published by Scheepjes on May 1st 2018, is divided in 4 different chapters: The good wife, Rebel daughter, Soul sister, and Earth mother. Each chapter has it's own designs and distinct feel. Bold colours and edgy styles for Rebel Daughter, soft and luxurious makes for Soul Sister.
Stockist Information
The Scheepjes YARN bookazine can be purchased via any Scheepjes retailer, as well as all of the materials needed for the projects in it. Find all Scheepjes stockists here. If there is no Scheepjes stockist close to you or you prefer shopping online, please consider shopping via the below affiliate links. Shopping via affiliate links does not cost you anything extra, but in return for your purchase the shopkeeper will thank me with a small percentage, allowing me to keep my website up and running.
Wool Warehouse (UK – ships worldwide)
Caro's Atelier (NL)
The "Heirloom Tablecloth" is the design I contributed to this issue, and it's featured in "The Good Wife" section. A lacy crocheted tablecloth, made to decorate the table for family birthdays and summer get-togethers. Made with sturdy 100% cotton Scheepjes Catona yarn, this heirloom is sure to last for generations. (PS: I really want some strawberry pie right now!!)
You will need approximately 20 balls of Scheepjes Catona 50g in the colour of your choice (colour shown = 412 Forest Green), and the finished tablecloth will be approximately 152 x 111 cm.
By far my favourite design from the Scheepjes YARN bookazine is the "Rebel Wrap", designed by my friend Kirsten from Haak Maar Raak. It's included in the "Rebel Daughter" chapter. I just LOVE this edgy style, and the model looks like a very strong and empowered woman in this photo. This wrap is made with Scheepjes Cahlista, also a 100% cotton yarn, but unlike the Catona, this one is a worsted weight cotton. Very plump and delightful to work with!
For this wrap you'll need 18 50g balls of Cahlista in total, find the exact quantities per colour here on Ravelry.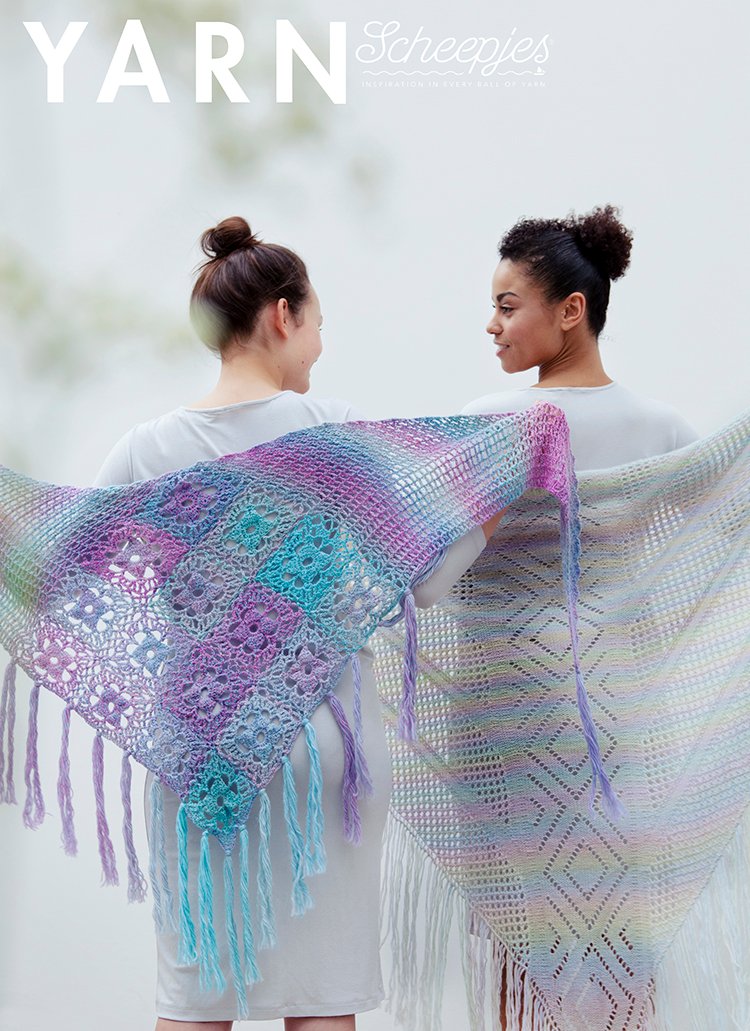 These beautiful shawls can be found in the "Soul Sister" chapter of the bookazine; "Little Sister Shawl" by Susan de Vries-Carlson on the left, and "Big Sister Shawl" by Tammy Canavan-Soldaat on the right. One crocheted and the other knitted, both are made with the fabulous Scheepjes Our Tribe yarn, one of my favourite yarns!
See all designs from this issue here on Ravelry.
Support me by sharing with friends!