It's only a few more days till Easter, and I have a fun little DIY for you to add that little touch of spring to your Easter brunch table. I usually don't fuss that much about Easter, but since there's not a lot of pastel in our new home I'm taking every opportunity I can get to add some gorgeous baby pinks and minty greens! The DIY I have for you today is an adaptation of one of my easy christmas garlands right here.
I've made a couple of short garlands using thick cotton yarn in fun colours, that you can of course hang from the walls as bunting, can use to decorate your napkins (picture at the bottom of the post) or as I'm using them: to decorate my vase on the table. 
Nog maar een aantal dagen tot Pasen, dus heb ik een leuke snelle paas-DIY voor jullie bedacht! Voor nét dat beetje lente aan de paasbrunch heb ik wat leuke mini-slingers gehaakt om mee te versieren. Meestal ben ik niet zo van het versieren met Pasen, maar omdat ons nieuwe huisje weinig pasteltinten bevat grijp ik elke kans om een beetje lichtroze of wat mintgroen hier en daar aan te brengen.
Deze minislingers zijn snel en simpel gemaakt met dik katoen, en kun je op verschillende manieren gebruiken. Natuurlijk als een gewone slinger, aan de muren bijvoorbeeld, maar ook als servetringen (voorbeeldje onderaan het patroon) of zoals ik ze gebruik: om de vaas met paastakken te versieren. De slingers zijn een variant op mijn eerder verschenen kerstslingers, alleen met ander garen en net wat andere steken.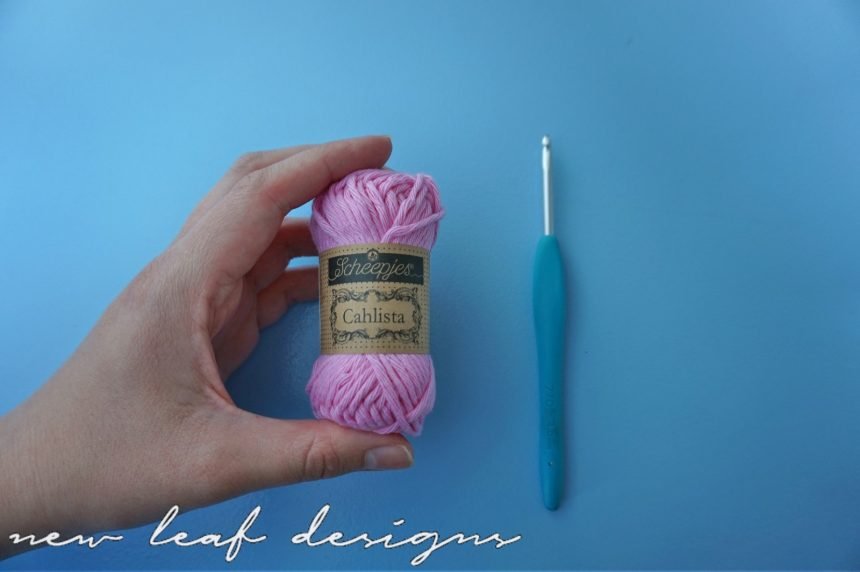 The yarn
The yarn I'm using is Scheepjes Cahlista, a wonderful 100% unmercerized cotton, about 2mm thick and perfect for home deco items or amigurumi. Scheepjes have released this yarn in 50 gram balls, and also as a 'Studio Pack', with 109 differently coloured 15 gram balls. I think I could probably get around 3 of these garlands out of one 15gram ball, so you really don't need a lot!
Het garen wat ik gebruik is Scheepjes Cahlista, een heerlijk 100% katoenen garen zonder glans, en ongeveer 2mm dik, zodat het perfect is voor home deco of amigurumi. Scheepjes heeft dit garen uitgebracht in 50gram bollen, maar ook in een zogeheten Studio Pack, waar 15 grams bolletjes in zitten van elk van de 109 kleuren. Ik denk dat ik met zo'n 15 grams bolletje wel 3 van deze mini slingers zou kunnen maken, je hebt dus echt niet veel nodig!
Scheepjes Cahlista (100% cotton; 50gram/85 meter) is available from Scheepjes stockists. If your local store does not stock it, please consider shopping via the affiliate links below. They don't cost you anything more, but in turn for your purchase the store gives me a little percentage as a thank you. 
Scheepjes Cahlista (100% katoen; 50gram/85 meter) is verkrijgbaar via de verkooppunten van Scheepjes. Als de garenwinkel bij jou in de buurt geen Scheepjes heeft, kun je ook bij onderstaande online 'affiliate' winkels terecht. Je betaalt niets extra's voor deze affiliate inkopen, maar in ruil voor jouw aankoop geeft de winkel mij een klein percentage als bedankje. 
Wool Warehouse (UK, ship worldwide)
Caro's Atelier (NL)
Other materials // Andere materialen
4mm hook (US size G-hook)
scissors
darning needle
4mm haaknaald
schaar
stopnaald
Abbreviations used (US terminology) // Gebruikte afkortingen
CH – chain
HDC – half double crochet
SL ST – slip stitch
ST(S) – stitch(es)
L – losse
HST – half stokje
HV – halve vaste
STK(N) – steek/steken
The pattern // Het patroon
Make a magic ring, ch2 (counts as first hdc), crochet 9 more hdc into the magic ring (10 sts)
Maak een magische lus, 2l (telt als eerste hst), dan 9 hst in de magische lus (10 stkn)
*Chain about 20-25 sts, then:
*Maak een ketting van ongeveer 20-25 lossen, en dan:

In 3rd ch st from hook, crochet 5 hdc. Skip 2 ch sts and sl st into the next one. Crochet another 5 hdc into the same ch st as the previous set of hdc was crocheted in, close with a sl st in the top of the first hdc.
In de 3e l vanaf de naald, haak 5 hst. Sla 2 l over, hv in de volgende. Haak nog 5 hst in dezelfde losse als de vorige set hst, sluit dan met een hv in het eerste hst. 
Repeat from * until you're satisfied with the length. I made them around 70cm long each. Be sure to weave in the ends.
Herhaal vanaf * totdat je tevreden bent met de lengte. Ik heb ze ongeveer 70cm lang gemaakt. Zorg dat je de eindjes netjes wegwerkt.
Other fun Easter DIYs // Nog meer paasknutsels!
Looking for some other fun Easter DIYs? Be sure to check these out!
Zin in nog meer paasknutsels? Bekijk dan zeker deze!
"Cock-a-doodle" Easter mug cozy by Happy In Red
Beautiful Peacock themed eggwarmers by the Curio Crafts Room
Adorable easter bunny mug cozy by Haak Maar Raak
Support me by sharing with friends!