Tijd voor weer een update over mijn Sophie's Universe deken! Deel 7 is net van mijn haaknaald af, en wat heb ik van dit deel genoten! In tegenstelling tot de vorige delen gebeurde er in dit deel heel veel qua steken en kleuren, wat voor mij heel motiverend werkt.
Time for an update on my Sophie! I've just finished Part 7 and I have to say, I really enjoyed this part. In contrast to the previous sections, there was an abundance of stitch techniques and colours, which always works very motivating for me. 
Ik heb trouwens naar aanleiding van een vraag op Instagram een lijstje samengesteld van de kleuren Scheepjes Colour Crafter die ik heb gebruikt, zie hieronder.
Someone asked me which colours of Scheepjes Colour Crafter I used, so I listed them below. 
1062 Dordrecht (mosgroen – mossy green)
1064 Veenendaal (lichtbruin – light brown)
1218 Zandvoort (beige)
1263 Leerdam (lichtgeel – light yellow)
1725 Ameland (licht blauwgroen – light seagreen)
1827 Drachten (felroze – bright pink)
2004 Brussel (felgeel – bright yellow)
2006 Luik (roze – pink)
Van alle kleuren heb ik tot nu toe één bol besteld, behalve van de Zandvoort (licht beige kleur), daar heb ik er al twee van. Ik zal op het eind een lijstje proberen te maken van het totaal aantal garens, dat is wel handig als jullie deze samenstelling zelf ook willen haken. 
I've ordered one ball of each colour but I'm sure I have to order more eventually, I'll try to make a list of the total balls you need of each colour for this project, so you can crochet this version if you want to.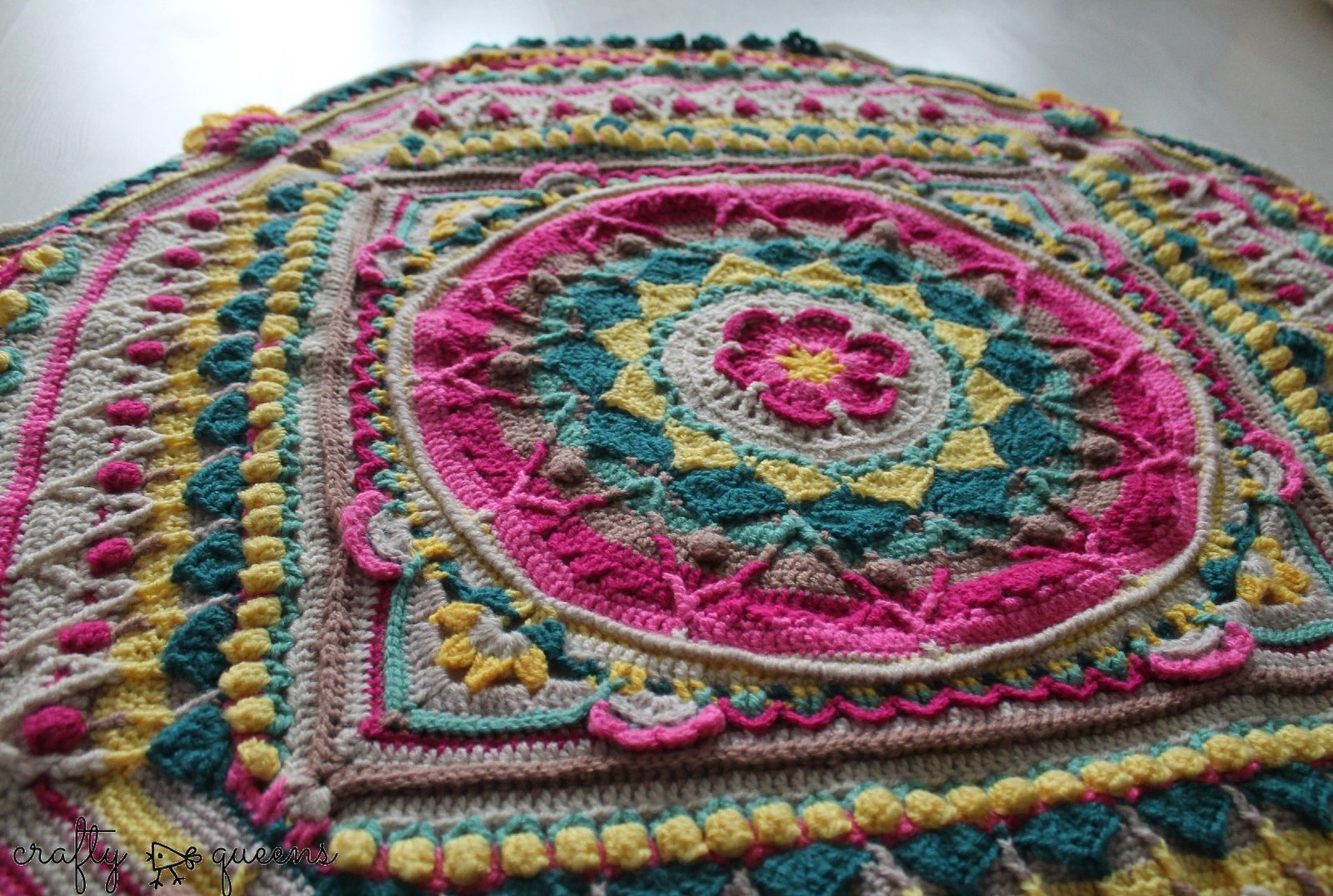 Vooral het zien ontwikkelen van deze bloem was ontzettend leuk. Nu kan ik ook zeker het 'bedje' van vasten waarderen, het steekt mooi af tegen de reliëfsteken van de bloem. 
Especially seeing this flower develop was highly motivating and fun. Now I can really appreciate the single crochet stitches around, they really make the flower stand out. 
Hij ligt al heerlijk warm op mijn benen tijdens het haken, mmm… Echt een voordeel van dekens maken! 
It's already nice and warm on my legs when I crochet on it, just one more reason why making blankets is the best! 
Support me by sharing with friends!