Zoals de meeste van mijn Instagram volgers wel weten, heb ik mijn kikkersokken afgebreid! Ik maakte ze volgens een patroon in het breiboek "Knitted animal scarves, mitts and socks" door Fiona Goble. Ik breide ze met Scheepjes Softfun, een van de garens waar ik het liefst mee werk. Door de katoen – acryl mix is de kans dat iemand er allergisch voor is heel erg klein, wat het ook een perfect garen maakt om dingen voor baby's te maken. Vooral knuffelbeesten maak ik graag met Scheepjes Softfun, ook omdat het zo zacht is en vooral niet kriebelig. Bovendien kun je het in de wasmachine gooien!
Dus dacht ik: daar kan ik ook sokken mee breien! Ik weet dat ze waarschijnlijk wat gaan slijten om de hiel, wat met alle niet-sokkengarens is, maar ze krijgen al heel wat minder wrijving omdat het huis-sokken zijn, en ik ze dus niet in schoenen ga dragen.
As most of my Instagram followers know, I finished my frog socks I made from the book "Knitted animal scarves, mitts and socks" by Fiona Goble. I made them with Scheepjes Softfun, which is one of my favourite yarns. Because they're a cotton-acrylic mix, the chance that someone is allergic to this yarn is very small, which is also the reason this yarn is perfect for babies. I love to make kid's toys with Scheepjes Softfun because it's so soft and not scratchy at all. Plus, you can put it in the washing machine!
So I figured it would be perfect for socks too. I know they might wear and tear a bit around the heel, this happens with all non-sock yarns, but they don't get as much friction because I won't be wearing them inside shoes. 
Ik was heel blij met mijn kleine rondbreinaalden van Clover, zo gaat sokken breien extra snel!! Bovendien is het garen wat dikker dan sokkengaren, namelijk voor 4mm naalden, dus daardoor kwamen ze ook snel af. 
I was so happy with my short circulars from Clover, it makes sock knitting so speedy! Plus the yarn is a bit thicker than sock yarn – I used 4 mm needles – this also helped a lot.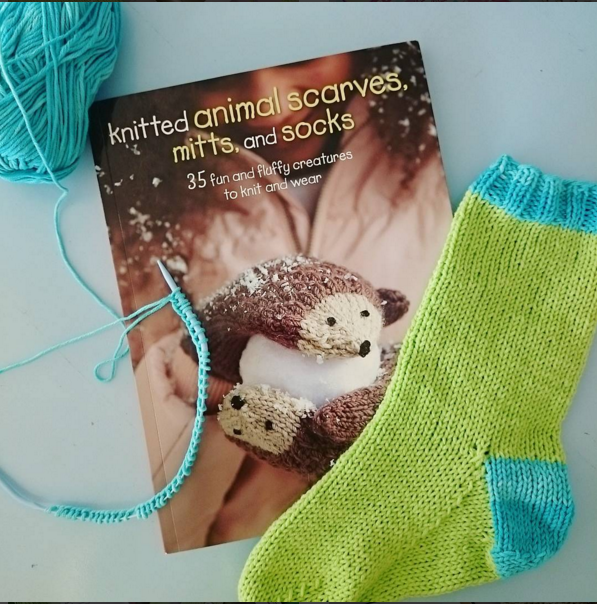 Het is het eerste paar sokken dat ik maakte met een andere kleur hiel, en ik vind het er zo leuk uitzien! Scheepjes heeft net een nieuwe variant van het Softfun garen uitgebracht, namelijk Softfun Aquarel, misschien is dat wel een leuk garen voor een nieuw paar sokken 🙂 
It's the first pair of socks I made with a contrasting heel, and I love it! Can't wait to make another pair. Scheepjes just launched a new series of Softfun yarns called Aquarel. They look so lovely, might be a great yarn for a new pair! 🙂 
Support me by sharing with friends!