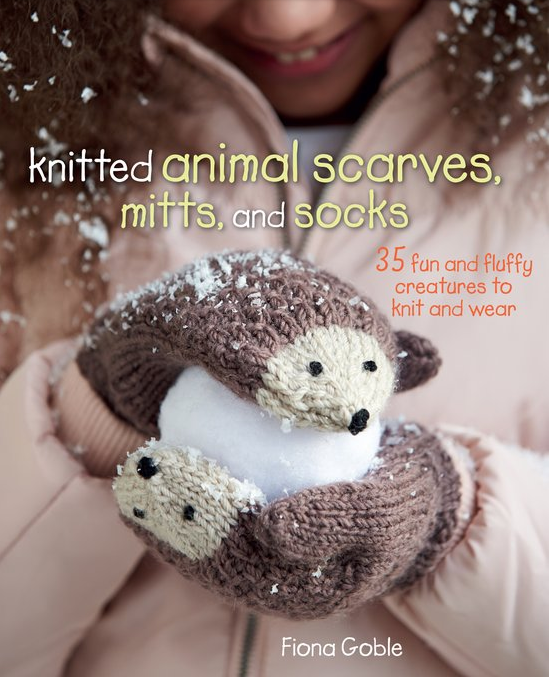 Hoera, eindelijk begint het winter te worden in Nederland, wat betekent: nieuwe sjaals, mutsen en handschoenen om te breien! Oké, ik brei niet zo heel snel dus misschien had ik allang moeten beginnen, maar beter laat dan nooit. En laat ik nu net een heel leuk patronenboekje in mijn kast hebben staan… Het heet 'Knitted animal scarves, mitts, and socks', met patronen van Fiona Goble en gepubliceerd door Cico Books. 
Hurray, it's finally beginning to feel like winter here in the Netherlands! Which means… time for new scarves, hats and gloves! I'm actually a slow knitter so I should have started already, but better late than never, right? Let me show you where my latest inspiration comes from, the adorable book called: "Knitted animal scarves, mitts, and socks", with patterns by Fiona Goble. Published by Cico Books. 
De patronen zijn heel overzichtelijk, en zijn verdeeld over verschillende categorieën dieren (boerderijdieren, waterliefhebbers etc). Er zijn zowel patronen voor kindermaatjes als voor volwassen maten, maar de geoefende breier kan een kinderpatroon makkelijk aanpassen naar grotere maten, zo nodig. Bovenaan bij de titel zijn met icoontjes de moeilijkheidsgraad aangeduid (1= makkelijk, 3= moeilijk). Het boek zelf heeft een fijn formaat en blijft openliggen als je het neerlegt. 
Het boek is volledig in het Engels maar de breinaald-maten zijn gelukkig wel in millimeters. In het achterste gedeelte vind je uitleg van technieken – ook de meest simpele, dus dit boek is zeker geschikt voor beginners – en de lijst met afkortingen. 
The patterns are divided in a few categories – farm animals, water lovers, etc. There are patterns in child sizes and adult sizes. For experienced knitters it's easy enough to adapt a child-size pattern for adult sizes. At the title of a pattern it states the difficulty level with icons (1= easy, 3= hard). The book itself has a great size and because of this the pages don't turn by themselves when you put the book down. 
Techniques – even beginner techniques like casting on – are explained in the last part of the book, which makes this book great for novice knitters as well. You'll also find the list of abbreviations here. 
Er staan geweldig schattige patronen in, voor mij was het moeilijkste te kiezen met welk patroon ik zou beginnen! Volgers van mijn Instagram weten misschien al dat ik erg houd van excentrieke sokken; die collectie zou ik graag uitbreiden.. 😉 
Wil je zelf ook een paar egel-handschoenen breien? Het boek is onder andere te koop op Bol.com.
The patterns are simply too cute, the hardest part was choosing which one I wanted to knit first. Followers of my Instagram account may know I have a special place in my heart for whimsy socks, I might want to expand my collection 😉 
Do you want to knit some hedgehog mitts too? The book is available for sale on The Book Depository, for example. 
Support me by sharing with friends!