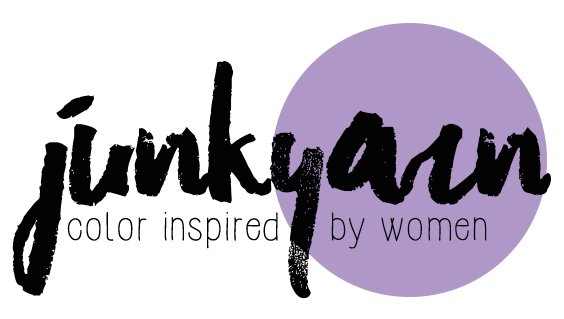 Hello my dear readers 🙂 Since it's International Women's Day, I thought I'd share a relatively new yarn brand with you guys, with colourways inspired by women! The brand I'm talking about is called Junkyarn (USA), and may already be known to you if you're into knitting podcasts, her yarn was frequently featured in the 'Pinfeathers and Purls' podcast, which I LOVE watching!
The lady behind Junkyarn is called Kemper Wray, find her on Instagram as @wraybot and on Youtube as the Junkyarn Podcast. Although she has not uploaded any podcast episodes recently, be sure to check out her older episodes, they are truly a joy to watch, Kemper is such an inspirational person! And not only does she inspire others, she draws her inspiration for her yarn colourways from well-known female characters, be they real or fictional. So for example, this is the colourway called Drew, named after Drew Barrymore.
I'm loving this shade of yellow! And doesn't it look fierce like Drew? This is my favourite Junkyarn colourway, although they are all very beautiful, especially if you consider Kemper has only been dyeing yarn for a year or so. You go girl!
This colourful speckly one is called Leslie, named after Leslie Knope, the main female character of Parks and Recreation. She also came up with the term 'Galentine's Day', which is the day before Valentine's Day, the perfect day for us girls to stick together, eat a tub of ice cream and have a movie night, no?
This pink and purply goodness is named Simone, named after the Olympic gymnast Simone Biles, who blew all of our minds during the Olympics last year! She simply radiates Girl Power, don't you think?
Find her yarns – also available for pre-order!- on her website. Which colour is your favourite?
Support me by sharing with friends!