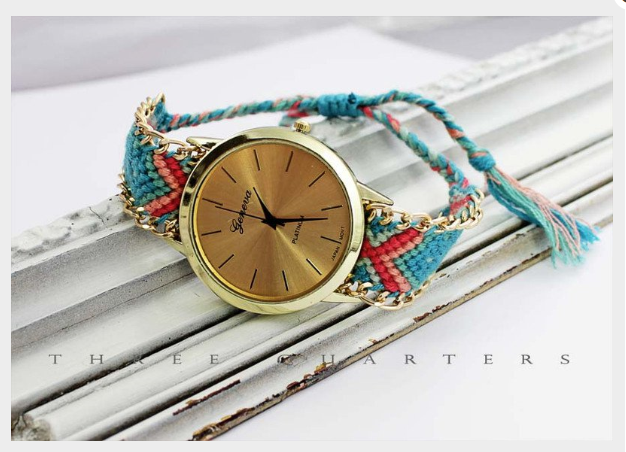 Zojuist zag ik een heel leuk DIY idee, namelijk dit horloge met gevlochten bandje. Zo'n armbandjes doen me altijd denken aan de vriendschapsbandjes die ik vroeger maakte voor mijn vriendinnen. Draadjes samen in een knoopje wikkelen, tussen de lessenaar klemmen en knopen maar!
I just spotted this cool DIY idea: a watch with braided band! This reminds me of the friendship bracelets I used to make for my friends in middle school. Pick the threads with the cutest colours, tie them in a knot, jam the knot in between your school desk and off you go!
Het bandje van mijn horloge is al sinds een tijdje aan het rafelen, ik moet eigenlijk een nieuwe erop laten zetten. Maar toen ik dit horloge zag in een Dawanda-shop, dacht ik: dat kan ik natuurlijk ook met mijn oude horloge doen! Ik moet eerlijk zeggen, ik heb een beetje een horloge-obsessie, ik moet steeds de verleiding weerstaan een hele collectie aan te leggen. Je kunt er toch maar één dragen. Dus het idee om een bestaand horloge wat te customizen spreekt me heel erg aan! Zo kun je variëren met je horloge, maar je koopt niet steeds een nieuwe. Ik ga een kansje wagen om dit te proberen 😉
The band of the watch I have now is already fraying, I was thinking of getting the band replaced until I saw this watch in a Dawanda shop (handmade shop platform). I thought: I could do this with my old watch! I have to say I'm quite obsessed with watches lately and I really have to keep myself from buying them all. After all you can just wear one at a time. So the idea of customizing your own watch is very interesting to me! This way you can wear a 'new' watch without purchasing a whole watch collection. I'm gonna try, how about you?
Support me by sharing with friends!