Granny squares, je houdt ervan of je haat ze. Vroeger was ik nooit zo'n fan, maar niemand kan ontkennen dat deze jurk en rok fabulous zijn! Volgens mij zijn beide items van House of Holland, die in 2011 een hele granny-collectie hadden, met dingen zoals granny square panty's.
Granny squares, you either love em or hate them. I wasn't that much of a fan before, but there's no denying that these clothes are FAB! If I'm right, both of the above outfits are designed by House of Holland, who've had an entire granny collection in 2011. 

Nog meer van House of Holland, de oversized sjaal vind ik het leukst! Hij was een tijdje verkrijgbaar bij ASOS, een online kledingwinkel.
More from House of Holland. I love the oversized scarf! It was available at ASOS for a while.
Maar niet alleen House of Holland maakt leuke granny square fashion. Neem nou dit gehaakte festivaltopje! Dat zou ik best durven te dragen!
But House of Holland isn't the only one making cute granny square clothing. This crocheted festival top is totally awesome, I'd wear it myself!
En hier, een superstoere, beetje grungy versie van de granny square. Ik zou zo even niet weten bij welke gelegenheid je dit aan kunt doen, maar dit is zo iets wat ik me voorstel in een streetstyle rubriek ergens. Niet dat ik echt goed weet wanneer iets in of alweer uit is 😉
Granny squares can look bold too! A bit grungy even. Not sure if I'd wear this, but I can picture this on the website of any streetstyle photographer, don't you think? Not that I'm much of a fashion critic, mind you 😉

Natuurlijk zijn er ook plenty granny-missers.. Ik weet ook niet wat ze bedoelden met een 'audio fashion show', haha, wie wil er nou naar een modeshow luisteren?
Of course, not everything made out of grannies is instantly fabulous.. By the way, I'm not sure what they meant by 'audio fashion show'. Who would want to hear just the sounds of a fashion show?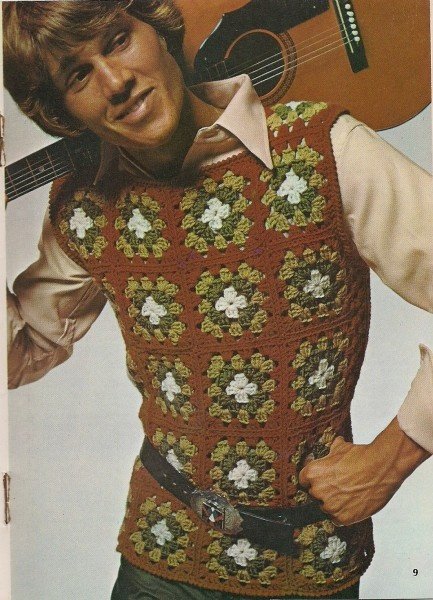 YIKES!

Oh my. Dit topje is fout op zó veel manieren..
Oh my. This top is wrong on so many levels..

Hmm.. Het lijkt op het eerste ogenblik niet heel erg fancy, maar ik denk dat het op een model van nu weer helemaal hip zou zijn. Mits ze geen glittergaren gebruiken.. En andere kleuren.
I'm still on the fence with this one. Seems like a big 'no' but picture it on a runway model and suddenly it could be quite fashionable. Only if they choose non-glittering yarn, though. And other colours.

Ziet er schattig uit! Alleen zou ik andere kleuren kiezen. Maar wat weet ik nou helemaal 😉
Cute! But again, other colours would seem better to me. But what do I know, right 😉

Yes please!

Dit rokje vind ik zó LEUK! Je kunt het patroon hier vinden. Ik zit erover te denken om er zelf eentje te maken.. maar dan met andere kleuren (surprise!) en ook waarschijnlijk wat korter. Maar ik heb hier nog een rokje dat eerst af moet!
I'm drooling over this skirt at the moment. You can find the pattern here. I'm tempted to make one for myself, but with different colours and maybe a bit shorter.

Hmm, tja.. ik weet het nog niet helemaal zeker met deze. Ik vind het leuk dat het een beetje een Twiggy-gevoel heeft, maar ik zou niet weten of ik zelf zo'n trui zou willen!
Hmm.. not quite sure where to go with this one. I like the Twiggy-vibe of it, but that's about it.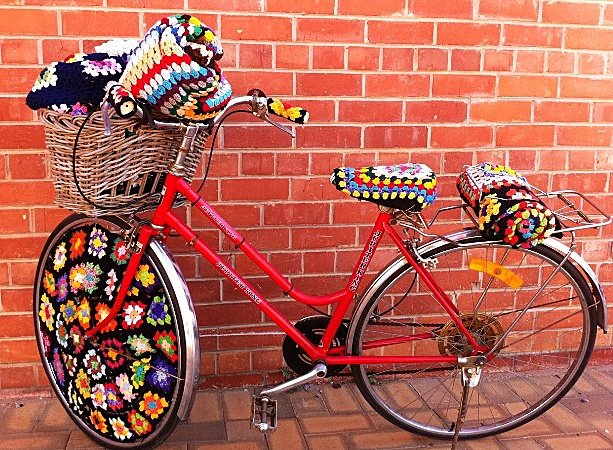 And lastly, a non-clothing item. AB-SO-LUTE-LY BRILLIANT! I want this bike so bad.
Dus, wat vinden jullie van deze trend? Granny-yes of granny-yikes?
So, what do you guys think of all this? Granny-yes or granny-yikes?
*Don't miss any of my blog posts, follow me on Bloglovin'*
Support me by sharing with friends!