Taxidermie is een chique woord voor het opzetten van dieren. Als ik aan mijn toekomstige woonkamer denk, zou een gewei daar wel heel goed bij passen. Maar een echt opgezet hertenhoofd? Misschien toch maar niet.. Al ben ik zeker bereid een uitzondering te maken voor de volgende exemplaren.
Taxidermy is a fancy word for preparing animals. You know, the big deer heads with antlers on the wall? I've always thought a nice set of antlers would be a great addition to any room. But real deer heads? Hmmm…. no. Although I'd sure make an exception for these wonderful specimens: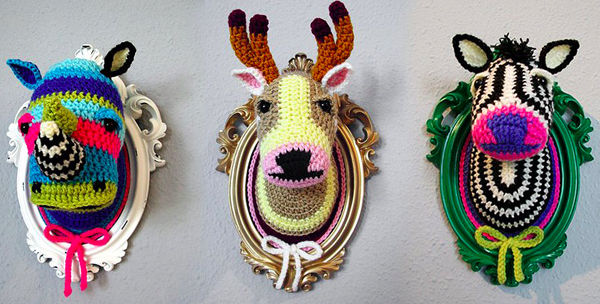 Zijn ze niet prachtig? Echt een perfecte balans tussen speels en elegant, vind ik. De maakster hiervan verkoopt haar exemplaren ook op Etsy, al moet je dan wel wat willen neertellen voor haar kunsten.. Maar ze zijn natuurlijk prachtig gemaakt, dat doe ik haar niet zomaar na!
Aren't they gorgeous? They are playful, yet elegant, I think. The creator sells them on Etsy, if you're interested, although they are a bit pricey. But hey, this is not one of those thing you can do easily yourself. And they are positively stunning. 
Of deze mooie gazelle, door Nathan Vincent. Volg de link van het plaatje en zie ook wat van zijn andere werk.
Or this beautiful gazelle by Nathan Vincent. Click on the image to see some of his other work. 
Erg mooi haakwerk door Elaine Bradford.
Crocheted beautifully by Elaine Bradford. 
Wat zijn dit een schatjes! Mooi gehaakt door Sarah Grace.
And how about these lovelies by Sarah Grace? Soooo cute!
Die wil ik ook!!! Wat een prachtwerk! En wat een leuk detail, dat gehaakte kleedje! Deze groep dames, de 'Ladies Fancywork Society' doet veel aan yarnbombing. Hebben jullie dat wel eens gezien? Overal in de stad worden opeens bruggen, beelden of bomen bekleed met haak of breiwerk. Erg leuk om aan mee te doen, lijkt me!
OH my! I would LOVE to add this to my living room. Not to mention that fabulous wallpaper.. The doily is a really nice touch, too. Made by the 'Ladies Fancywork Society'. They do a lot of yarnbombing as well. I want to yarnbomb my city too someday!
Toen ik deze gehaakte lijstjes zag was ik helemaal verkocht. Ze zijn gemaakt door Kate van de blog 'Greedy for Colour', en ik vind ze helemaal fantastisch! Ze noemt ze zelf crochet cameo's, dat klinkt toch wel wat vriendelijker dan opgezette beesten. Zo leuk hoe ze allemaal kleertjes krijgen.
These crochet cameo's by Kate, from the blog Greedy for Colour, are as cute as can be! They look a lot friendlier than the other taxidermy, and these are easier to make yourself. I love the fact that they wear clothes! 
Ik vond ze zo leuk, dat ik er zelf ook eentje wilde maken! Je maakt eerst een ovaal, wat nog niet zo makkelijk is! Ik heb niet echt een goed patroon ervoor gevonden, dus heb ik zelf maar een verzonnen. De laatste rand doe je zo: hv, 3 lossen, 3 steken van de vorige toer overslaan, en dan weer een hv in de 4e steek. Zo ga je door totdat je helemaal rond bent geweest. De volgende toer haak je 3 vasten in de lusjes die je hebt gemaakt, en je maakt weer hv in dezelfde steek waar je de vorige toer een hv in hebt gemaakt. Zo krijg je een mooi gewelfd randje.
En dan komt het leukste, het decoreren! Ik heb uit de losse pols een konijntje gehaakt en dat erop genaaid. Ik maakte nog een strikje, kraagje en een topje van lint. Ik ben erg blij met het resultaat!
I loved them so much I just had to try to make one for myself. And I think it didn't turn out all that bad! You start with crocheting an oval, which is much harder than it sounds. I couldn't find a decent pattern, so I just came up with one along the way. The scalloped edge is made like this: when you complete the oval shape, sl st and chain 3, skip 3 stitches and sl st in the 4th stitch. Go all the way around. Then for the last row: 3sc in every loop you've made, and sl st in the same stitches you did the sl st in the row before, rather than in the sl st. This was easier for me since crocheting in sl st tends to get really tight. 
Time for decoration! That's the fun part, really. I decided to make a bunny! I made her a shirt from scraps of ribbon and felt, and I made her a tiny bow and a collar, too. I'm really pleased with the result! My boyfriend calls me a bunny killer for 'decapitating' a bunny, though.  
En ik heb nog een lijstje gemaakt! Wat zal ik in deze maken? Mijn moeder kwam al met het idee van een uiltje, dat lijkt me wel erg leuk. Nog suggesties? Ik plan ook om er hierna een paar te maken met iets anders dan dieren erin. Misschien een cupcake, die zijn altijd leuk! Een beetje als een borduur-hoepel, maar dan in 3D! Had ik nou maar geen haak-blessure, dan pakte ik meteen mijn bolletje katoen! Nu eerst maar even wat ideetjes tekenen..
And I made another one! Although this one is still empty.. Any suggestions on what to make? My mom said a tiny owl would look really nice, and I agree! I plan on doing some non-animal cameo's in the future. Like a 3D embroider hoop. Oh, the possibilities are swirling through my mind! 
Support me by sharing with friends!